Posted By Norman Gasbarro on January 24, 2018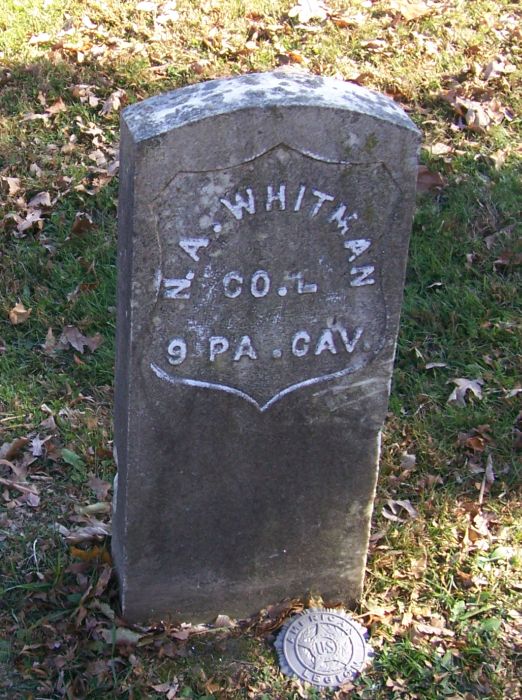 Rev. Nathaniel Amos Whitman died on 2 July 1926 and is buried in Foster Cemetery, Fairview, Fulton County, Illinois.  During the Civil War, he served in the 9th Pennsylvania Cavalry, and after the war, he is found in the 1870 census working as a coal miner in Wiconisco, Dauphin County, Pennsylvania.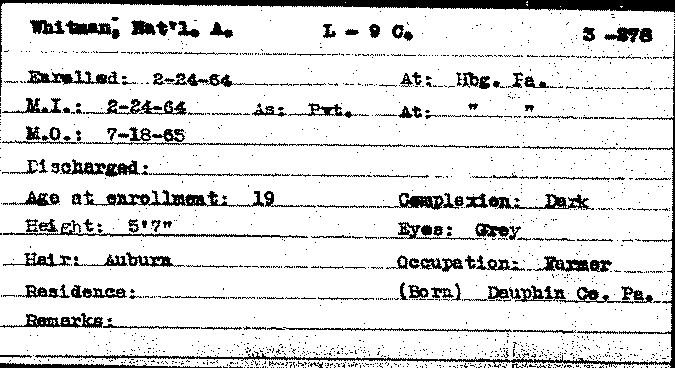 On 24 February 1864, Nathaniel A. Whitman enrolled at Harrisburg in the 9th Pennsylvania Cavalry.  On the same day he was mustered into service as a Private in Company L.  At the time, he claimed to be 19 years old, but records indicate he was probably younger.  He stood 5 foot 7 inches tall, had auburn hair, a dark complexion and grey eyes.  He said he was born in Dauphin County as was employed as a farmer.  Regimental records confirm that he received an honorable discharge on 19 July 1865.  Card above is from Pennsylvania Archives.
Nathaniel A. Whitman is believed to be a son of Samuel Whitman (1816-1849) and Sarah [Keiter] Whitman (1815-1868) and was probably born in Halifax, Dauphin County, Pennsylvania in 1848.  He was married twice, first to Sarah Jane Messner, who died in 1919, after giving him at least 7 known children.  Then, shortly after Sarah's death, he married Bessie Boyd Bourland, who was about 45 years his junior.  With her he had at least 4 children, one of whom, John Milford Whitman, was born in 1924, and was a World War II veteran.  John Milford Whitman's story appears in the book, Civil War Fathers:  Sons of the Civil War in World War II.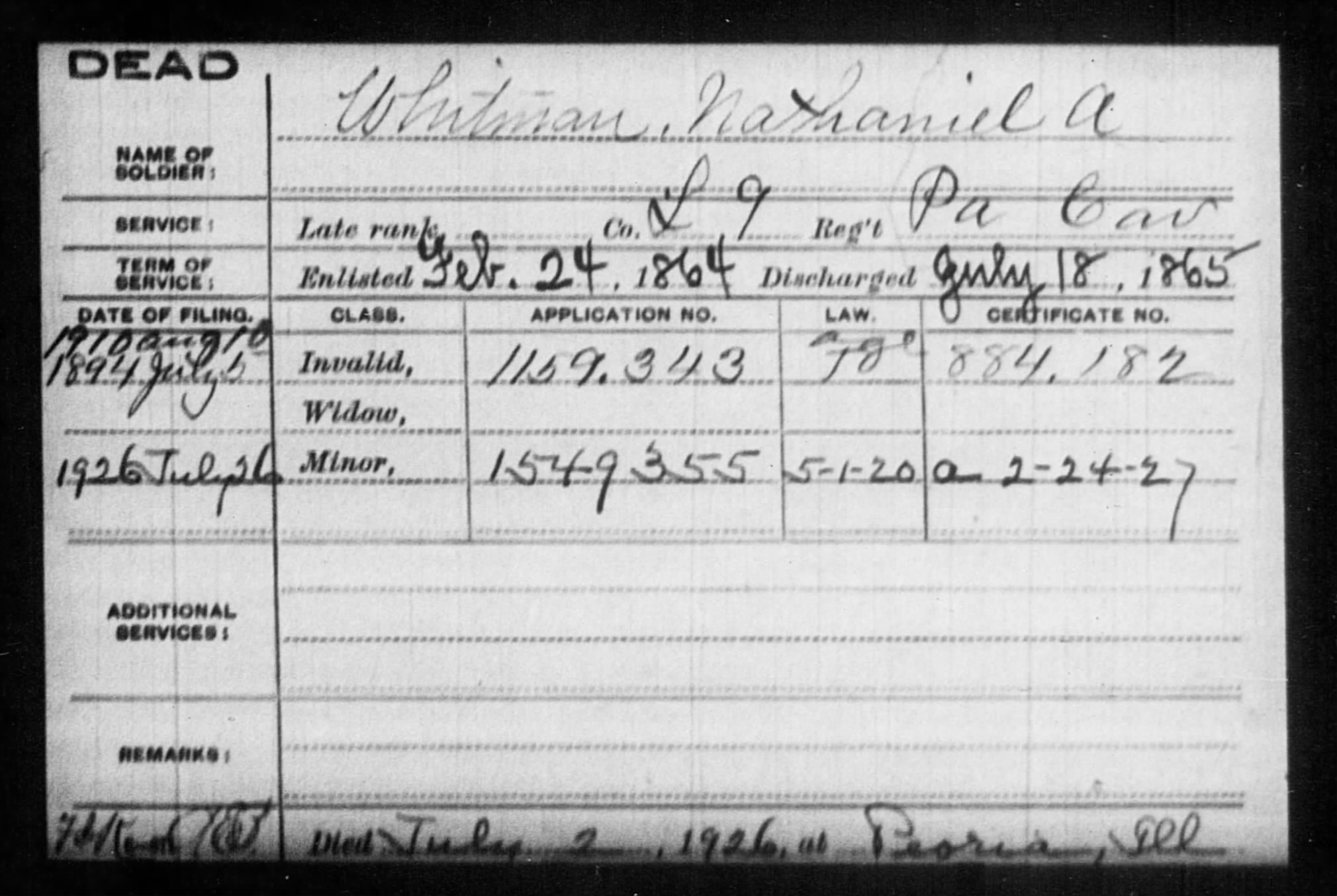 Nathaniel A. Whitman first applied for a Civil War pension on 5 July 1894.  Following his death, Bessie Whitman, the 2nd widow, applied for benefits for her minor children.  One of those children was the aforementioned John Milford Whitman.
A brief article was found in the Elizabethville Echo of 25 May 1911:
John Romberger and wife of Small Valley spent Thursday with relatives in town.  Mrs. Romberger is a sister to Rev. Witman.  Rev. N. A. Whitman, a Lutheran minister now located at Rabensburg, Centre County, spent a few days among relatives and old associates of his boyhood days in town last week.  Rev. Whitman was with Sherman on the March through Georgia when quite a young man.  Afterwards he taught school and later went to Selinsgrove and studied for the ministry.  During the last 30 years he was located in the Western and some of the Southern States and is now located in his native state.
Then, on 1 June 1911, the Elizabethville Echo reported:
Rev. N. A. Whitman left on Thursday for an extended visit to his home at Rabensburg, Center County.
Finally, on 17 October 1912, the Elizabethville Echo, in its Fisherville news column, reported the following:
Rev. N. A. Witman, of Illinois has taken a charge in Sugar Valley and is spending a week among relatives in this section.
In a Pulaski County, Illinois history, published in 1987, some information is given on what happened to 2nd wife Bessie:
Bessie Bourland first married N. A. Whitman and had three daughters and one son.  Secondly she married Augustus Farris and had one daughter and one son….
Because Bessie re-married, she was not eligible for widow's benefits from her Civil War husband.  However, the minor children from her first marriage were eligible for benefits from their Civil War-serving father.  This explains why there is no widow application on the Pension Index Card pictured above.  The Pension Index Card from Ancestry.com, not pictured, names Bessie as the guardian of the children.
At this writing not much else is known about Rev. Nathaniel Amos Whitman.  Because he lived until 1926, it is possible that there is a portrait of him somewhere, perhaps at one of the many churches he served.  Readers are welcome to contribute additional information by adding comments to this post.