Posted By Norman Gasbarro on January 19, 2018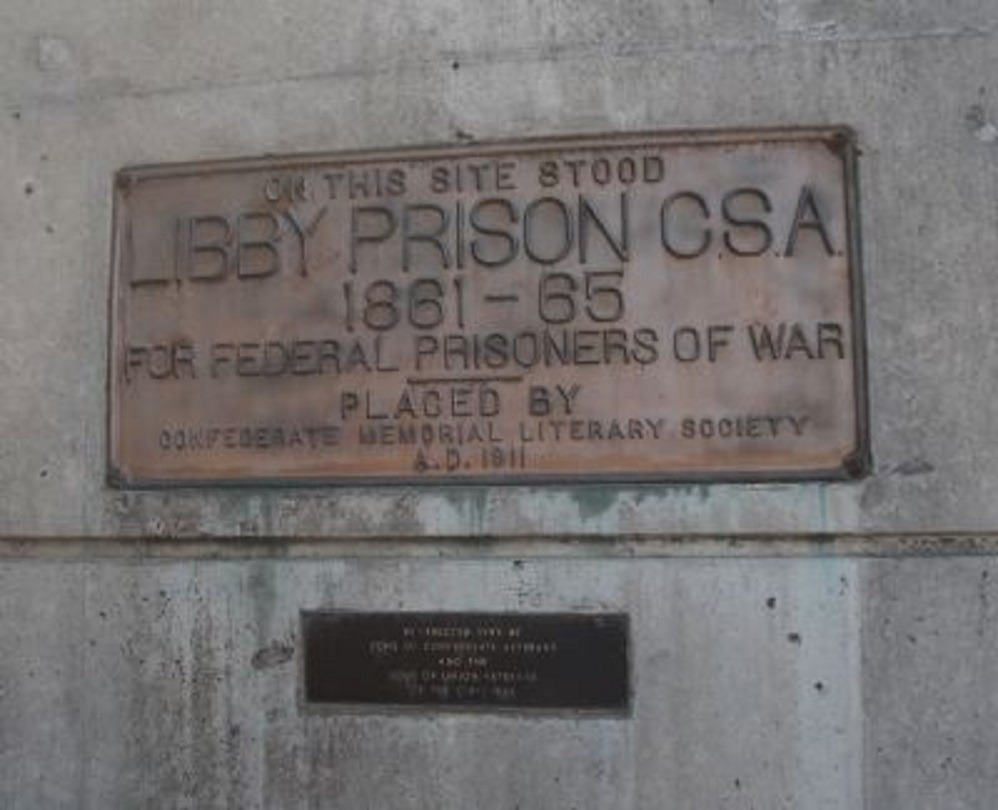 A plaque in Richmond, Virginia, placed by the Confederate Memoral Literary Society in 1911, recognizes the site of the Confederate Libby Prison, 1861-1865, where many northern prisoners of war were incarcerated, and some died there.  According to information on Findagrave, Hiram K. Wiest died at Richmond's Libby Prison in May 1864 and he is buried in a cemetery there.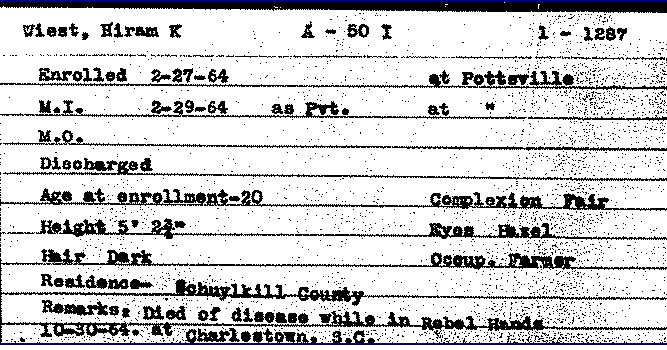 Hiram Klinger Wiest was born on 6 August 1848 in Pennsylvania, the son of Daniel Merkel Wiest (1822-1901) and Julianna "Angeline" [Klinger] Wiest (1824-1854).  Through his mother he was a direct descendant of the earliest Klinger settlers in the Mahantongo and Lykens Valley area.
On 29 February 1964, claiming to be 20 years old, Hiram enrolled in the 50th Pennsylvania Infantry at Pottsville, and two days later was mustered into service in Company A as a Private.  If the date of birth found on Findagrave is correct, he was actually only 15 when he joined the army.  He said he was a farmer who resided in Schuylkill County.  At the time he stood nearly 5 foot 3 inches tall, had dark hair, a fair complexion, and hazel eyes.  The Pennsylvania Veterans' File Card, shown above from the Pennsylvania Archives, indicates that Hiram K. Wiest died of disease while in Rebel hands, 30 October 1864, at Charlestown, South Carolina.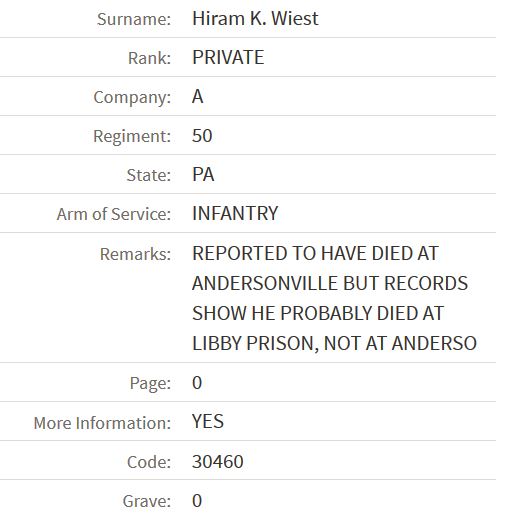 Transcribed information from the Andersonville Prisoner of War Records, found on Ancestry.com, notes that he was "reported to have died at Andersonville but records show he probably died at Libby Prison, not at Anderso…."
Information found on a page 162 of a source identified only as "Mahantongo – Generation V" gives the following information about the father, Daniel Merkel Wiest and the son "Heiram K. Wiest:"
Daniel Wiest operated a brewery at Breckenridge, Missouri, for a number of years.  Later, he built the present hotel in Ktn [Klingerstown], and owned several large farms there.  He was well-acquainted with Quantgrell and Jesse James while in Missouri.  He was a Major in the Pennsylvania State Militia, and had the largest Wiest family on record – twenty-six children.

Heiram K. Wiest, born 6 August 1848; baptized, 8 October 1848.  He served in Company A, 50th Pennsylvania Volunteer Infantry, in the Civil War, with his brother, Frantz Wiest.  Heiram was interned Libby Prison and died there in May 1864.  While still alive, he was thrown on the 'dead wagon.'
A search of the Pension Index Cards for the 50th Pennsylvania Infantry, Company A, found on Fold3, produced no card for Hiram K. Wiest, indicating that no survivor applied for a pension based on his war service.
It is clear from the family records and stories that it is believed that Hiram died at Libby, but no actual record has been seen of his death nor is it known exactly where he is buried.  The 50th Pennsylvania Infantry has some of the best records available of any regiment.  In this case though, it will probably will never be known what exactly happened to this soldier who was from Klingerstown.