Posted By Norman Gasbarro on December 26, 2017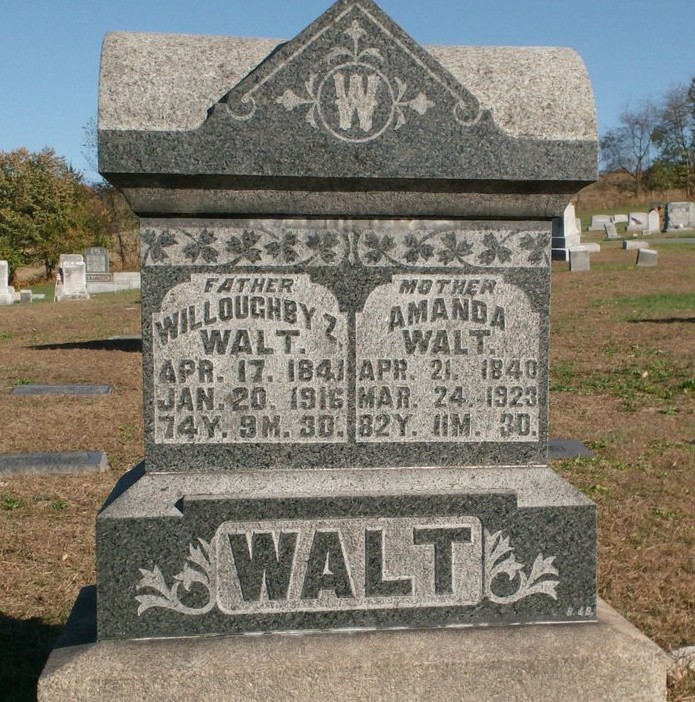 Willoughby Z. Walt died on 20 January 1916 and is buried at the Herndon Cemetery, Herndon, Northumberland County, Pennsylvania.  He is found in the records as both Wald and Walt and his middle initial is found as both "C" and "Z."
____________________________________________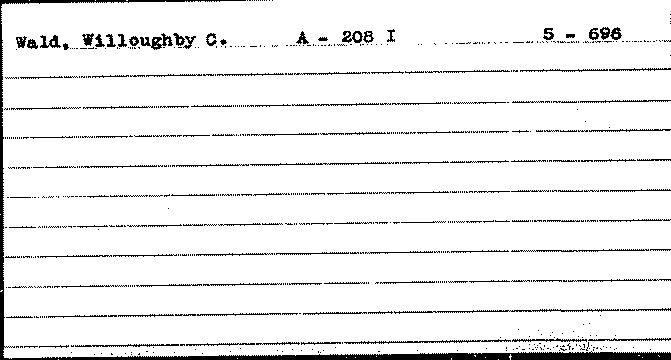 Records at the Pennsylvania Archives shown above) indicate that a Willoughby C. Wald served in the 208th Pennsylvania Infantry, Company A.  Other records confirm this service, which was at the rank of Private, from 26 August 1864 through honorable discharge on 1 June 1865.
___________________________________________
The following information was taken from the Genealogical & Biographical Annals of Northumberland County, Pennsylvania, by J. L. Floyd, published in 1911:
Willoughby Z. Walt, son of Willoughby Wald and Madelina [Ziegler] Wald, is a native of Georgetown (Dalmatia), Northumberland County, born  17 April 1841.   In his earlier manhood, he followed farm work and in June 1869, he began work on the Philadelphia & Reading Railroad as a section hand.  In 1877 he became section foreman on the Herndon Branch, a position he held over 20 years, during which time he came to be regarded as one of the capable employees of the company.  Since1900 he has been retired from active work of a laborious nature.  He has served four years as Supervisor of Herndon, and has been a useful citizen.

During the Civil war he was a private in Company A, 208th Regiment, Pennsylvania Volunteer Infantry [208th Pennsylvania Infantry], with which he took part in the engagement at Fort Steadman, in 1865, and at the taking at Fort Mahone, 2 April1865.  He made a credible record in the army for faithful and honorable service.

In politics he is a Republican.

In 1866 Mr. Walt married Amanda Sultzbaugh, daughter of Jacob Sultzbaugh of Dauphin County, and they have had five children:

Mary Walt married Charles W. Umholtz and they live in Philadelphia;

William Augustus Walt, born Aug 31,1871, married Sarah Bordner;

Kate Walt married Charles W. Bogar of Herndon;

Henry Walt was drowned in 1871 when eighteen months old;

Reuben Walt was killed while playing baseball in Herndon in 1906.

Mr. Walt and his family are members of the Reformed Church.
____________________________________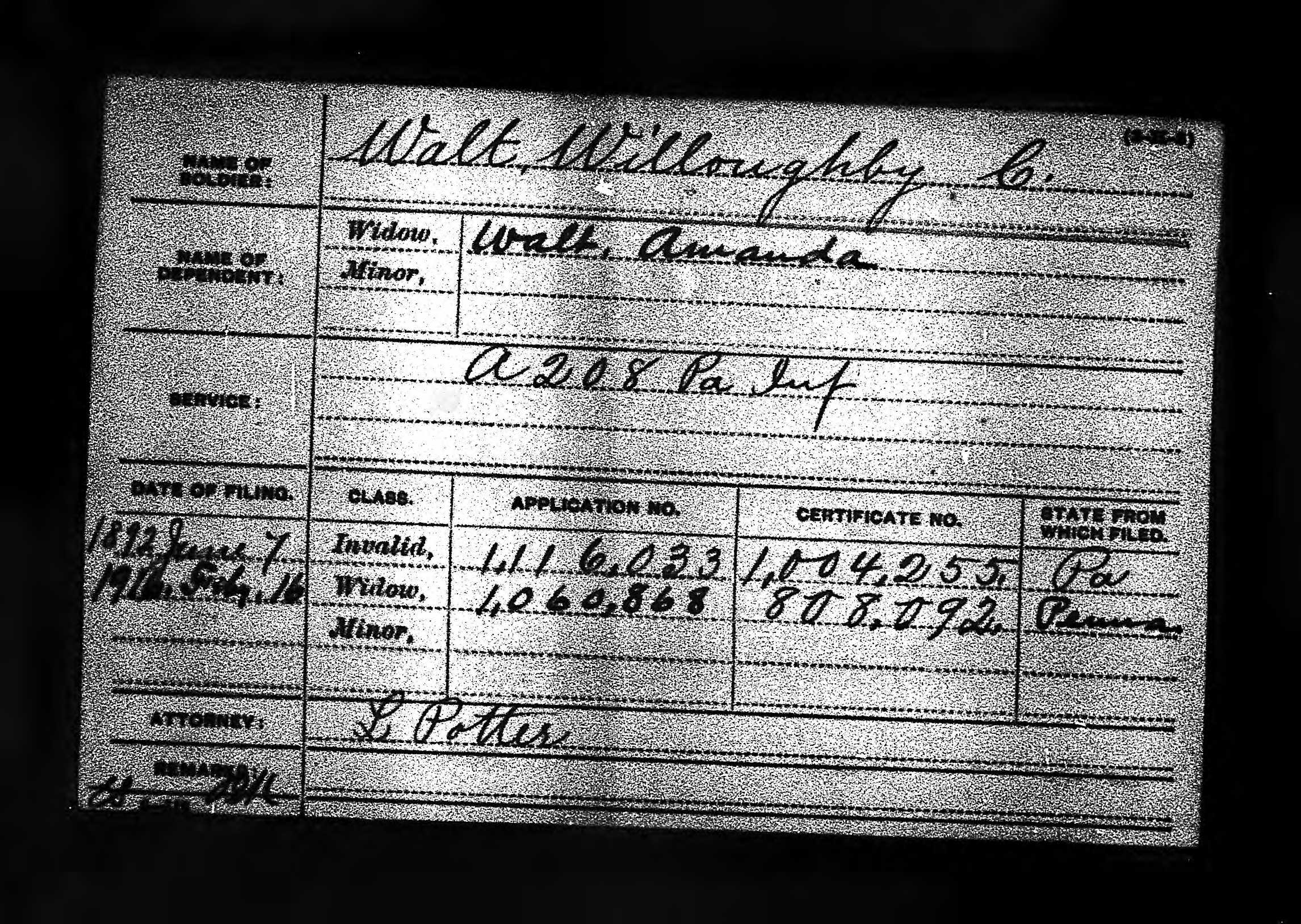 The Pension Index Card, shown above from Ancestry.com, indicates that Willoughby C. Walt applied for disability benefits on 7 June 1892, which he received and collected until his death.  His widow, Amanda Walt, applied on 16 February 1916, and she too received benefits.
____________________________________________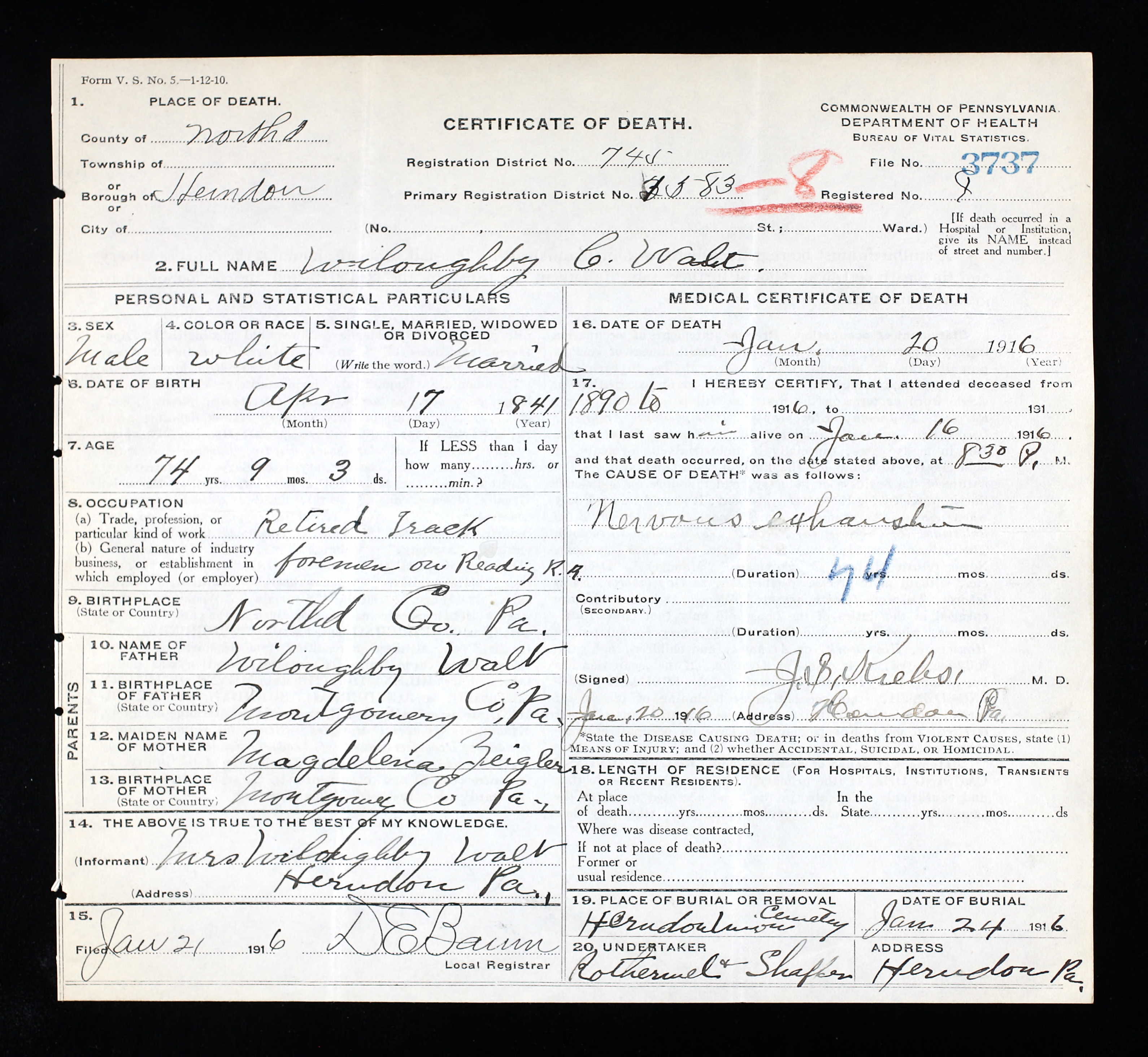 Willoughby C. Walt died on 20 January 1916 of nervous exhaustion as confirmed by his Pennsylvania Death Certificate, shown above from Ancestry.com. His occupation at the time of death was "retired track foreman on the Reading Railroad."  His widow was the informant.
____________________________________________
Following the death of Willoughby C. Walt, the heirs went to Sunbury to probate the will: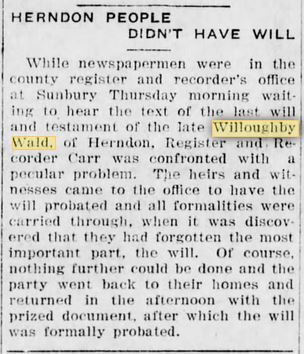 From the Mount Carmel Item, 29 January 1916:
HERNDON PEOPLE DIDN'T HAVE WILL

While newspapermen were in the county register and recorder's office at Sunbury Thursday morning waiting to hear the text of the last will and testament of the late Willoughby Wald, of Herndon, Register and Recorder Carr was confronted with a peculiar problem.  The heirs and witnesses came to the office to have the will probated and all formalities were carried through, when it was discovered that they had forgotten the most important part, the will.  Of course, nothing further could be done and the party went back to their home and returned in the afternoon with the prized document, after which the will was formally probated.
_____________________________________________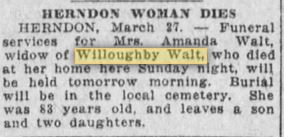 From the Harrisburg Evening News, 27 March 1923:
HERNDON WOMAN DIES

HERNDON, 27 March 1923 — Funeral services for Mrs. Amanda Walt, widow of Willoughby Walt, who died at her home here Sunday night, will be held tomorrow morning.  Burial will be in the local cemetery.  She was 83 years old, and leaves a son and two daughters.
______________________________________________
News clippings are from Newspapers.com.  Some additional information can be found at his Findagrave Memorial.