Posted By Norman Gasbarro on December 11, 2017

The name Joseph Way appears on the Lykens G.A.R. Monument as a Civil War veterans who served as a Private, but did not join the Heilner Post.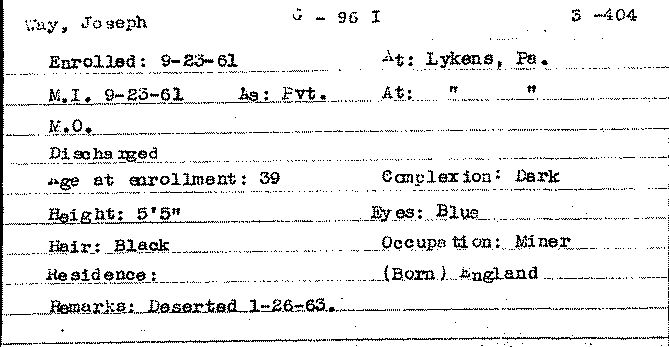 In attempting to determine Joseph Way's regiment and company of service, one card in the Pennsylvania Veterans' Card File stood out as an excellent match (shown above, from the Pennsylvania Archives).
According to information on that card, Joseph Way enrolled at Lykens, Dauphin County, Pennsylvania, on 23 September 1861, in the 96th Pennsylvania Infantry, Company G and was mustered into service as a Private the same day.  This company and regiment was heavily composed of Lykens Valley men,  At the time of his enlistment, Joseph Way was a 39 year old miner (born about 1822) who stood 5 foot 5 inches tall, had black hair, dark complexion, and blue eyes.  His birthplace was given as England.  In "remarks," it was noted that he deserted, 26 January 1863.
In addition to the location of his enlistment, the fact that this was the same company and regiment in which Henry Keiser also served, made it even more likely that the correct regiment was identified for Joseph Way, and especially so because it was Henry Keiser who supervised the compiling of the list of names that were placed on the plaque on this monument.
Henry Keiser also was known as the diarist of this company and regiment, so he should have known whether Joseph Way received an honorable discharge, or whether he was listed as a deserter.  Henry Keiser does not mention Joseph Way in the diary, and for the date in question, 26 January, 1863, Keiser made the following entry:
Did not send George's letter off until today when I added more to it.  I sent home for a box of eatables. Wrote a letter to William.  Israel Strauser and Grimms were sent back to the regiment again.
On the day before the supposed desertion, Keiser noted that the regiment had received a whiskey ration. On the day after the supposed desertion, Keiser noted that the regiment was told to prepare for inspection.  And, the following day six inches of snow fell, which by two days later had reached a foot in accumulation.  In this time period, there was no mention of any desertions.
Sometimes, it was reported in the records that a soldier had deserted, but years later, when that soldier applied for a pension, with some difficulty, the soldier had the record corrected.  No pension application record was found for Joseph Way who served in the 96th Pennsylvania Infantry.
So, at this time, the questions remains unanswered.  Who was Joseph Way and was he a deserter?  And, if he was a deserter, why is his name on the Lykens G.A.R. Monument?