Posted By Norman Gasbarro on December 18, 2017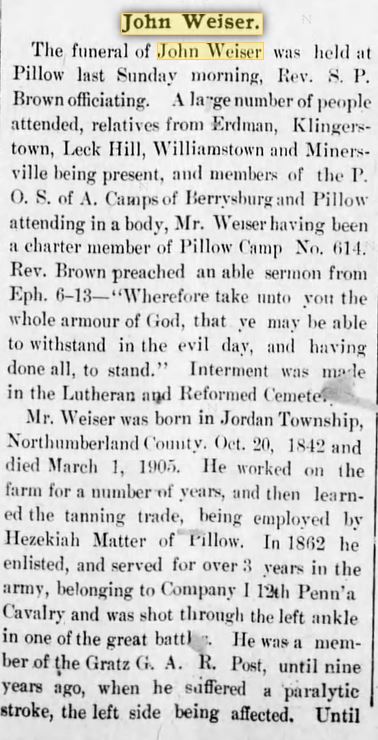 An obituary of John Weiser appeared in the Elizabethville Echo, 9 March 1905.  Mr. Weiser was a Civil War veteran from the area of Pillow, Dauphin County, Pennsylvania, who served in the 12th Pennsylvania Cavalry.
The funeral of John Weiser was held at Pillow last Sunday morning, Rev. S. P. Brown officiating.  A large number of people attended, relatives from Erdman, Klingerstown, Leck Hill [sic], Williamstown, and Minersville being present, and members of the P.O.S. of A. Camps of Berrysburg and Pillow attending in a body.  Mr. Weiser having been a charter member of Pillow Camp No. 614.  Rev. Brown preached an able sermon from Eph. 6:13 – "Wherefore take unto you the whole armour of God, that ye may be able to withstand in the evil day, and having done all, to stand."  Interment was made in the Lutheran and Reformed Cemetery.

Mr. Weiser was born in Jordan Township, Northumberland County, 20 October 1842 and died 1 March 1905.  He worked on the farm for a number of years, and then learning the tanning trade, being employed by Hexekiah Matter of Pillow.

In 1862 he enlisted, and served for over 3 years in the army, belonging to Company I, 12th Pennsylvania Cavalry and was shot through the left ankle in one of the great battles.  He was a member of the Gratz G.A.R. Post, until nine years ago, when he suffered a paralytic stroke, the left side being affected.  Until this disability, he had not applied for a pension, saying that he would not accept any aid from the Government while able to do a days work.

In 1868 he was married to Jestina Rothermel, five children being born to them, three of whom survive, Mary Weiser and Jennie Weiser of Pillow, and Jacob M. Weiser of Elizabethville.
The Pension application card for John Weiser, shown above from Fold3, bears out the statement in the obituary that he did not apply for pension benefits until he suffered the paralytic stroke which occurred approximately nine years before his death.  According to the card, the pension application was made on 13 December 1895.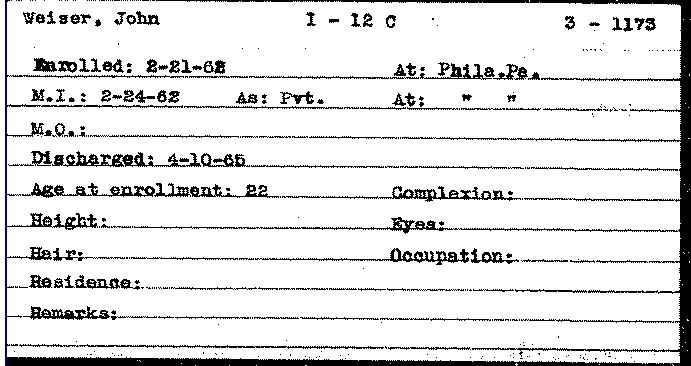 On the Pennsylvania Veterans' File Card, shown above from the Pennsylvania Archives, there is no mention made of where John Weiser was wounded.  However, he did mention to the taker of the 1890 census that he had a disability of a "wounded ankle" as a result of his war service.  And, undoubtedly, the information on where and when he was wounded can be found in the actual pension application file, which was not consulted for this blog post.
______________________________________________
News clipping is from Newspapers.com.