Posted By Norman Gasbarro on December 13, 2017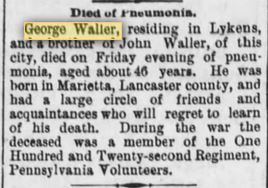 A brief notice of the death of George Waller appeared in the Harrisburg Daily Independent, 3 February 1890:
Died of Pneumonia

George Waller, residing in Lykens, and a brother of John Waller, of this city, died on Friday evening of pneumonia, aged about 46 years.  He was born in Marietta, Lancaster County, and had a large circle of friends and acquaintances who will regret to learn of his death.  During the war the deceased was a member of the One Hundred and Twenty-second Regiment, Pennsylvania Volunteers [122nd Pennsylvania, Infantry].
Two days later, the same newspaper noted that a series of resolutions of respect had been adopted by the Dauphin County Democratic Committee, of which he was a member.  And on 2 June 1890, the Harrisburg Telegraph reported that C. Martha Waller, administratrix, had filed her first and final report with the county.
In mid-1890, a Martha C. Waller reported that she was the widow of the George Waller who had served in the 122nd Pennsylvania, Infantry.  At the bottom of the form she also noted that George was wounded in the war, without specifying the nature of the wounds.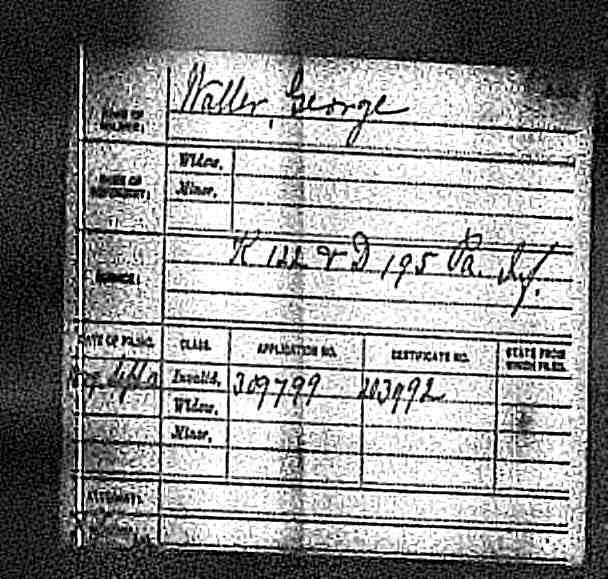 The Pension Index Card (above, from Ancestry.com) for George Waller notes that he not only served in the 122nd Pennsylvania Infantry, but also in the 195th Pennsylvania Infantry, Company K.  However, there is no mention on this card that there was a widow who applied for benefits.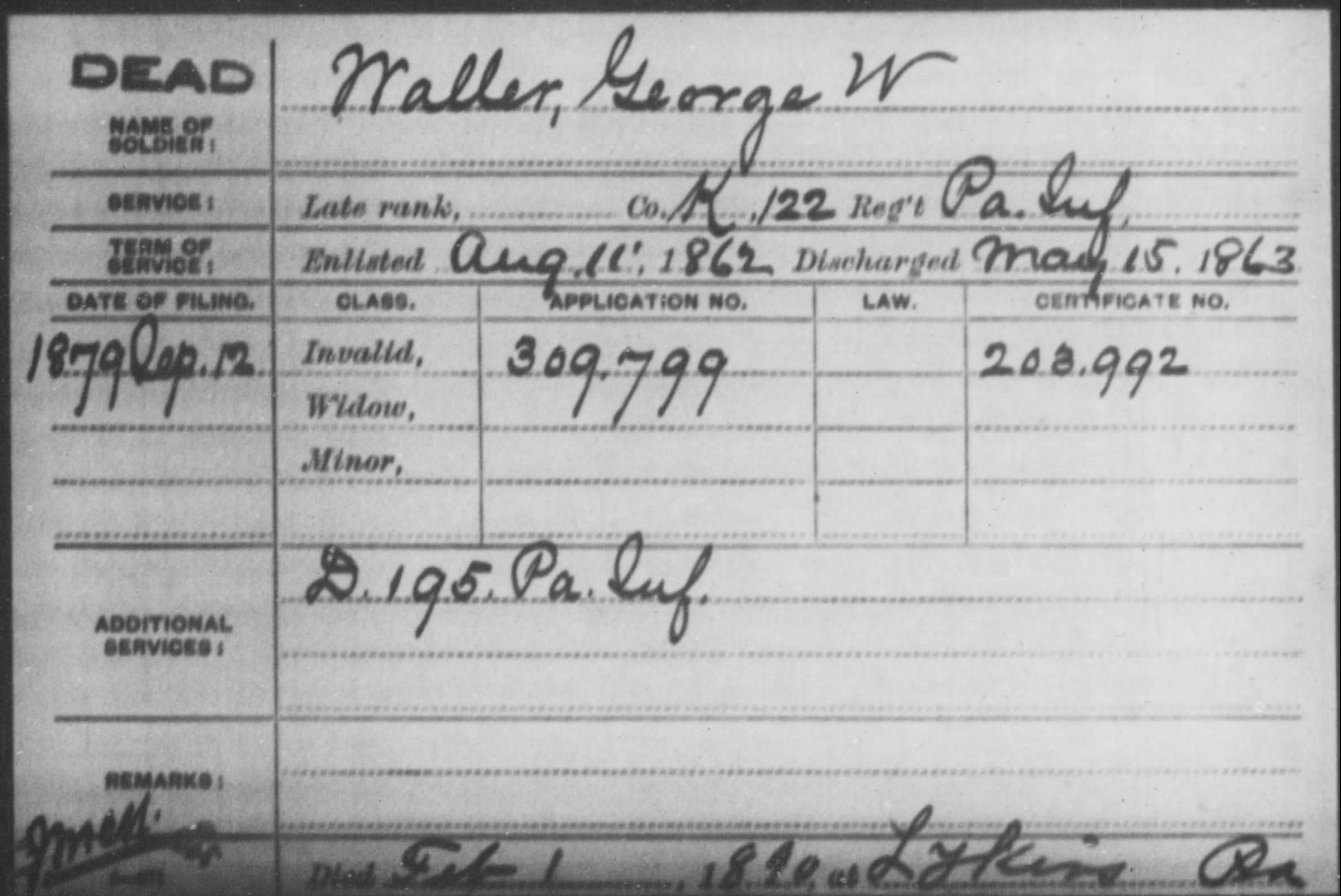 A card from Fold3 gives the same information – that no widow applied.  The only pension application therefore was made by George W. Waller on 12 September 1879.  Note that the card gives the date of death as 1 February 1890 and the place of death as Lykens, Dauphin County, Pennsylvania.
In the records at the Pennsylvania Archives, George Waller's Civil War service is documented as follows:
Mustered into service, 122nd Pennsylvania Infantry, 11 August 1862, Company K, as a Private.  Discharged on 5 May 1863.
Mustered into service, 195th Pennsylvania Infantry, 11 July 1864, Company D, as a Private.  Discharged on 4 November 1864.
George Waller is named on the Lykens G.A.R. Monument as a Private who was a member of the Heiler Post who was wounded in the Civil War:

And, George Waller is buried in one of the cemeteries in Lykens.  At the time the photograph was taken, 2012, his stone had been overturned and broken from its base.  There was also no indication at the grave site that he was a veteran of the Civil War.  If if widow is buried in the same plot, it was done without benefit of a stone.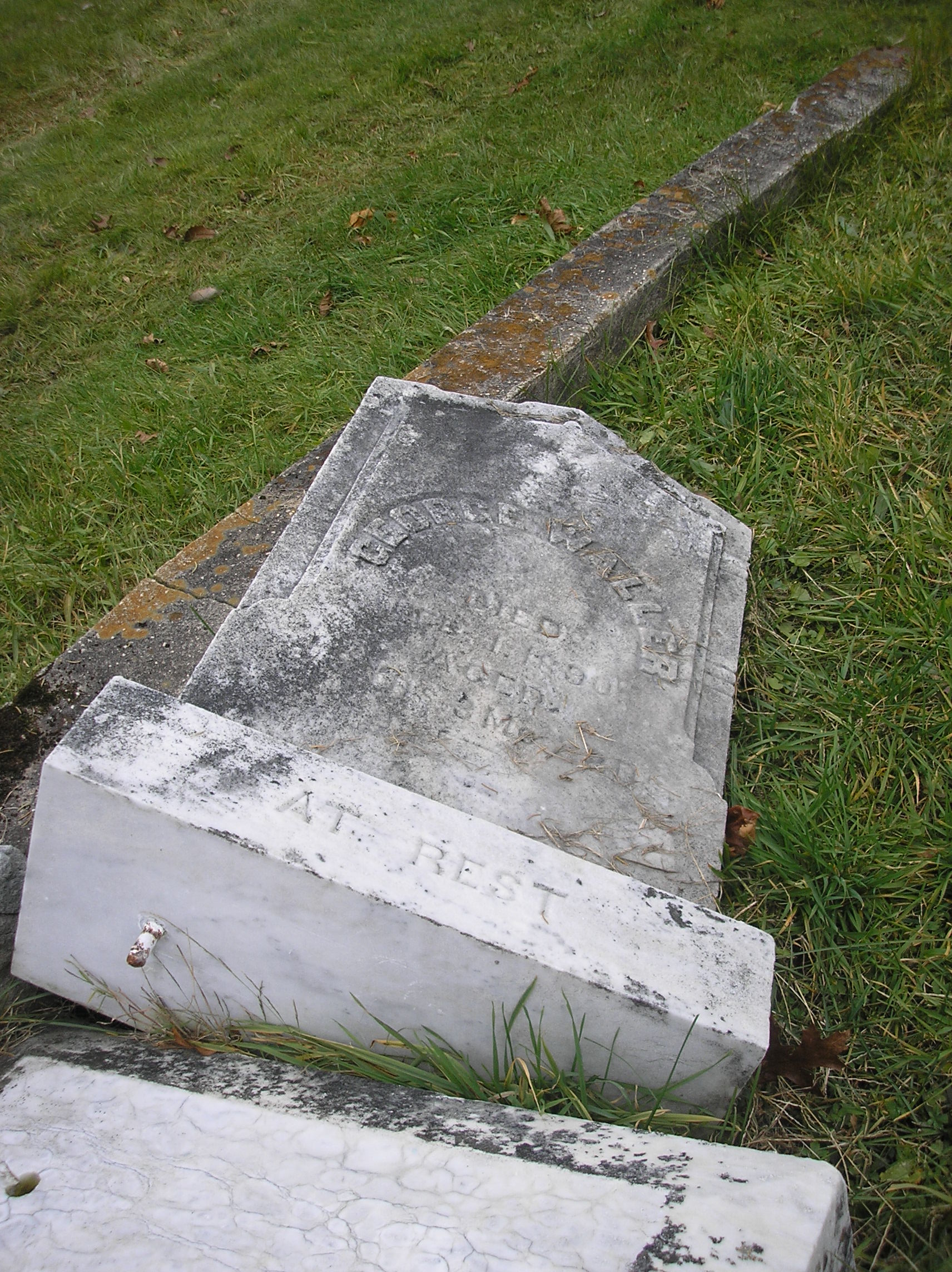 Much more information is sought about George Waller, his Civil War service and his family. Readers who have additional fact about this veteran are urged to contribute by adding comments to this post.