Posted By Norman Gasbarro on December 8, 2017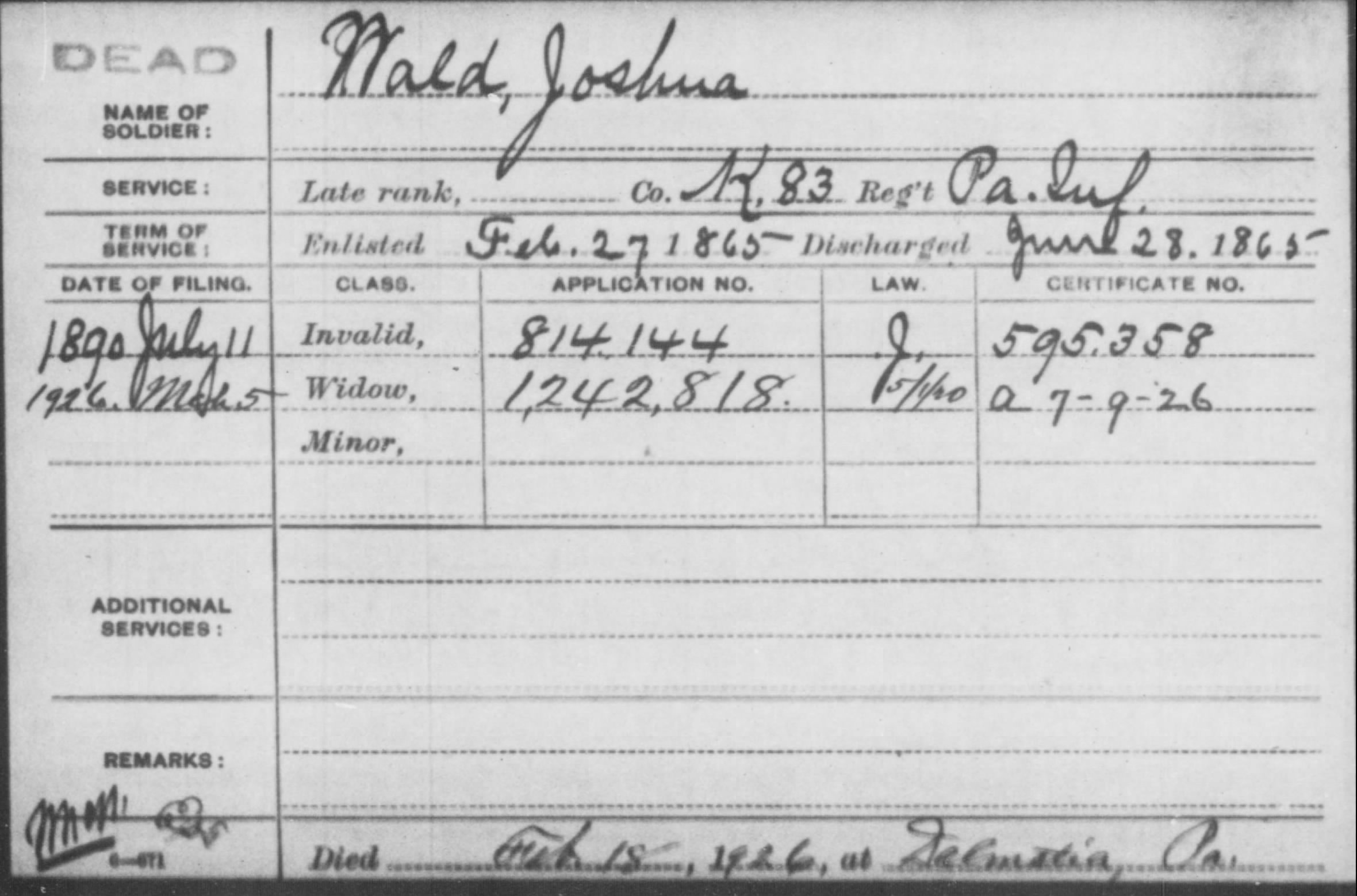 Joshua A. Wald, who served in the 83rd Pennsylvania Infantry, Company K, as a Private, from 27 February 1865 to 28 June 1865, died on 18 February 1926 in Dalmatia, Northumberland County, Pennsylvania.   He applied for a pension on 11 July 1890, which he received and was collecting until his death, whereupon his widow, Alvarette [Heckert] Wald applied.  There is no record on the above card from Fold3 that she actually received the pension.  The same information is found on the Pension Index Card from Ancestry.com, shown below.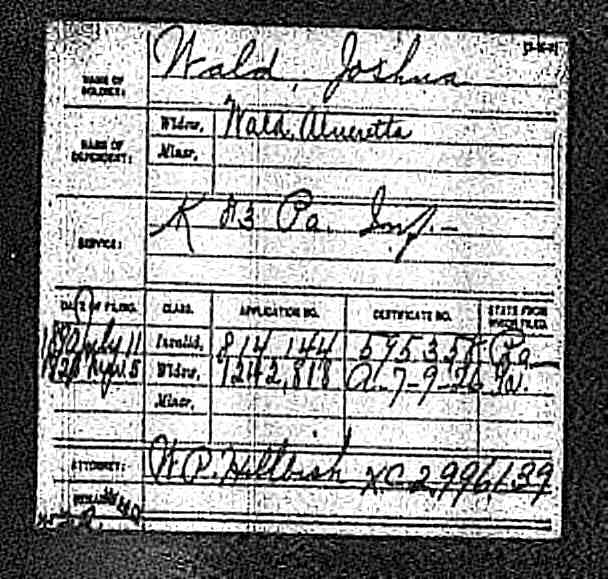 Other sources indicate that both Alvatetta, who died on 3 February 1944 and Joshua are buried at Trinity Evangelical Lutheran and Reformed Church Cemetery, Lower Mahanoy Township, Northumberland County, Pennsylvania.
The following biographical sketch was found in the Northumberland County Biographical Annals: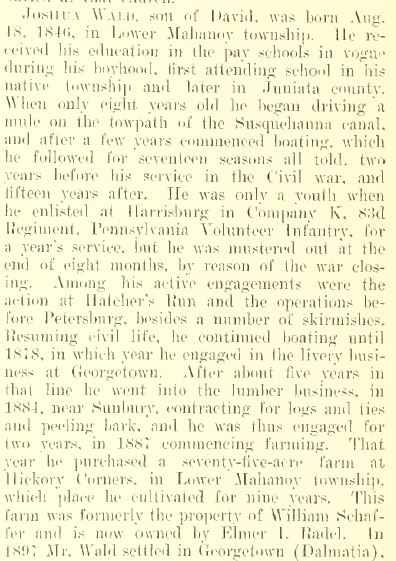 Joshua Wald, son of David Wald, was born 18 August 1846, in Lower Mahanoy Township.  He received his education in the pay schools in vogue during his boyhood, first attending school in his native township and later in Juniata County.  When only eight years old he began driving a mule on the towpath of the Susquehanna Canal and after a few years commenced boating, which he followed for seventeen seasons all told, two years before his service in the Civil War and fifteen years after.

He was only a youth when he enlisted in Company K, 83rd Regiment, Pennsylvania Volunteer Infantry [83rd Pennsylvania Infantry], for one year's service, but he was mustered out at the end of eight months, by reason of the war closing.  Among his active engagements were the action at Hatcher's Run and the operations before Petersburg, besides a number of skirmishes.

Resuming civil life, he continued boating until 1878, in which he engaged in the livery business at Georgetown [Dalmatia].  After about five years in that line, he went into the lumber business, in 1884, near Sunbury, contracting for logs and ties and peeling bark, and he was thus engages for two years, in 1887, commencing farming.  That year he purchased a seventy-five acre farm at Hickory Corners, in Lower Mahahoy Township, which place he cultivated for nine years.  This farm was formerly the property of WIlliam Schaffer and is now owned by Elmer I. Radel.  In 1897, Mr. Wald settled in Georgetown [Dalmatia] where he owns a fine residence and has since lived in practical retirement, though he occasionally engages in coal digging in the Susquehanna.  He is a respected citizen and trusted by his fellow citizens, but he has never cared to undertake the duties of public office.  Politically, he is a Republican.

In 1875, Mr. Wald married Alveretta Heckert, daughter of William Heckert and Lydia J. [Favinger] Heckert, who had three children"  Alveretta Heckert; Polly Heckert, unmarried; and Henry Heckert, unmarried, who lives at Millville, Pennsylvania.

Jacob Heckert, grandfather of Mrs. Wald, was a farmer in Lower Mahanoy Township.  His children were Catherine Heckert, Mrs. George Doney; Jacob Heckert; William Heckert; and Jessie Heckert.

Two children have been born to Mr. and Mrs. Wald:  Jennie Lucretia Wald, who died when fourteen months old; and Edward M. Wald, who died when three months old.