Posted By Norman Gasbarro on December 4, 2017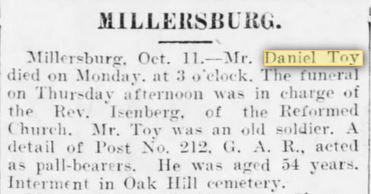 The Harrisburg Telegraph of 12 October 1900 reported the death of Daniel John Toy, a Civil War veteran:
MILLERSBURG, 11 October 1900 — Mr. Daniel Toy died on Monday, at 3 o'clock.  The funeral on Thursday afternoon was in charge of the Rev. Isenberg, of the Reformed Church.  Mr. Toy was an old soldier.  A detail of Post No. 212, G.A.R., acted as Pall Bearers.  He was aged 54 years.  Interment in Oak HIll Cemetery.
According to information found on Ancestry.com, Daniel Toy was born in Millersburg, Dauphin County, Pennsylvania, on 2 March 1844.  Other than his time in the war, it appears from the records that he spent his whole life in Millersburg.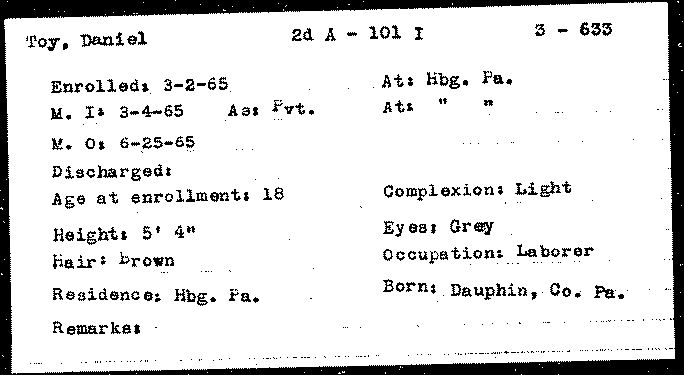 On 2 March 1865, Daniel Toy enrolled in the 2nd Company A of the 101st Pennsylvania Infantry.  At the time he was 18 years old, stood 5 foot 4 inches tall, had brown hair, a light complexion, and grey eyes.  He said he was born in Dauphin County and his residence was Harrisburg.  He was mustered into service on 4 March 1865 and served until he was honorably discharged on 25 June 1865.  The card shown above is from the Pennsylvania Archives.
Some time just before 1872, Daniel Toy married Emma C. Peters, and the couple had at least six children.  Various census returns during his life time report that he was a laborer and that he worked for the railroad.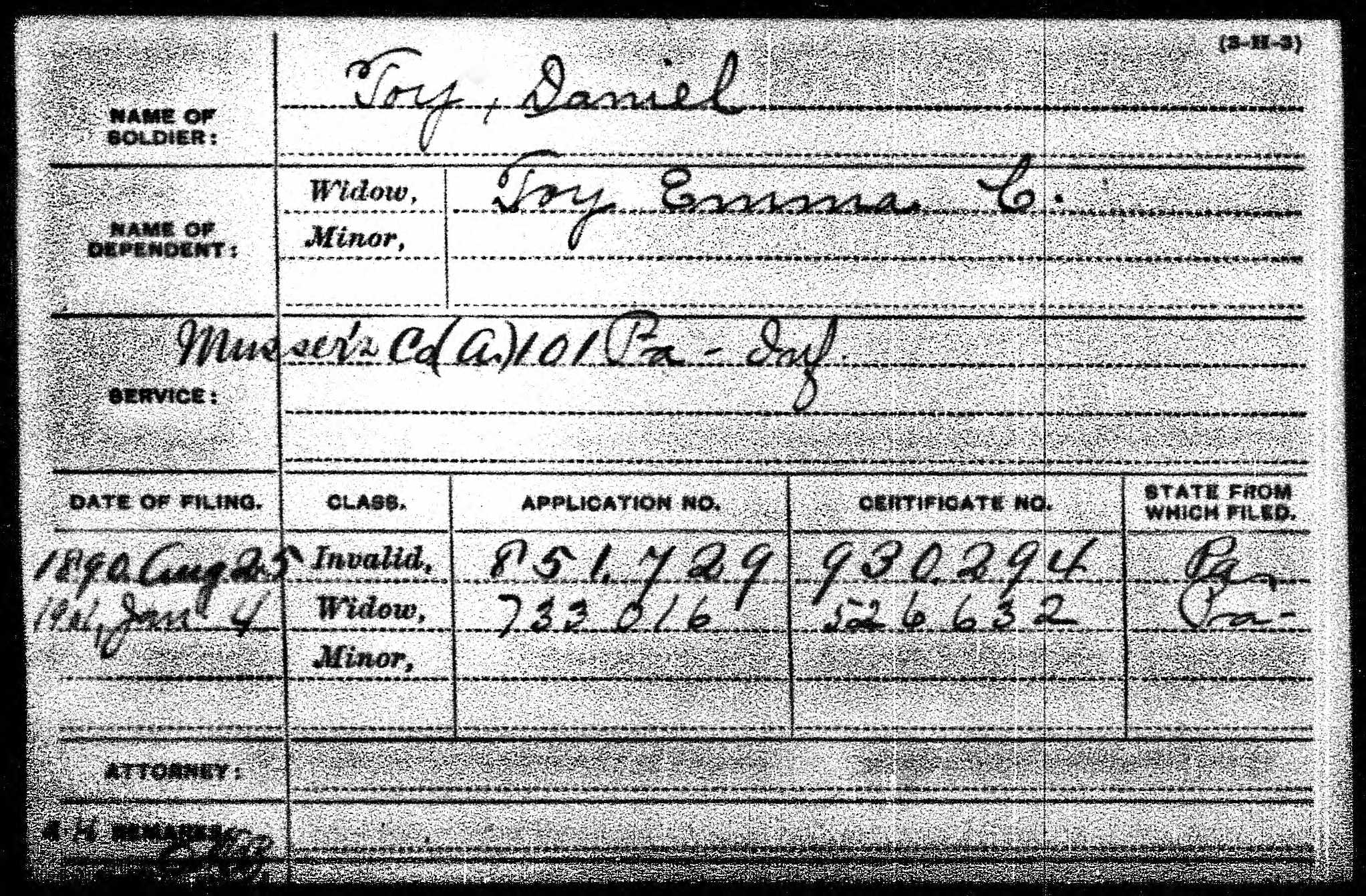 The Pension Index Card (show above from Ancestry.com, indicates the service of Daniel Toy and shows that he applied for pension benefits on 25 August 1890, which he received and collected until his death.  The widow, Emma C. Toy, applied on 4 January 1901, and also received benefits.
At the time of the founding of the Fitzpatrick G.A.R. Post in Millersburg, Daniel Toy signed as a charter member.  See: Charter.

The Millersburg community honored the service of Daniel Toy by placing his name on the plaque on the Millersburg Soldier Monument.