Posted By Norman Gasbarro on November 27, 2017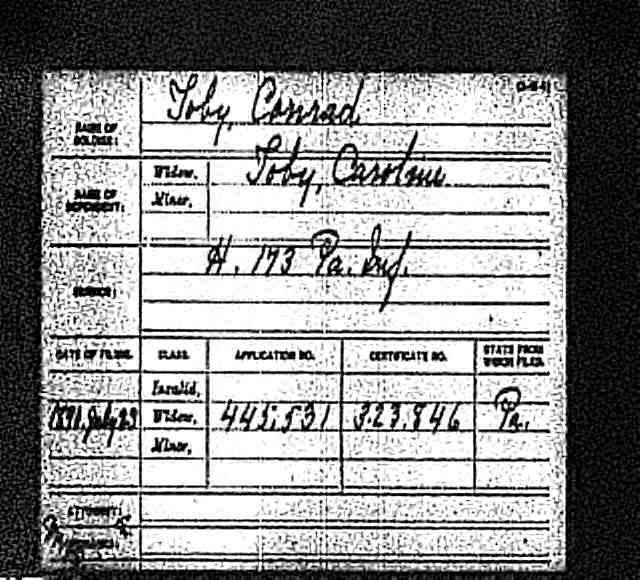 Conrad Toby, born about 1836, was an immigrant from Bavaria, Germany who served in the 173rd Pennsylvania Infantry, Company H, as a Private, from 5 November 1862 to 17 August 1863.
The Pension Index Card, shown above from Ancestry.com, indicates that his widow, Caroline [Hildebrandt] Toby, applied for pension benefits on 23 July 1890, which she received and apparently collected until her death.  There is no record that Conrad ever applied for benefits.  Therefore, Conrad died prior to her date of application.
In July 1863, Conrad Toby was living in Tremont, Schuylkill County, Pennsylvania, when he registered for the Civil War Draft.  He was married and working as a coal miner.  However, the draft record erroneously gives his birth place as Pennsylvania.
Conrad Toby was found with his family in the 1870 Census for Tremont, Schuylkill County.  At the time he was working as a coal miner.
Conrad Toby was also found with his family in the 1880 Census for Tremont, Schuylkill County, Pennsylvania.  He was still working as a coal miner.  The youngest child in the household was a daughter, Mary Toby, born about 1874.
In June 1890, the widow Caroline Toby is named in the Census with the correct regiment of service for her deceased husband, Conrad.
In the Findagrave Memorials, the only Conrad Toby found is the son who was born 1860 and died 1936.  He is buried at the United Methodist Church Cemetery in Tremont.  According to available information, this son was the oldest child of the couple.  In that same database, the father of Conrad Toby is named as "Konrad Toby."  He is buried at the same cemetery, his grave marker is pictured, and his dates of birth and death are given as 27 October 1835 and 8 July 1886.
The stone is inscribed in German and there is no mention in the Findagrave Memorial that Konrad or Conrad was a Civil War veteran.
Confirmation of the death date of Conrad Toby can most likely be found in the pension application file of the widow.  The file was not consulted for this blog post due to the expense of obtaining it.  However, Additional information about him and the minor children who were alive when he died can be found there, so if any reader has obtained the file and is willing to share it, it would be greatly appreciated.