Posted By Norman Gasbarro on November 29, 2017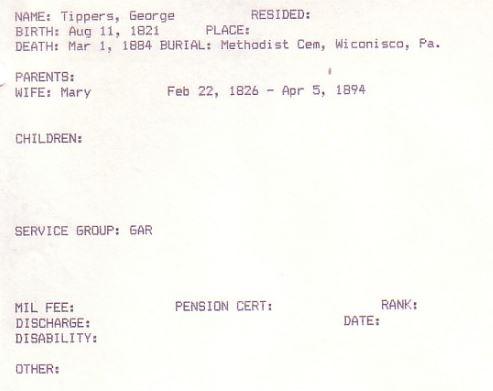 According to file information (above) obtained at a local historical society in the Lykens Valley, there is a Civil War veteran named George Tippers who is buried at the Methodist Cemetery in Wiconisco, Dauphin County, Pennsylvania.
Available information indicates George Tippers was born 11 August 1821 and died 1 March 1884.
His wife, Mary Tippers, maiden name unknown, was born on 22 February 1826 and died on 5 April 1894.
The service group to which George Tippers belonged is only given as "G.A.R", possibly because a marker was seen at his grave site.
Thus far no stone has been located for him in the United Methodist Cemetery and he does not have a Findagrave Memorial.
Several records for a George Tipper have been found on Fold3, but they are for a California Civil War regiment.
Information is sought about George Tippers?  Has anyone seen his grave site?  Did he serve in the Civil War and if so, in what regiment?