Posted By Norman Gasbarro on November 15, 2017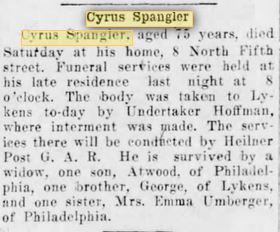 Notices were given in the Harrisburg newspapers in April 1916 of the death of Cyrus Spangler, a Civil War veteran of the 9th Pennsylvania Cavalry, Company B.
CYRUS SPANGLER

Cyrus Spangler, aged 75 years, died Saturday, died Saturday at his home, 8 North Fifth Street [Harrisburg].  Funeral services were held at his late residence last night at 8 o'clock.  The body was taken to Lykens to-day by Undertaker Hoffman, where interment was made.  The services there will be conducted by Heilner Post G.A.R.  He is survived by a widow, one son, Atwood Spangler, of Philadelphia; one brother, George Spangler, of Lykens, and one sister, Mrs. Emma Umberger, of Philadelphia.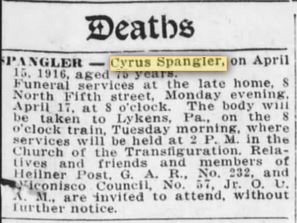 DEATHS

SPANGLER– Cyrus Spangler, on 15 April 1916, aged 79 years.

Funeral services at the late home, 8 North Fifth Street [Harrisburg], Monday evening, 17 April 1916, at 8 o'clock. The body will be taken to Lykens, Pennsylvania, on the 8 o'clock train, Tuesday morning, where services will be held at 2 P.M. in the Church of the Transfiguration. Relatives and friends and members of Heilner Post, G.A.R., No. 232, and Wiconisco Council, No. 57, Jr. O.U.A.M., are invited to attend, without further notice.
Cyrus Spangler was formally recognized on the Lykens G.A.R. Monument as a Sergeant who joined the G.A.R. Post there after its organization.

______________________________
News clippings from Newspapers.com.