Posted By Norman Gasbarro on September 13, 2017
In researching William Straw who served in the 6th Pennsylvania Infantry as well as the 48th Pennsylvania Infantry, it was discovered that for a short time he lived in Williamstown, Dauphin County, Pennsylvania, as per the 1890 Veterans' Census of that community.  Straw was a blacksmith who was born in England about 12 October 1841, emigrated to the United States about 1849, and when the Civil War broke out, was residing in Llewellyn, Schuylkill County, Pennsylvania.
The above portrait was supposedly taken after William's return from the war after serving four years and four months in the military.  It was found publicly posted on two Ancestry.com family trees.  Prior to the discovery of this photograph, another photo, taken later in life, was obtained by the Civil War Research Project.  That photo was cropped from a group picture and is shown below.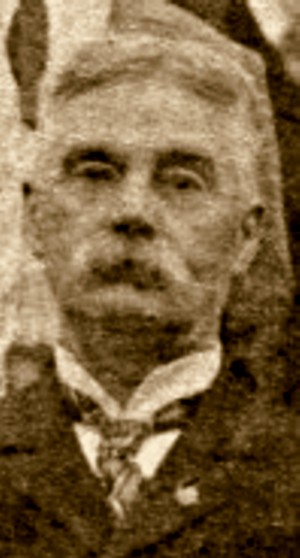 In addition to the photo taken in his military uniform, supposedly taken about 1865, an undated photo has been seen of William Straw and his wife Mary Elizabeth Straw visiting the Devil's Den in Gettysburg.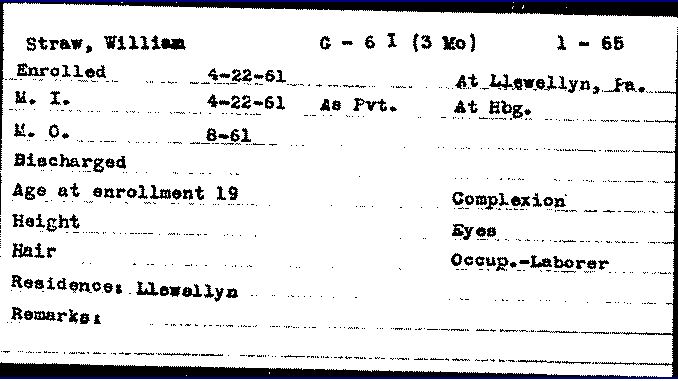 According to the Pennsylvania Veterans' File Card, shown above from the Pennsylvania Archives, William Straw enrolled in the 6th Pennsylvania Infantry, Company G, as a Private, at Llewellyn, and was mustered into service the same day at Harrisburg.  At the time, he was living in Llewellyn, was a laborer, and was about 19 years old.  An accurate muster out date has not been found, but occurred either sometime in July 1861, according to some muster rolls, or sometime in August 1861, according to the above card.
Also not located at this time is an exact muster in date for his service in the 48th Pennsylvania Infantry.  According to the card from the Pennsylvania Archives, at the age of 18, and working as a blacksmith while residing in Llewellyn, he enrolled in the 48th Pennsylvania Infantry, Company K, as a Musician.  The card is hard to read and additional information has been handwritten on it – but he had a light complexion, light hair, and dark eyes.  Also noted is that he re-enlisted at Cincinnati, Ohio, on 1 January, probably 1864.  His height was about 5 foot 6 inches.  Another record indicates that he served as a Corporal, perhaps first entering at that rank and then becoming a Musician, or vice versa.
William Straw died in Philadelphia on 5 April 1906.
A number of other items are available for William Straw, including a death notice which appeared in a Philadelphia newspaper, a birth record from England, and a marriage record.
William Straw is one of those veterans, who because he did not live in one place for most of his life, is easily forgotten by the local communities where he actually lived.
Additional information is sought about him and his family as well as his military record.