Posted By Norman Gasbarro on September 8, 2017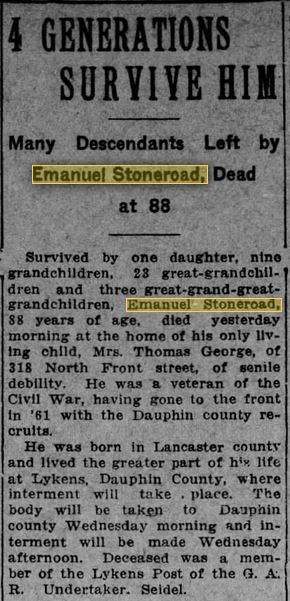 Emanuel Stoneroad, whose name appears on the Lykens G.A.R. Monument, died in 1917 in Reading, Berks County, Pennsylvania, and his obituary appeared in the Reading Times, 25 June 1917:
4 GENERATIONS SURVIVE HIM

Many Descendants Left by Emanuel Stoneroad, Dead at 88

Survived by one daughter, nine grandchildren, 23 great-grandchildren and three great-great-grandchildren, Emanuel Stoneroad, 88 years of age, died yesterday at the home of his only living child, Mrs. Thomas George, of 318 North Front Street, of senile debility.  He was a veteran of the Civil War, having gone to the front in '61 with the Dauphin County recruits.

He was born in Lancaster County and lived the greater part of his life at Lykens, Dauphin County, where interment will take place.  The body will be taken to Dauphin County Wednesday morning and interment will be made Wednesday afternoon.  Deceased was a member of the Lykens Post of the G.A.R.  Undertaker – Seidel.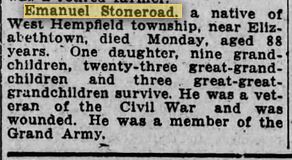 A more brief obituary appeared in the Harrisburg Telegraph, 27 June 1917:
Emanuel Stoneroad, a native of West Hempfield Township, near Elizabethtown, died Monday, age 88 years.  On daughter, nine grandchildren, twenty-three great-grandchildren and three great-great-grandchildren survive.  He was a veteran of the Civil War and was wounded.  He was a member of the Grand Army.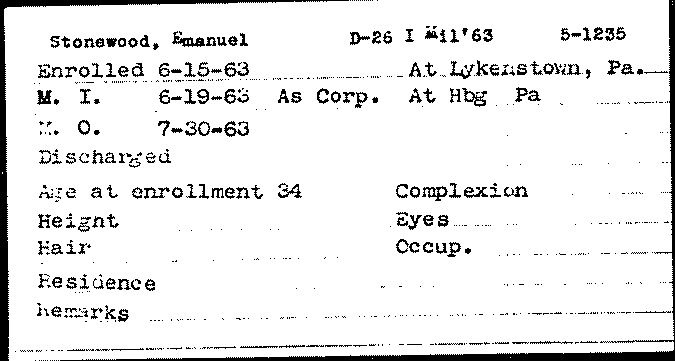 Emanuel Stoneroad enrolled in the militia at the time of the Emergency of 1863, 26th Pennsylvania Infantry, Company D, as a Corporal at Lykens and was mustered in at Harrisburg four days later.  He served at Gettysburg and was discharged on 30 July 1863 at the end of the emergency.  He said he was 34 years old at the time, and for some unknown reason was registered as Emanuel Stonewood.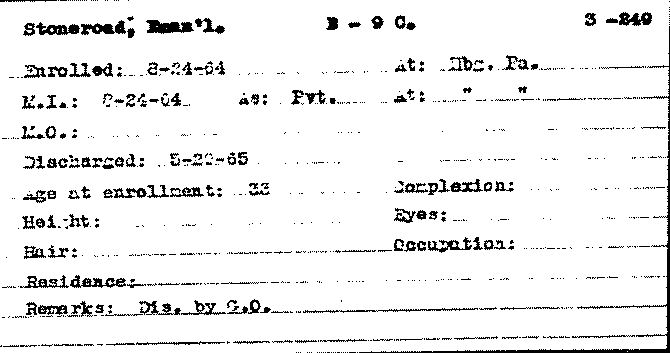 After his discharge, he enrolled in the 9th Pennsylvania Cavalry on 24 August 1864 at Harrisburg, and on the same day and place he was mustered into Company B as a Private.  He served the duration of his enlistment and was honorably discharged by General Order on 29 May 1865.
During his working years, Emanuel Stoneroad was an engineer in the mines at Lykens and Wiconisco.
__________________________________
News clippings are from Newspapers.com.