Posted By Norman Gasbarro on September 1, 2017

John G. Sommers, who was found in the 1890 Veterans' Census for Upper Paxton Township, Dauphin County, Pennsylvania, served in the 3rd Maryland Cavalry, Company K, as a Bugler, from 27 November 1863 through his discharge on 7 September 1865.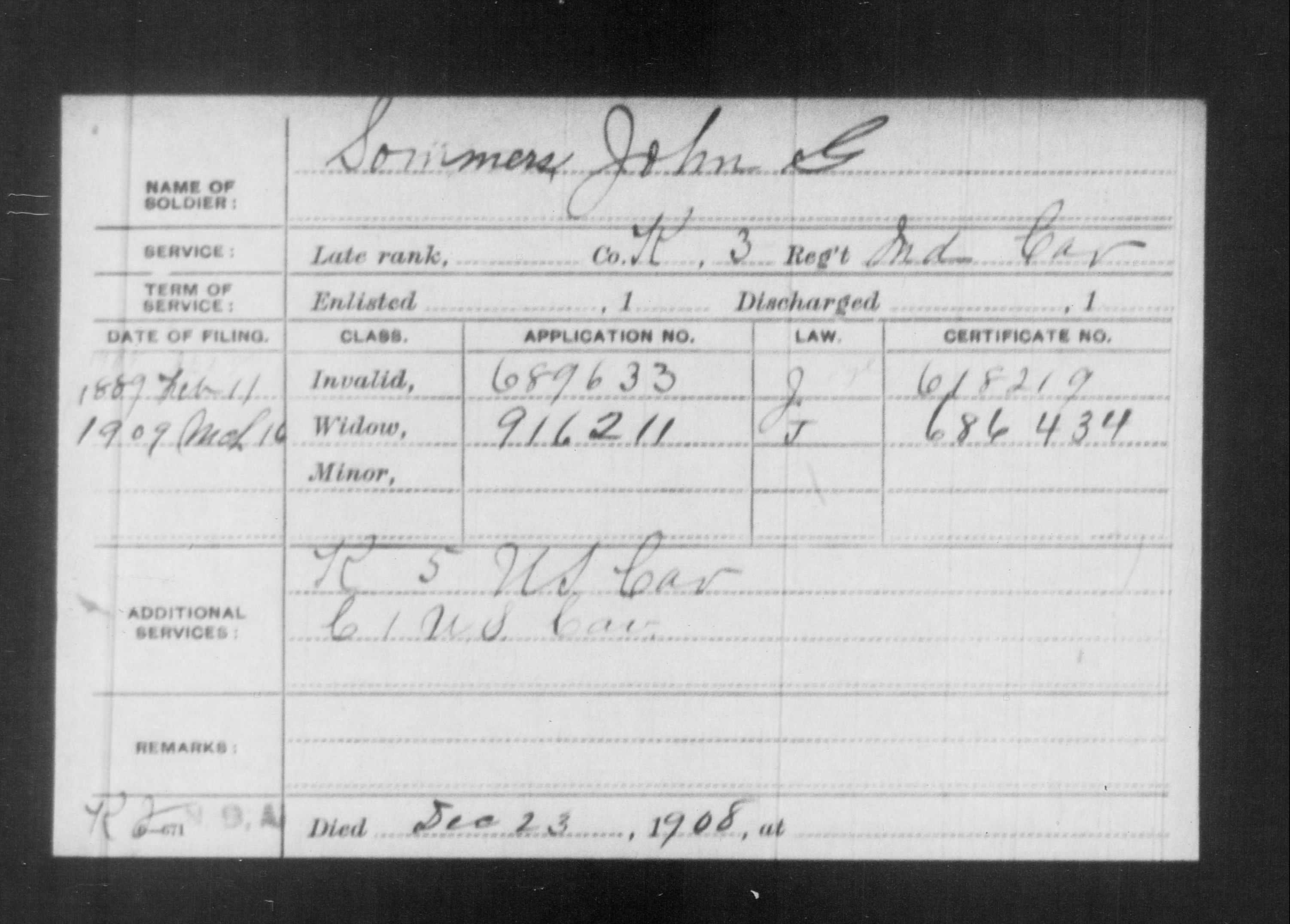 That same John G. Sommers, applied for a disability pension on 11 February 1889 and received benefits until he died on 23 December 1908 (date on card), whereupon, according to the Pension Index Card (shown above from Fold3), a widow applied and collected benefits until her death.  The above card also shows that John G. Sommers also served in two U.S. Cavalry regiments/companies.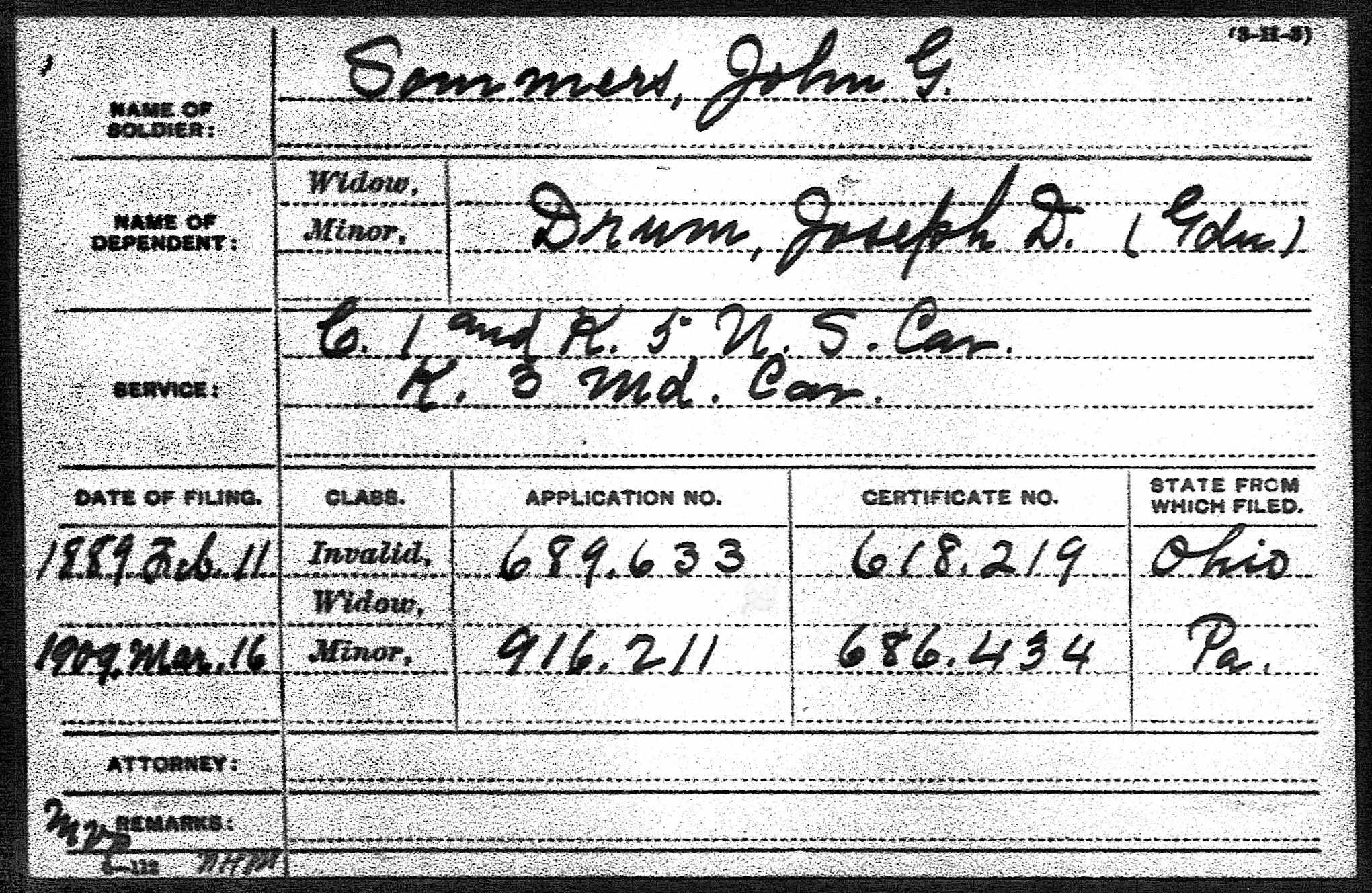 The above version of the Pension Index Card, available from Ancestry.com, shows that John G. Somers applied for pension benefits from Ohio the year before he appeared in the 1890 Upper Paxton Township census.  Strangely, the widow pension application does not appear on the card, but a pension on behalf of a minor (or minors) was applied for on 16 March 1909 by Joseph D. Drum, guardian.  That latter pension application was made from Pennsylvania.
The three sections of a page from the Soldier's Home in Dayton, Ohio, are shown below (available from Ancestry.com).
The military history closely matches the previously known information and adds the "muster" in place of Baltimore, Maryland, and the "muster out" place of Vicksburg, Mississippi.  A war injury, a sabre cut of the head, was deemed to be "not disabling."
On domestic/personal history [in 1902], he was 54 years old, was 5 foot 5 inches tall, had auburn hair and was literate.  His place of residence was Akron, Ohio, and he was a widower.  And, his daughter, Mrs. Emma Brown, of Pittsburgh, Pennsylvania, was his next of kin.
The home history shows that John G. Sommers entered and left three times from 1902 to his death in December 1908, which resulted from a cerebral hemorrhage.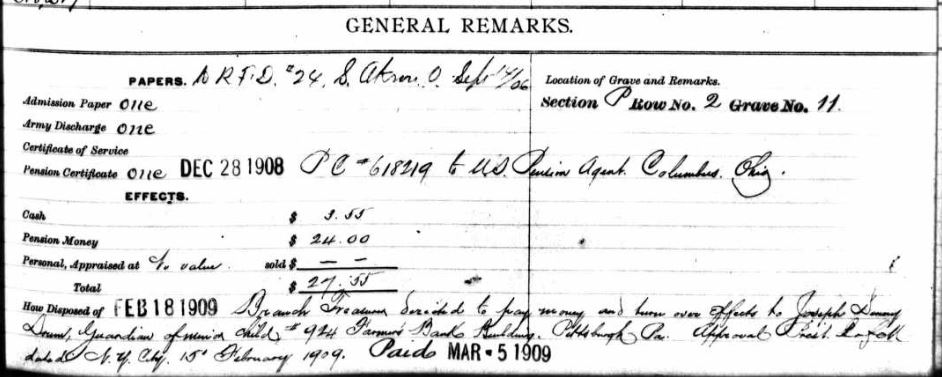 In the final remarks, it is noted that John G. Sommers was buried in the National Cemetery at Dayton, Ohio, Section P, Row 2, Grave 11.
Other than the above information, not much more is known about this John G. Sommers at this time.  If he lived in Upper Paxton Township in 1890, he should be included in the list of men who had some connection to the Millersburg area.  It was through the census that he was initially identified.
Any reader with information about this John G. Sommers is urged to come forward.  Please add comments to this post or send to the Project by e-mail.