Posted By Norman Gasbarro on August 30, 2017
Daniel A. Shultz died on 30 December 1925 in Shamokin, Northumberland County, Pennsylvania, and was buried at the I.O.O.F Cemetery, Lykens, Dauphin County, Pennsylvania.  His grave marker is pictured above.  Daniel A. Shultz is recognized on the Lykens G.A.R. Monument as a member of the Heilner Post who joined after its organization.  However, on the monument plaque, his surname is name is spelled "Schultz."

The obituary of Daniel A. Shultz appeared in the Elizabethville Echo, 7 January 1926: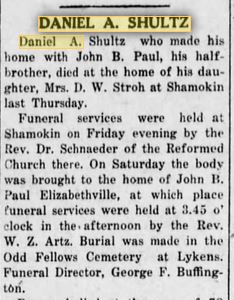 DANIEL A. SHULTZ

Daniel A. Shultz who made his home with John B. Paul, his half-brother, died at the home of his daughter, Mrs. D. W. Stroh at Shamokin last Thursday.

Funeral service were held at Shamokin on Friday evening by the Rev. Dr. Schnaeder of the Reformed Church there.  On Saturday the body was brought to the home of John B. Paul, Elizabethville, at which place funeral services were held at 3:45 o'clock in the afternoon by the Rev. W. Z. Artz.  Burial was made in the Odd Fellows Cemetery at Lykens.  Funeral Director, George F. Buffington.

Deceased died at the age of 78 years, 7 months and 16 days.  In 1869 he was married to Catharine Bressler who preceded him in death five years ago.  He enlisted as a private during the Civil War at the age of 16 years and served nine months after which he entered the regular army and served three years.

He is survived by one half-brother, John B. Paul, Elizabethville, one son, Robert Shultz of Columbus, Ohio, and two daughters, Mrs. D. W. Stroh, Shamokin, and Mrs. Mary Dissinger of Harrisburg, also by seven grandchildren and six great-grandchildren.

The floral tributes given by relatives were many.  The pall bearers were:  Daniel Stroh; Clair Stroh; Lester Leichtner; Charles Warner; Frank W. Paul; Marian Paul.

Those who attended the services from a distance were: Mr. and Mrs. D. W. Stroh; Mr. and Mrs. Lester Leichtner; Daniel Stroh and Clair Stroh of Shamokin; Mr. and Mrs. Charles Warner, New York; Mrs. D. M. Dissinger and daughters Catharine Dissinger and Leona Dissinger; Mr.and Mrs. Horn and George Bressler, Tower City; Mr. and Mrs. Oliver Holtzman; Pierce Holtzman and daughter of Fisherville; Mr. and Mrs. William Reed;Mr. and Mrs. Harry Lebo, Halifax; Byron Enders; J. Henry Paul, Robert Paul, and Ruth Paul, of Enders; Israel Paul; Mrs. Earl Paul, and Mrs. Woodside of Lykens.