Posted By Norman Gasbarro on August 18, 2017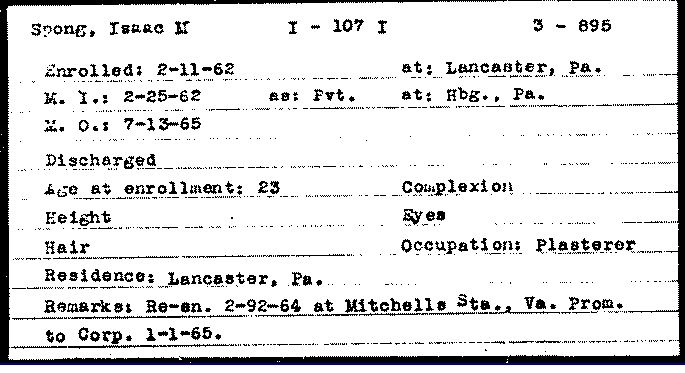 The name of Isaac M. Spong was first introduced to the Civil War Research Project by inclusion in the Klingerstown Bicentennial Album, which stated that he served in the 107th Pennsylvania Infantry and was wounded at Dabney's Mills, Virginia – and that he was buried in the St. Luke's Parish Cemetery, Malta, Northumberland County, Pennsylvania.  Subsequent research has shown that the Isaac M. Spong who served in the 107th Pennsylvania Infantry is buried at Mt. Lebanon Cemetery, Lebanon, Lebanon County, Pennsylvania.
The card above, from the Pennsylvania Archives, indicates that Isaac M. Spong enrolled at Lancaster on 11 February 1862, and was mustered into service at Harrisburg on 25 February 1862 in Company I, as a Private.  He re-enlisted in February 1864, was promoted to Corporal on 1 January 1865, was wounded on 6 February 1865, and was honorably discharged with his company on 13 July 1865.  By occupation, he was a plasterer and was about 23 years old when he enlisted.
Two Findagrave records exist for Isaac M. Spong (or Isaac M. Spang as he was also known).
The first record has the text of an obituary which is incorrectly dated as 1931.  This obituary is easily found in the Lebanon Daily News of 5 July 1901: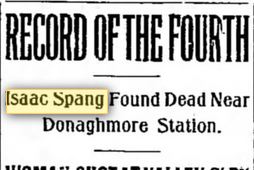 Isaac Spang, plasterer, residing at 1116 Cedar Avenue, was found dead in the meadow, along the embankment of the Cornwall railroad between Cumberland and Chestnut Streets, near Donaghmore station on Thursday about noon. He is aged about 56 years. From witnesses who saw Spang, it was learned that at about 11 o'clock Thursday morning Mrs. Spang was seen leading her husband, evidently trying to get him home. While walking along the embankment of the Cornwall Railroad, near Donaghmore station, he was seen to fall to the ground. Mrs. Spang left her husband lie and hurried home in order to secure assistance of neighbors with a view of removing her husband home. When she arrived at the scene she was shocked to find that her husband had died during her absence and became grief stricken. Word was sent to the police station and Deputy Coroner Charles D. Weirich was notified. He at once proceeded to the scene and after viewing the remains directed their removal by the family. Spang was a veteran of the Civil war and his body was removed to the residence by several Sons of Veterans, who were near when death occurred. Deputy Coroner Weirich selected a jury as a precaution in case Coroner Shultz decided to hold an inquest later. Death is said to have been caused by heat prostration and alcoholism. Spang for some years resided in the Second Ward. He is survived by a wife, Caroline [Fetter] Spang, and those children, who are at home: Lenora Spang, Beulah Spang, Albert Spang, Isaac Spang and Caroline Spang; a son resides at Reading and another at Pittsburgh.
The first record also has a photograph of the grave marker at the Mt. Lebanon Cemetery.
The second record was created by Dennis Brandt, Civil War researcher and writer, who is known for his posts based on actual consultation of the pension records at the National Archives.  Brandt offers some additional information about Isaac M. Spong, but nowhere in the write-up is anywhere other than Berks County, Lancaster County or Lebanon County mentioned.
A Civil War veteran, he enlisted in Lancaster 11 February 1862, mustered into federal service at Harrisburg February 25 as a private with Company I, 107th Pennsylvania Infantry. He contracted a variety of ailments throughout his service such as bronchitis, dysentery, and fevers and was admitted to Wolf Street U.S. Hospital, Alexandria, Virginia, in the summer of 1862, then transferred to the hospital in York before returning to duty. Listed as a deserter April – May 1863, he returned to duty without apparent serious repercussions. He re-enlisted as a Veteran Volunteer 29 February 1864, at Mitchell's Station, Virginia. On June 16, 1864, he was admitted to Carver U.S. Hospital, Washington DC, for treatment of "primary syphilis." Promoted to Corporal 1 January 1865, he suffered a shell wound to the flesh of his left hand during fighting at Dabney's Mills (Hatcher's Run), Virginia, 6 February 1865, but remained on the active roll and honorably discharged with his company 13 July 1865.

In 1880, he lived in Lititz, Lancaster County, and by 1890, in Lebanon, Lebanon County, where he was buried under the Pennsylvania Indigent Soldiers Act. 
As sometimes happens, there are two Findagrave entries for the same person at the same cemetery. In this case, it probably is due to the spelling variant of the surname – Spong and Spang.  However, no Findagrave entry has been located for a person of the same or similar name in a cemetery in Malta.
There are several veterans who have been misidentified as buried in Klingerstown area cemeteries.  It appears now that this is one of them.  If any reader can provide a photograph of the grave marker at Malta which purportedly is of a Civil War veteran named Spang or Spong, it would be helpful in finalizing the issue, but at this time, it is clear from research, that the Isaac M. Spong who served in the 107th Pennsylvania Infantry is not buried at Malta.