Posted By Norman Gasbarro on July 10, 2017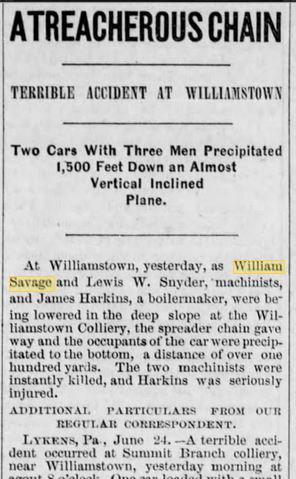 On 23 June 1879, William Savage, a Civil War veteran, was at work in his usual job of machinist at the Williamstown Colliery, and was the victim of an accident – dying instantly as a car in which he was riding down the slope broke loose from its chain and fell to the bottom of the slope.

The name of William Savage appears on the Lykens G.A.R. Monument, as a Private who served in the Civil War who was not a member of the Heilner Post.

His brother's name, Edward G. Savage, also appears on the monument, as a Colonel, who joined the Heilner Post after it was organized.
The mining accident was described in the Harrisburg Daily Independent, 24 June 1879:
A TREACHEROUS CHAIN

TERRIBLE ACCIDENT AT WILLIAMSTOWN

Two Cars with Three Men Precipitated 1500 Feet Down an Almost Vertical Inclined Plane

At Williamstown, yesterday, as William Savage and Lewis W. Snyder, machinists, and James Harkins, a boilermaker, were being lowered in the deep slope at the Williamstown Colliery, the spreader chain gave way and the occupants of the car were precipitated to the bottom, a distance of over one hundred yards.  The two machinists were instantly killed, and Harkins was seriously injured.

ADDITIONAL PARTICULARS FROM OUR REGULAR CORRESPONDENT

LYKENS, Pennsylvania, 24 June 1879 — A terrible accident occurred at Summit Branch Colliery, near Williamstown, yesterday morning at about 8 o'clock.  One car loaded with a small boiler, lumber, tools. etc. and one car empty, were in readiness to go down the slope.  William Savage, of Williamstown; Lewis Snyder of Lykens, machinist, and James Harkins, boiler-maker, of Lykens at once boarded the empty car for the purpose of making repairs in the mines, and as the cars were just starting down from the top the chain broke or unhooked.  The two cars, with the occupants, went down to the bottom of the slope, a distance of over 500 yards, the cars keeping the track to the bottom.  The two machinists were instantly killed, and Harkins, who fell or jumped out before quite reaching the bottom, was seriously wounded.  He was at once brought to Lykens by the passenger train and taken to Mr. Joseph Duncan, his brother-in-law. where surgical aid was summoned and all other attention and care possible paid to him.  He died after about ten hours suffering.

Mr. Hawkins just about three weeks ago arrived here from England, and leaves there a wife and seven children.  Mr. L. W. Snyder was formerly of Port Carbon, Schuylkill County, where his remains will be taken for interment.  He was also of the firm of Snyder and Erdman, of the Wiconisco Foundry.  He leaves a wife and eight children.  William Savage, brother to Col E. G. Savage, leaves a wife and three children.

Funeral on Wednesday.  The colliery will not work until after the funeral.
During the Civil War, William Savage served in the 39th Pennsylvania Infantry (Emergency of 1863), from 1 July 1863, through the end of the emergency on 2 August 1863, when he was discharged.  Since the military records of this emergency militia are scant, most of the research on him and his life had to be done through other records available on Ancestry.com.
These facts have been ascertained thus far about William Savage:
He was the son of James Savage (1799-1858) of Wales and his wife Eleanor [Griffiths] Savage (1801-1871), also of Wales. The Savage family came to America about 1830, and William Savage was born in Pennsylvania about 1835.  His older brother Edward G. Savage (1829-1891), previously mentioned, was born in Wales.  There was also a brother Robert Savage (1837-1893) and a brother Thomas Savage (1833-?) about whom not much is known.
The Savage family lived in Branch Township, Schuylkill County, in 1840; in Cass Township, Schuylkill County in 1850; and in Wiconisco Township, Dauphin County in 1860.  In 1860, the widow Eleanor was head of household with children William and Robert living with her.
William Savage married Hannah Morris (1849-?) of Wales some time before 1873.  She was the widow who survived him.  The three surviving children were:
Eleanor "Ella" Savage (1873-1918) who married Thomas Dando (1872-1931) in Williamstown. They had at least three known children.
James Savage (1876-?), about whom little is known at this time.  He was living in Williamstown in 1900.
Jennie "Jane Savage (1878-1953), who apparently didn't marry.  She died in Elizabethville, Dauphin County.
The Savage family, for several generations, was involved in mining, sometimes at a level greater than laborer or miner – as with William Savage, who was employed as a machinist.
The mining disaster at Williamstown in which William Savage was killed, was one of the worst in the history of the mines there in that three persons died as a result of a single accident.
At this time, not much is known about the other two men who died, but research continues to determine if either had any Civil War connections.
It is hoped that blog readers can provide additional information about this family.  Please add comments to this post or send the information via e-mail.
____________________________
News clippings are from Newspapers.com.