Posted By Norman Gasbarro on July 14, 2017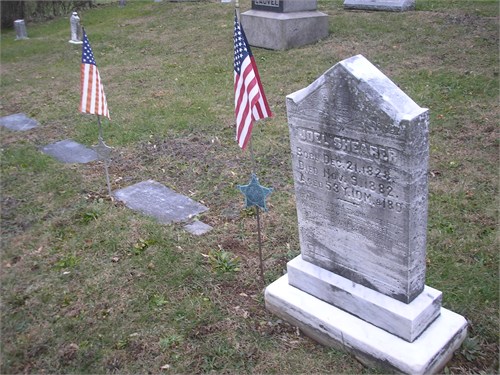 Joel Shearer died on 9 November 1882 and is buried at St. Luke's Parish Cemetery, Malta, Northumberland County, Pennsylvania.  At his grave, there is a G.A.R. star-flag holder.  However, no regiment or company has been located in which he served.  And, there is nothing on the grave marker itself to indicate that he served.
According to information located so far, Joel Shearer was born on 21 December 1828 in York County.  In 1880, he was working as a laborer and living in Upper Paxton Township, Dauphin County, Pennsylvania, living with wife Mary and children Charles Shearer, age 10; Miranda Shearer, age 6; and Sylvanus Shearer, age 3.  Mary's maiden name was Ehrhart, and she was the daughter of George Ehrhart and Catherine [Shoop] Ehrhart, both of Upper Paxton Township.  Following the death of Joel Shearer in 1882, son Charles was located in the Tower City area, where he worked as a telegraph operator for the railroad; daughter Miranda, also in the Tower City area, where she worked as an operator in clothing factories; and son Sylvanus, in Tower City, who was a laborer in the coal mines.  No evidence has been seen that either Miranda or Sylvanus married.  Sylvanus died in Florida in 1940. Joel Shearer's wife Mary died in 1896 and is buried at St. Paul's Lutheran Church Cemetery, Tower City.
No obituary has been located for Joel Shearer in Newspapers.com.
This possible veteran should be of special interest to researchers in the Millersburg area who are attempting to compile a complete list of all Civil War soldiers who had some connection to Millersburg and area.