Posted By Norman Gasbarro on July 28, 2017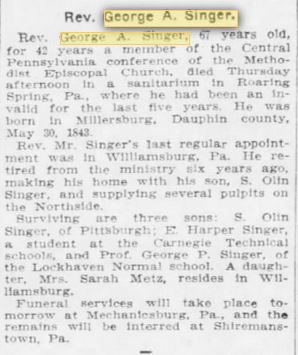 The obituary of George A. Singer appeared in the Pittsburgh Daily Press, 27 August 1910:
REV. GEORGE A. SINGER

Rev. George A. Singer, 67 years old, for 42 years a member of the Central Pennsylvania Conference of the Methodist Episcopal Church, died Thursday afternoon in a sanitarium in Roaring Spring, Pennsylvania, where he had been an invalid for the last five years.  He was born in Millersburg, Dauphin County, 30May 1943.

Rev. Mr. Singer's last regular appointment was in Williamsburg, Pennsylvania.  He retired from the ministry six years ago, making his home with his son, S. Olin Singer, and supplying several pulpits on the Northside.

Surviving are three sons:  S. Olin Singer, of Pittsburgh; E. Harper Singer, a student at the Carnegie Technical Schools; and Prof. George P. Singer, of the Lockhaven Normal School.  A daughter, Mrs. Sarah Metz, resides in Williamsburg.

Funeral services will take place tomorrow at Mechanicsburg, Pennsylvania, and the remains will be interred at Shiremantown, Pennsylvania.
In 1850, George Asbury Singer was living with his parents in Upper Paxton Township.  The father, George Singer, was a blacksmith.  In 1860, the family had moved to Halifax Township, where the father was then working as a farmer, and young George was working as a clerk.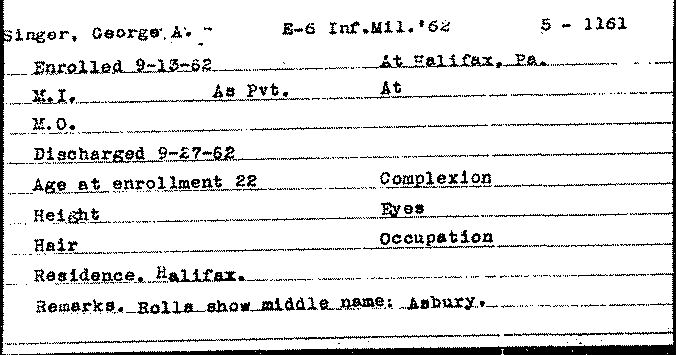 During the emergency of 1862, George A. Singer joined the 6th Pennsylvania Infantry (Militia), Company A, where he served as a Private from 13 September 1862 to 27 September 1862.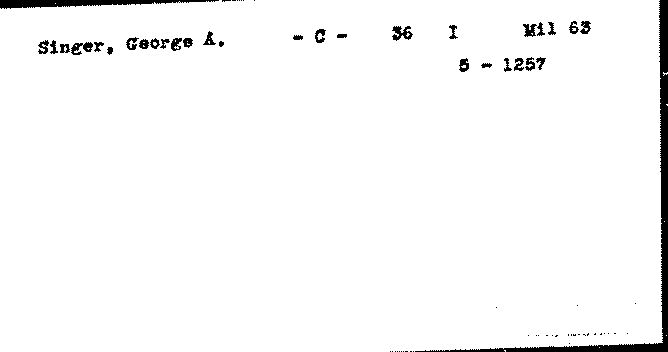 During the 2nd emergency in 1863, George A. Singer joined the 36th Pennsylvania Infantry (Militia), Company C, a company that was formed from men who had been part of the Gratz Home Guard.  This company was sent to Gettysburg to help clean up the battlefield after 3 July 1863. It was in this company that George served with two African American soldiers – John Peter Crabb and his brother Edward Gratz, both sons of Peter Crabb, one of the first settlers of Gratz.
The Civil War service is not mentioned in the obituary.
At this time, not much is known about his career as a minister, except that it is believed that he did not return to the Lykens Valley after the war.  Nevertheless, he is named in the Halifax list of Civil War veterans, but like many others from Millersburg and Upper Paxton Township, he is not named on the soldier monument there, nor is he named in any list of veterans from that place.
For more information, see his Findagrave Memorial.
______________________________
News clipping from Newspapers.com.  Pennsylvania Veterans' File Cards pictured above are from the Pennsylvania Archives.