Posted By Norman Gasbarro on July 31, 2017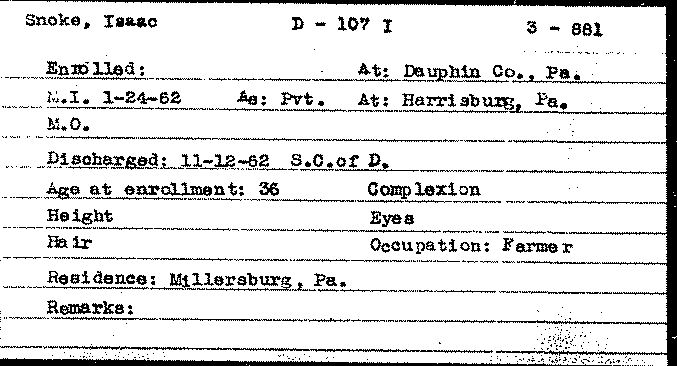 Isaac Snoke was born 2 May 1826 and at the time of the Civil War, he enrolled in and honorably served in the 107th Pennsylvania Infantry, Company D, as a Private.  The record card, shown above from the Pennsylvania Archives, notes that he was mustered into service on 24 January 1862 at Harrisburg, and was discharged on a Surgeon's certificate of Disability on 12 November 1862.  At the time of his muster in, he was 36 years old, was employed as a farmer, and resided in Millersburg, Dauphin County, Pennsylvania.
In the 1860 Census, Isaac Snoke was living in Upper Paxton Township, Dauphin County, where he was working as a farmer.  In his household, was his wife Barbara Snoke, and two children, Hiram Snoke, age 8, and Barbara Ellen Snoke, age 3 months.
In 1870, Isaac Snoke was still living in Upper Paxton Township and still working as a laborer.  The same family members were in his household.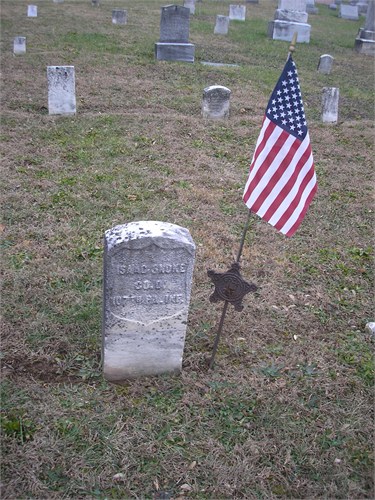 Isaac Snoke died on 18 September 1873 and is buried at St. Luke's Parish Cemetery, Malta, Northumberland County.  There is some additional information about him at his Findagrave Memorial including that his parents were Henry Snoke and Barbara Snoke and that he had a twin sister Leah Snoke.  Note that there is a government issued grave marker as well as a G.A.R. Star-Flag Holder at the grave!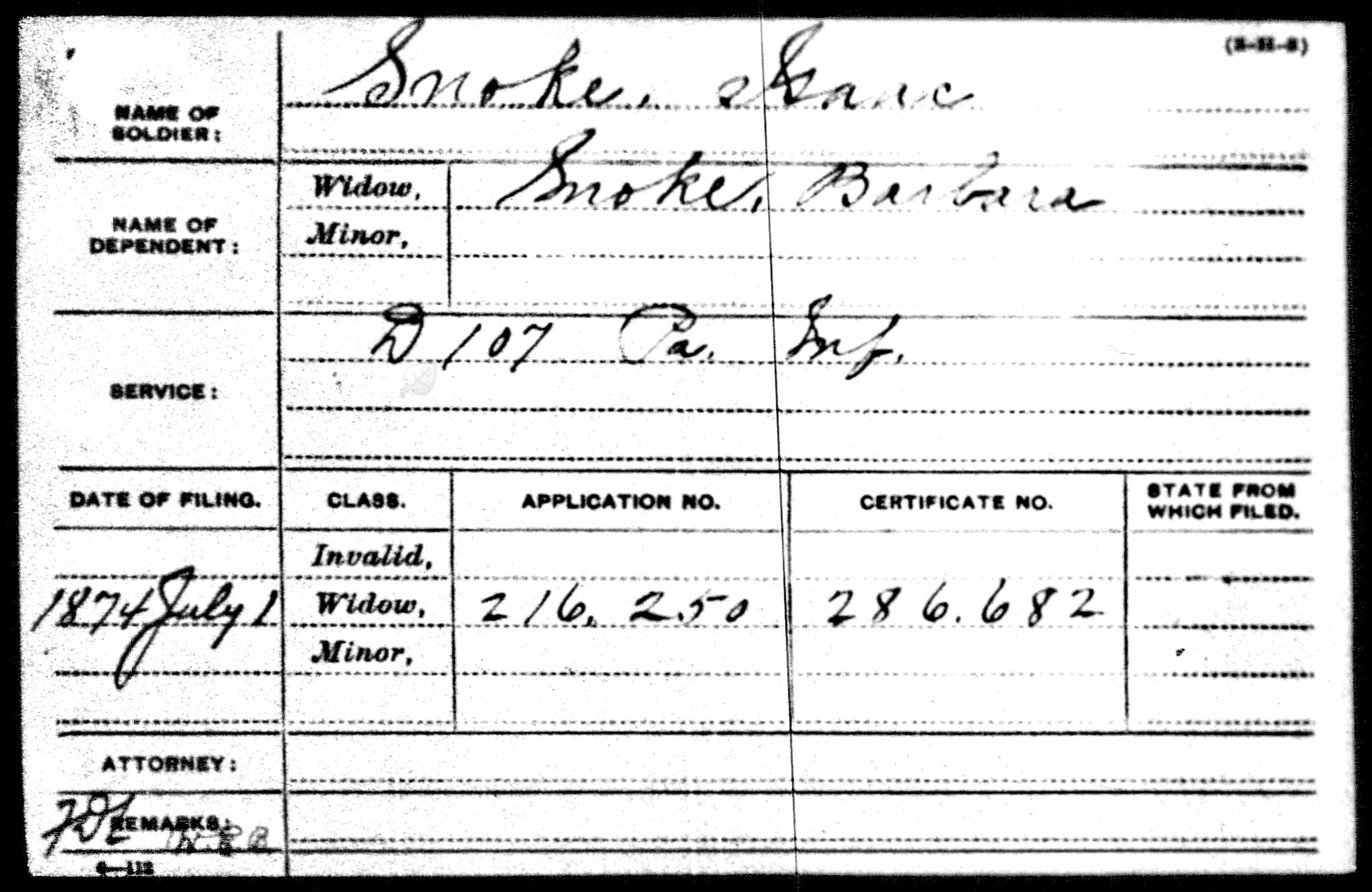 Barbara Snoke applied for widow's pension benefits on 1 July 1874, which she received as indicated on the Pension Index Card from Ancestry.com, as shown above.

Following the death of Isaac, Barbara remained in Upper Paxton Township, where she was enumerated as a 51 year old head-of-household, with a boarder, Jerry Specht, 33, a laborer, living with her.  Whether by error or by choice, Barbara's race was given as "M" for mulatto.  Previous censuses have her as white.
In 1890, Barbara Snoke indicated that she was a war widow, that her husband served in the 107th Pennsylvania Infantry and had received a "disability" as a result of his war service.
The only reverence found of Barbara's maiden name is in the death certificate of here son Hiram F. Snoke, 1907, where his mother's maiden name was given as "Bella Lauer" (or Lawer).
Barbara Snoke died on 30 January 1896 and according to her Findagrave Memorial, she is buried with her husband at St. Luke's Parish Cemetery, Malta, Northumberland County.
Some additional sources on this veteran: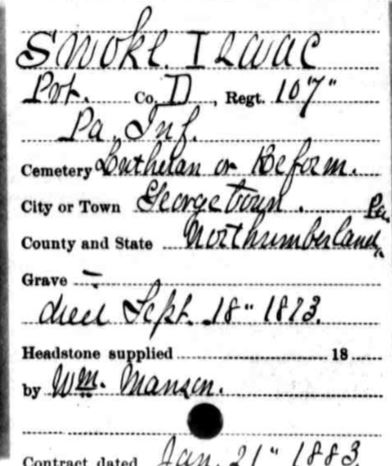 Above, from the database, Headstones Provided for Deceased Union Civil War Veterans, shows that by contract dated 21 January 1883, a grave marker was issued for the Isaac Snoke who served in the 107th Pennsylvania Infantry.  [From:  Ancestry.com].

Above, pension re-issue for Barbara Snoke, widow of Isaac Snoke, as reported in the Philadelphia Inquirer, 19 April 1891.  [From:  Newspapers.com].
Finally, the above cut from the plaque on the Millersburg Soldier Monument, shows that the name of Isaac Snoke has been omitted.  Hence, still another soldier who served in the Civil War is not recognized in the central square of his hometown.  This again calls into question the criteria for the recognition of veterans that was applied when the monument was erected.  It's difficult to understand how more than three times as many legitimate Civil War vets have not been recognized as were actually recognized.   Perhaps the current veteran organization of Millersburg and area can answer the question!