Posted By Norman Gasbarro on June 23, 2017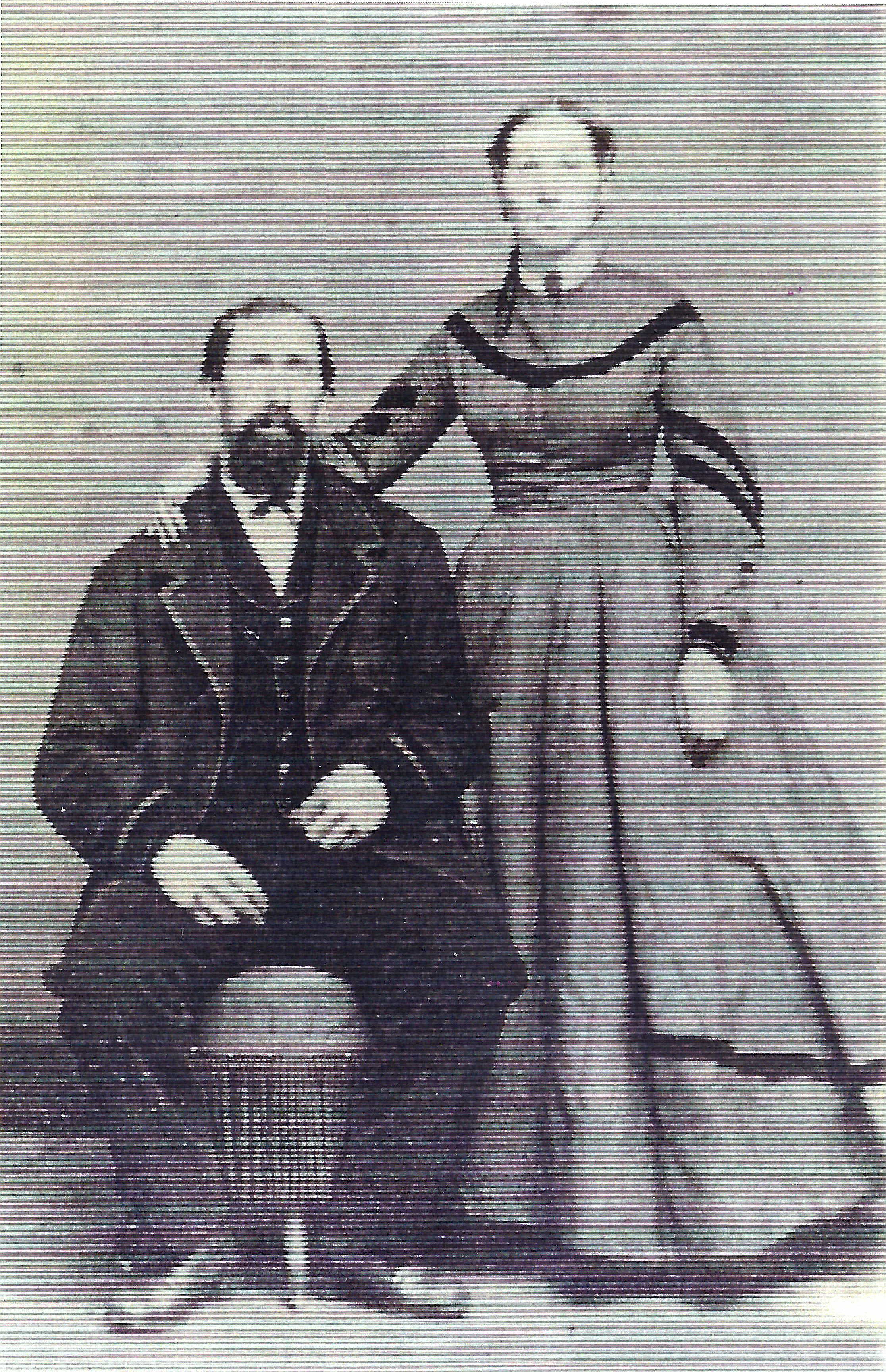 Aaron Schoffstall was born about 10 April 1842 in Jordan Township, Northumberland County, Pennsylvania, the son of Henry Schoffstall (1808-1867) and Margaret Rebecca [Wells] Schoffstall (1808-1878).  In 1850, the family was living in Lykens Township, Dauphin County, Pennsylvania, where Henry was a farmer.  In 1860, Aaron was working as a teamster in Gratz.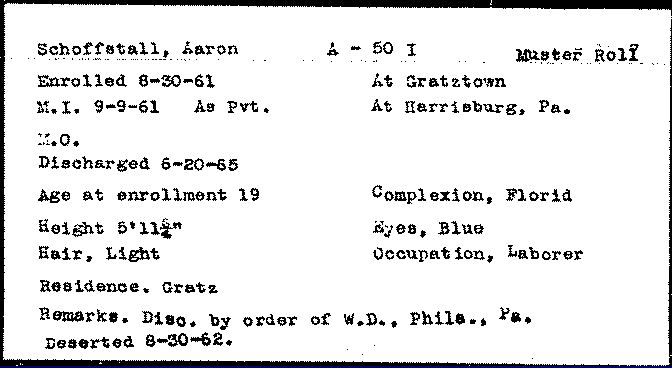 According to the Pennsylvania Veterans' File Card, shown above from the Pennsylvania Archives, Aaron Schoffstall enrolled on 30 August 1861 at Gratztown in the 50th Pennsylvania Infantry, Company A.  He was mustered in at Harrisburg as a Private on 9 September 1861.  At the time of his enrollment, he was 19 years old, he was a laborer, and his residence was Gratz.  Physically, he was nearly 6 foot tall, had blue eyes, light hair, and a florid complexion.  According to the card, he deserted on 30 August 1862.  However, he must have returned because the card also indicates that he was discharged by order of the War Department at Philadelphia, 20 June 1865.  At this time, not much more is known about his military service, including whether his discharge was honorable.  No Pension Index Card has been located for him, probably indicating that an application was not made.
The photograph at the top of this page is believed to be of Aaron Schoffstall and his wife Elizabeth (or Lizzie).  The date of their marriage has not been confirmed, but some of the children named on Ancestry.com trees have a different mother.  For example, one child, Henry Aaron Schoffstall, born about 25 November 1861, identified Amanda [Troutman] Schoffstall as his mother (death certificate and obituary). Another child Franklin St. Clair Schoffstall, born about 26 April 1868 in Titusville, Crawford County, Pennsylvania, identified Eliza Coxson as his mother.  And, Edith Mary [Schoffstall] Murray, born about 4 September 1875 in Titusville, identified Mary Cox as her mother.
When Aaron Schoffstall of Lykens Township registered for the draft in July 1863, he indicated he was single and that he was a laborer.  He correctly identified the service regiment and company in which he was serving as the 50th Pennsylvania Infantry.
Additional research need to be done to determine if Aaron Schoffstall had more than one wife – or if the records of more than one Aaron Schoffstall have been co-mingled.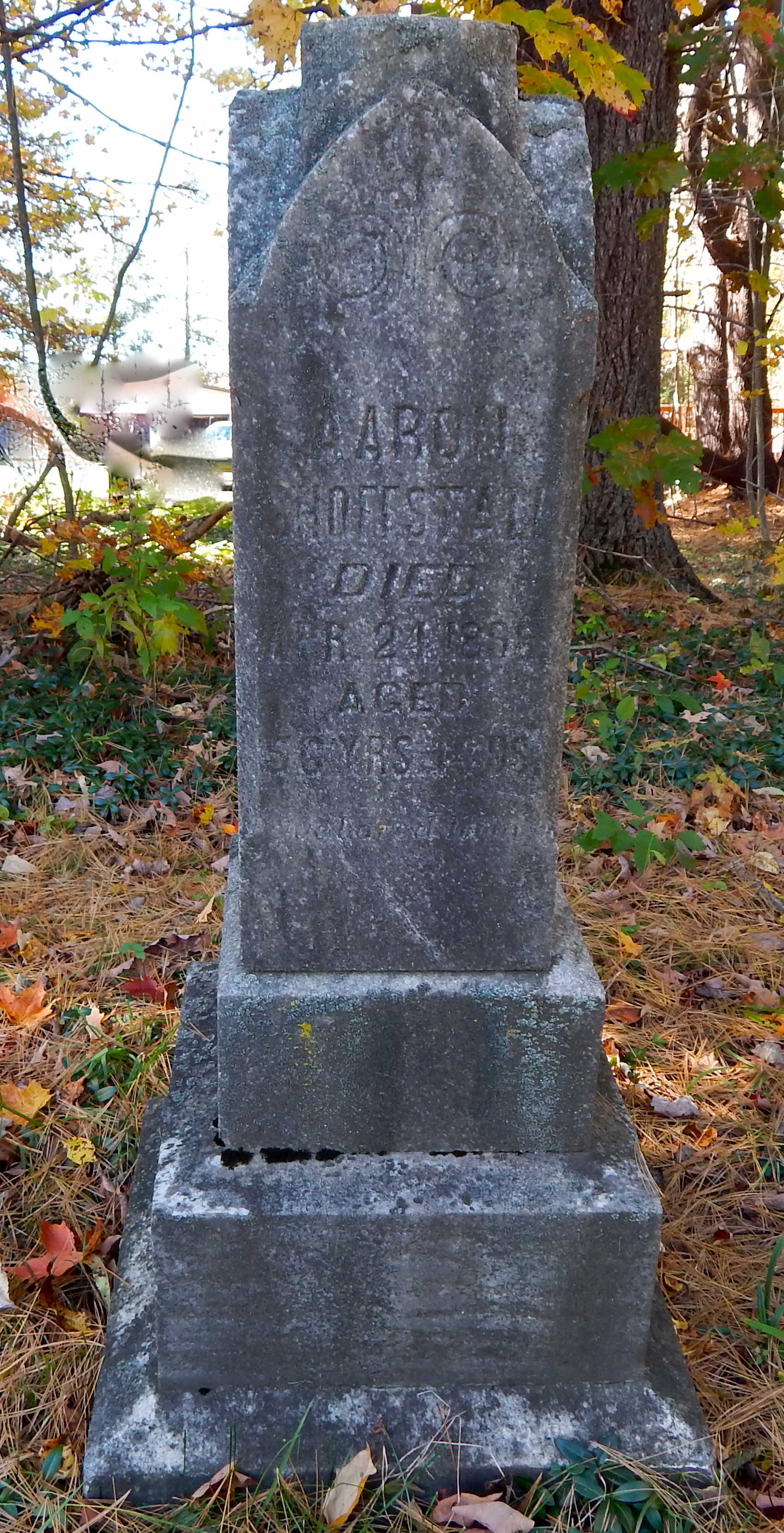 According to Findagrave, Aaron Schoffstall is buried at the Roses Cemetery, Roses, Forest County, Pennsylvania.  He was born on 10 April 1842 in Jordan Township and died in Pennsylvania on 24 April 1898.  The parents named in the Findagrave Memorial are Henry and Rebecca, which confirms the parents named at the top of this post.  The spouse is named as Eliza, and two of the children, Franklin and Edith, are also referenced.  There is no mention in the Findagrave Memorial that Aaron Schoffstall was a Civil War veteran.
In 1870, Aaron and Eliza appear in the Census for Titusville, Crawford County, Pennsylvania. Petroleum was discovered in the Titusville area in the early 1850s, but there was no practical way to extract it from the ground until the late 1850s, whereupon Titusville became a boom town.  It is believed that Aaron and Eliza arrived there some time in the early to mid-1860s since son Franklin's birthplace in 1868 was given as Titusville. At first Aaron worked as a laborer, but quickly rose in level within the industry.  By 1880, the family had moved to Kendall, McKean County, Pennsylvania, where Aaron was working as an oil producer.
Efforts to find Aaron Schoffstall in the 1890 Veterans' Census have not been successful.
While this information is not confirmed by multiple sources, it is presented here so that a reader who knows more accurate information can add it.  Did Aaron have more than one wife?  Was he honorably discharged from the service?  Why didn't he apply for a pension and why is he not found in the 1890 Census?  Are there any news articles available on Aaron's exploits in the oil industry?  Is there an obituary?
Please add information as comments to this blog post – or send via e-mail.