Posted By Norman Gasbarro on May 31, 2017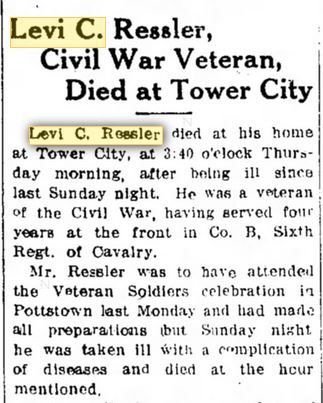 The obituary of Levi C. Patrick appeared in the Lebanon Semi-Weekly of 13 September 1915:
Levi C. Ressler, Civil War Veteran

Died at Tower City

Levi C. Ressler died at his home at Tower City at 3:40 o'clock Thursday morning , after being ill since last Sunday night. He was a veteran of the Civil War, having served four years at the front in Company B, Sixth Regiment of Cavalry [sic].

Mr. Ressler was to have attended the Veteran Soldier Celebration in Pottstown last Monday and had made all preparations but Sunday night he was taken ill with a complication of diseases and died at the hour mentioned.

Fraternally, he was a member of William Thompson Post, No. 174, G.A.R. of Tower City…. Besides his wife there remain two sons, Perry Ressler and Warren Ressler, the latter of Tamaqua. Clothier Patrick, of Tower City, is a brother-in-law.

Mr. Ressler was a carpenter by trade and of late years live a retired life.  He formerly lived here [Lebanon County].  He was a member of the Trinity Reformed Church.  The funeral will take place Sunday afternoon.  He is the second member of the G.A.R. at Tower City to die within a week.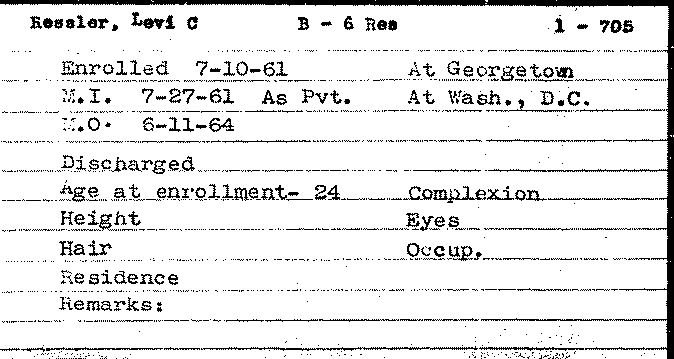 The regiment in which Levi C. Ressler served in the war was incorrectly identified as cavalry in the obituary.  On 10 July 1861, he enrolled at Georgetown[Dalmatia] Northumberland County, Pennsylvania, in the 6th Pennsylvania Reserve Infantry [35th Pennsylvania Infantry], Company B, as  Private. At the time, he said he was 24 years old.  He was mustered into service at Washington, D.C., on 27 July 1861, and served until he was honorably discharged on 11 June 1864.
About 1872, he married Elizabeth "Eliza" Patrick.  Her brother was the Tower City "clothier Patrick" referred to in the obituary. According to the census of 1900, Levi worked [for his brother-in-law?] as a clothing salesman after moving to Tower City from Lebanon County where he lived in 1890.  By the 1910 census, Levi again gave his occupation as carpenter.
Levi C. Ressler was born in Northumberland County.  His parents were Solomon Ressler, a cabinet maker, and Catherine A. [Haas] Ressler.  In 1870, the family was living in Mifflin Township, Dauphin County, where Levi was working as a carpenter.  In 1880, Levi and his wife Catherine had moved to Porter Township, Schuylkill County, where Levi continued in his trade of carpenter.
Levi's grave has not yet been located to be photographed.  One source, the Pennsylvania Veterans' Burial Card from the Pennsylvania Archives, indicates that he is buried at Greenwood Cemetery, Tower City, while another source, the Klingerstown Bicentennial Album, indicates he is buried at Zion Cemetery, Hickory Corners, Northumberland County.
Also, this is another veteran who is not honored on the Tower City – Porter Township Veterans' Memorial, but should be, especially if he was a member of the G.A.R. Post there!
Readers are asked to supply additional information about this veteran.  Please add as comments to this post or send via e-mail.