Posted By Norman Gasbarro on May 5, 2017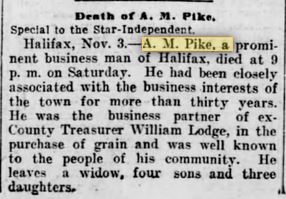 The death of Abner M. Pike was announced in the Harrisburg Daily Independent, 3 November 1902.  The obituary in that newspaper did not mention his Civil War service:
Death of A. M. Pike

Special to the Star-Independent

Halifax, 3 November 1902 — A. M. Pike, a prominent business man of Halifax, died at 9 p.m. on Saturday.  He had been closely associated with the business interests of the town for more than thirty years.  He was the business partner of ex-County Treasurer William Lodge, in the purchase of grain and was well-known to the people of his community.  He leaves a widow, four sons and three daughters.
An obituary also appeared in the Harrisburg Patriot of 5 November 1902: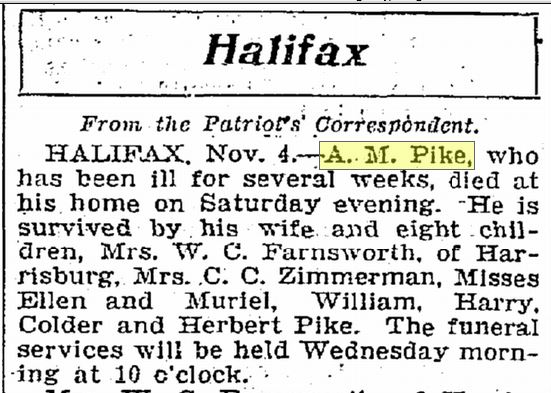 HALIFAX, 4 November 1902 — A. M. Pike, who has been ill for several weeks, died at his home on Saturday evening.  He is survived by his wife and eight children:  Mrs. W. C. Farnsworth, of Harrisburg;  Mrs. C. C. Zimmerman; Miss Ellen Pike; Miss Muriel Pike; William Pike; Harry Pike; Colder Pike; and Herbert Pike.  The funeral services will be held Wednesday morning at 10 o'clock.
Finally, from the Harrisburg Patriot, 10 November 1902, the funeral was described: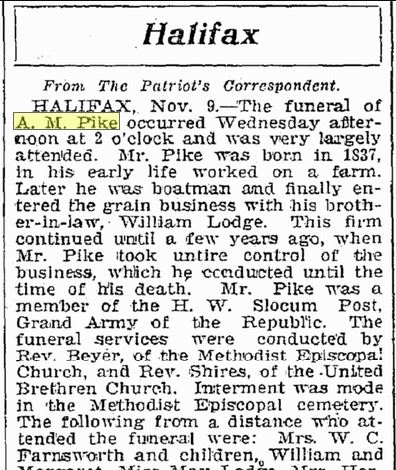 HALIFAX, 9 November 1902 — The funeral of A. M. Pike occurred Wednesday afternoon at 2 o'clock and was very largely attended. Mr. Pike was born in 1837, in his early life worked on a farm.  Later he was boatman and finally entered the grain business with his brother-in-law, William Lodge.  This firm continued until a few years ago, when Mr. Pike took entire control of the business, which he conducted until the time of his death.  Mr. Pike was a member of the H. W. Slocum Post, Grand Army of the republic (G.A.R.)

The funeral services were conducted by Rev. Beyer, of the Methodist Episcopal Church, and Rev. Shires, of the United Brethren Church.  Interment was made in the Methodist Episcopal Cemetery.

The following from a distance who attended the funeral were:  Mrs. W. C. Farnsworth and children, William Farnsworth and Margaret Farnsworth; Miss May Lodge; Mrs. Horace Lodge and son; Thomas Robins and Mrs. Horace Hipple, of Harrisburg; Mrs. Furman; Mrs. Mary Jury; Mrs. William Rutter; Mrs. J. C. Johnson and C. M. Steward of Millersurg; Charles C. Lodge of Shamokin; Ephraim Fetterhoff, of Steelton; Mr. and Mrs. William Lodge, of Williamsport.
During the Civil War, Abner M. Pike served in the 192nd Pennsylvania Infantry, Company H, as a Private from 21 February 1865 to his honorable discharge on 24 August 1865.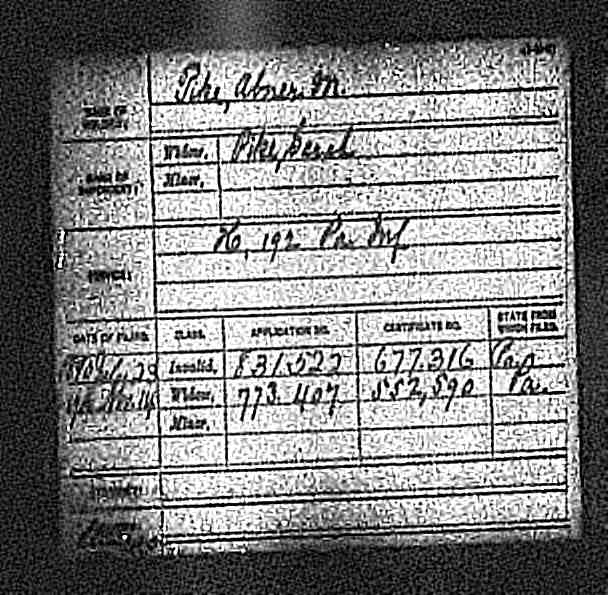 On 25 July 1890, Abner M. Pike applied for an invalid pension based on his Civil War service.  That benefit was awarded and he collected it to his death, which occurred on 1 November 1902.  The widow, Sarah J. [Lodge] Pike then applied and she received benefits until her death, which occurred on 14 September 1918.  Both Abner and Sarah are supposedly buried at Halifax United Methodist Church Cemetery, Halifax, Dauphin County, Pennsylvania, but their grave markers have not yet been located to be photographed for this Project.
Tragedies to report on here are two.  Both are connected to Abner M. Pike, but neither involved any harm to him personally.  The first occurred about two years before his death and the second occurred man years after his death, but involved his son.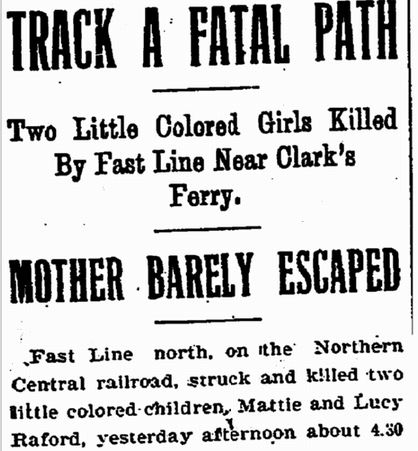 On 21 September 1899, the Harrisburg Patriot reported on an accident that occurred near Clark's Ferry on the Northern Central Railroad.  Abner M. Pike was selected for the Coroner's Jury, as the news article states, and the care given to the surviving mother by the residents of Halifax was duly noted:
TRACK A FATAL PATH

Two Little Colored Girls Killed By Fast Line Near Clark's Ferry

MOTHER BARELY ESCAPED

Fast Line North, on the Northern Central Railroad, struck and killed two little colored children, Mattie Raford and Lucy Raford, yesterday afternoon about 4:30  o'clock just below Clark's Ferry.

The children, age thirteen and eleven years, respectively, were the daughters of Mrs. Lucy Raford, of North Carolina.  The parted started several months ago from their old home in the south to go to the residence of friends in New York State.  Poverty they knew and starvation stared them in the face.  Work, and a home for the little one awaited their arrival in New York.  Money they had none, so railroad travel was impossible.

They made their way to Roanoke by wagon and all the long, weary way between that city and the scene of the fatal accident was covered by the trio afoot.   They stuck close to the railroads and through the kindness of trainmen and farm people they managed to eke out a scanty living.

The few clothes they had the mother carried in three bundles, one in either hand, the other on her head.  They were typical southern Negroes of the old plantation kind and minded little the hardships of travel.

As they wended their way yesterday along the northbound track of the Northern Central, the children called and waved to the employees on a southbound freight train opposite.  They did not know that the gestures of the men were made to warn them of Fast Line's approach and the "flier" was down upon them before they were aware.  The long blasts of the passenger whistle caught the mother's ear and dropping her baggage she had just time to grasp Lucy by the dress as the cowcatcher of the engine flashed by and threw two lifeless little forms many feet to the side.  Mrs. Raford escaped by a miracle.

The train came to a standstill under the pressure of the emergency brake and slowly backed to the scene of the accident. Both children were picked up dead and the mother was almost fainting from the shock.  All three were conveyed to Halifax and Coroner Krause, of this city, was summoned.

A. M. Pike, Hiram Chubb, C. H. Lenker, W. M. Yeingst, Samuel Noblet, and C. C. Zimmerman formed the Coroner's Jury and rendered a verdict of accidental death, exonerating the railroad company from blame.  Coroner Krause brought the two bodies and Mrs. Raford to this city.  The remains will be interred at the expense of the county.  Mrs. Raford the coroner sent to the home of the Barnes, a colored family residing on South Street.  Today, she will be removed to the county home where she will remain until she recovers from the shock of the accident.  Then Coroner Krause will endeavor to find work for her in this city.

Mrs. Raford was kindly treated by the people of Halifax.  They gave her shoes, of which she was destitute. and clothed her cleanly and presentably.  Last night she could do nothing but weep and lament her children's death.
The son of Abner M. Pike, Harry Pike, killed himself on 4 September 1933.  Notice of his death appeared in a local newspaper:
HALIFAX MAN ENDS LIFE WITH BULLET MONDAY

The body of Harry Pike, 61, of Halifax, was found in a chicken house on the property of Guy L. Heckert, tombstone manufacturer at Halifax, about 5:30 o'clock Monday afternoon.  Death was due to a bullet wound in the head, believed to be self-inflicted.

Pike had been employed as a watchman for Mr. Heckert.  Despondency over a prolonged period of ill health is believed to have prompted the man's act.  His body was found by Fred Heckert, son of the monumental works operator. County Coroner Howard Milliken who investigated expressed belief that Pike had been dead four or five hours.

He is survived by a son and a daughter, William Pike and Christine Pike, both of Reading; three brothers, Calder A. Pike and J. H. Pike, both of Halifax, and W. L. Pike, Harrisburg; four sisters, Mrs. William Millard, Plymouth; Mrs. Dorothy Farnsworth, Bath, New York; Miss Ella K. Pike, and Mrs. Elizabeth Zimmerman, both of Halifax.

Private services will be held from his residence at two o'clock this Thursday afternoon, Rev. John S. Hartman, pastor of the Halifax Methodist Church will officiate and interment will be made in the Halifax Cemetery.
Readers may add additional information as comments to this blog post.