Posted By Norman Gasbarro on April 24, 2017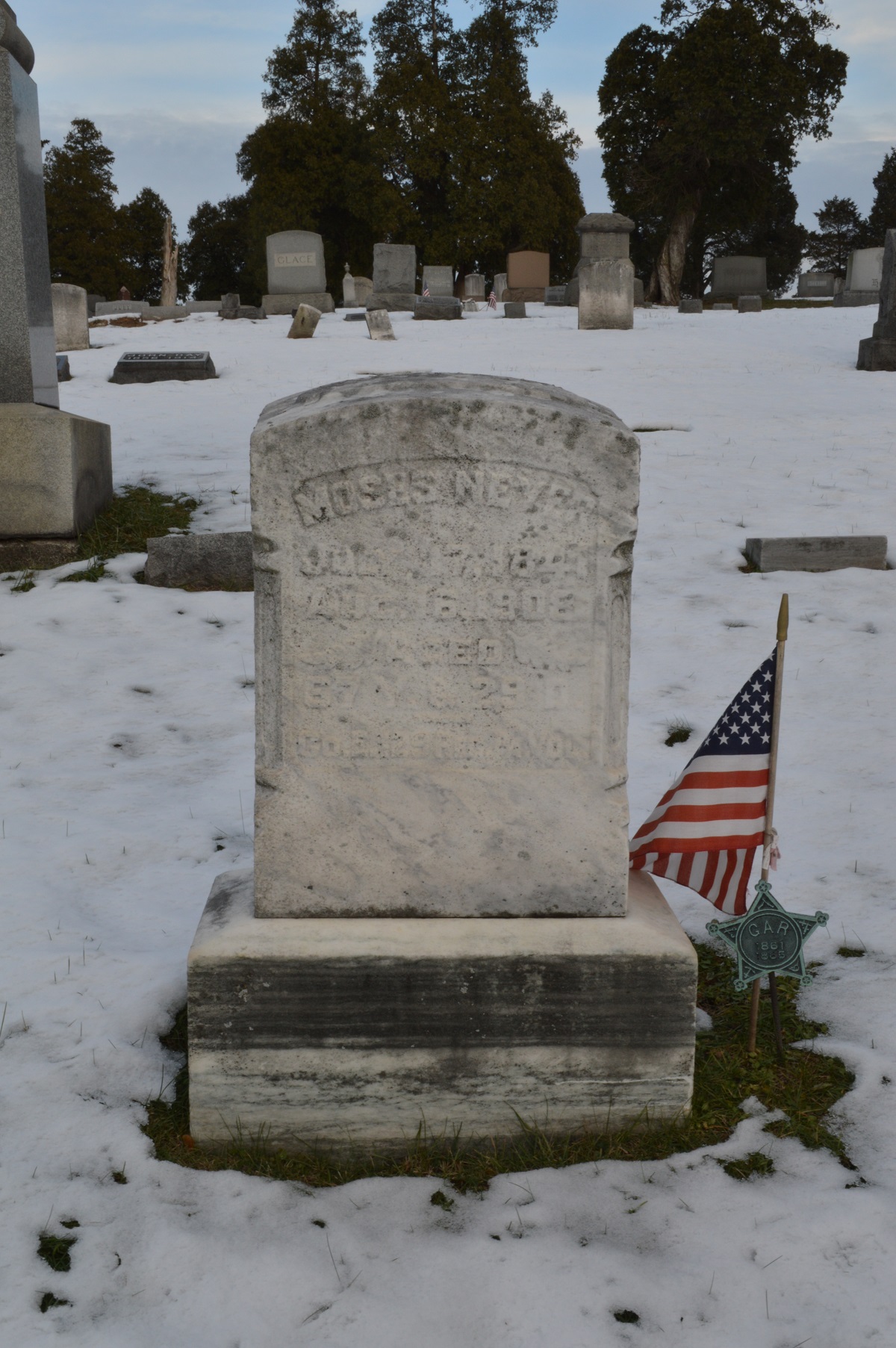 Moses Neyer is missing, i.e., his name in missing from the tablet on the Millersburg Soldier Monument which recognizes Civil War soldiers from that community and the surrounding area of Upper Paxton Township who honorably served in the war.   The photograph at the top of this post (from Findagrave) of his stone at the Oak Hill Cemetery, Millersburg, Dauphin County, Pennsylvania, has a G.A.R.-star-flag holder at his grave site.  Moses Neyer was previously mentioned on this blog as being on the list of Oak Hill Cemetery Civil War veterans.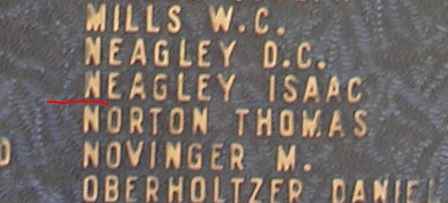 The portion of the tablet on the Millersburg Soldier Monument where the name Moses Neyer should appear is shown above.
This post will show that the Moses Neyer who is buried at Oak Hill Cemetery was an honorably discharged Civil War soldier and that he had a definite relationship with Millersburg and Upper Paxton Township later in his life, and should have been included.
According to cemetery information, Moses Neyer was born on 17 July 1841.  His death certificate notes the place of birth as Pennsylvania.  Also, a Virginia Soldier Home record from 1905, gives his birthplace as Pennsylvania, as do census returns from 1850 through 1880, and 1900.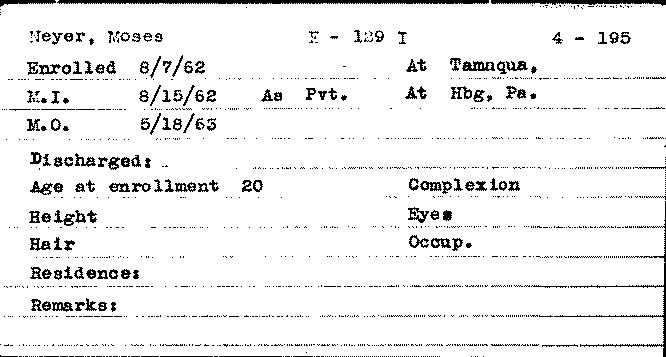 The Pennsylvania Veterans' File Card from the Pennsylvania Archives (shown above) indicates that Moses Neyer enrolled in the 129th Pennsylvania Infantry, Company E, at Tamaqua, Schuylkill County, Pennsylvania, on 7 August 1862.  The only personal information given about him on the card was his age – 20 years old.   Moses was mustered into service as a Private on 15 August 1862 and served honorably until his discharge, which occurred at the conclusion of his term on 18 May 1863.
Note:  There is a second person named Moses Neyer who also served in the Civil War.  He was in the 132nd Pennsylvania Infantry, but his birth and death years were 1835 and 1912, and he is buried in Carbon County, Pennsylvania.  It is clear from examining the records of this second Moses Neyer that he had no relationship with Millersburg.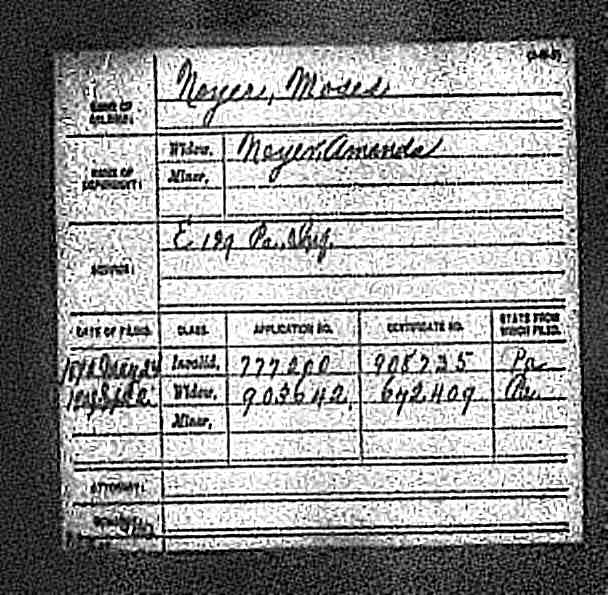 The above Pension Index Cards (top from Ancestry.com, bottom from Fold3), provide a picture of the pension applications for Moses Neyer.  On 24 May 1890, he applied for an invalid pension, which he collected and received until his death, which occurred on 7 August 1908 according to theFold3 card.  Following his death, on 2 September 1908, the widow, Amanda Neyer, applied for benefits, which she received until her death.  Note:  The death date for Moses is in slight conflict with that found on his Pennsylvania Death Certificate, which is given there as 16 August 1908.
Although the widow received pension benefits, she did so for only a short time.  The record indicates that that she died on 16 October 1908.  She is buried at Oak Hill Cemetery, Millersburg.
Amanda Neyer was, prior to her marriage, Amanda Reichert, also found in the records as Amanda Richard and Amanda Rickert.
In the 1890 Veterans' Census, Moses Neyer was living in Tower City, Schuylkill County, and reported his service in the 129th Pennsylvania Infantry.
In 1900, the family was living in Upper Paxton Township, and Moses reported that he was a farmer.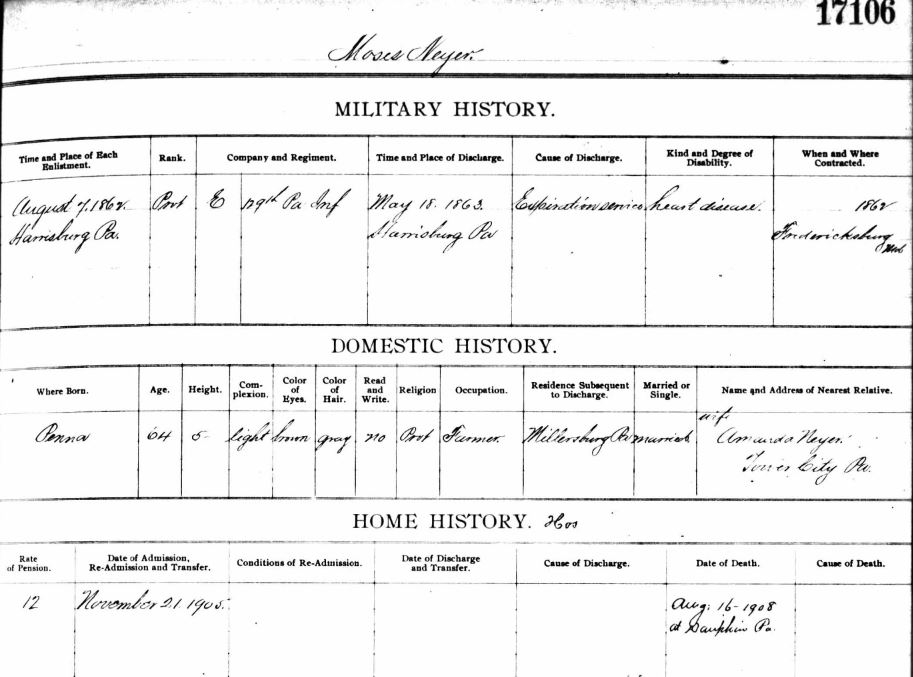 On 21 November 1905, Moses Neyer was admitted to the Soldiers' Home in Hampton, Virginia.  He gave his service as the 129th Pennsylvania Infantry, and also indicated that he had contracted heart disease in 1862 while in the service.  At the time of his admission, he gave his age as 64, noted that his residence was Millersburg subsequent to his discharge from the home, was married (wife's name Amanda Neyer of Tower City), and his occupation was farmer.  His other personal information included a height of only 5 feet, a light complexion, brown eyes, and grey hair.  His religion was Protestant and he could not read or write.  The above home record was obtained from Ancestry.com.  The date of death on the home record was recorded as 16 August 1908 and the place of death was Dauphin, Pennsylvania (consistent with his death certificate).
Three brief notices pertaining to Moses Neyer were found in the Harrisburg newspapers:
Moses Neyer has gone to the National Soldiers' Home, in Virginia, for the winter.  [From: "Millersburg Notes," Harrisburg Telegraph, 17 November 1906].

The body of Moses Neyer, who died at the residence of his daughter, Mrs. O. W. Deibler, at Dauphin, Saturday, was brought to this place today for burial in Oak Hill Cemetery.  [From:  "Millersburg," Harrisburg Telegraph, 20 August 1908].

The following wills and letters of administration were probated and granted today by Register of Wills J. J. Hargest:  Will of Moses Neyer, late of Millersburg, letters to John Neyer…. [From"  "Wills Probated," Harrisburg Daily Independent, 8 September 1908].
It is very clear that this Moses Neyer had a definite connection to Millersburg and Upper Paxton Township and should have been included on the Millersburg Soldier Monument.  It is not known at this time why he, and so many others were ignored by those who erected this monument.