Posted By Norman Gasbarro on March 22, 2017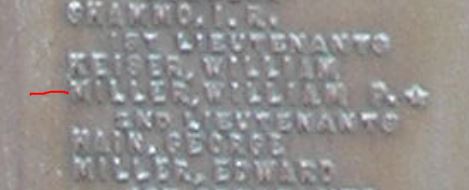 The name of William P. Miller appears on the Lykens G.A.R. Monument as a veteran of the Civil War who served at the rank of 1st Lieutenant, but was not a member of the Heilner Post.
The obituary of William P. Miller appeared in the Harrisburg Telegraph of 25 March 1872 as a reprint from the Lykens Register of a few days prior.  Fortunately, the obituary was published by the Telegraph, because nearly all the existing copies of the Register were destroyed in a fire in 1900.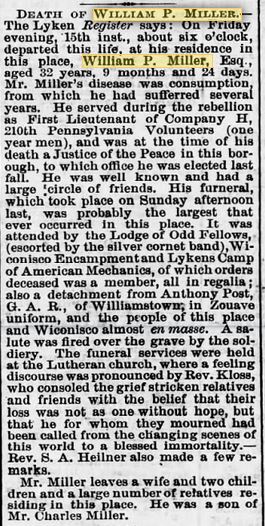 DEATH OF WILLIAM P. MILLER — The Lykens Register says:  On Friday evening, 15th inst., at his residence in this place, William P. Miller, Esq., aged 32 years, 9 months and 24 days.  Mr. Miller's disease was consumption, from which he had suffered several years.  He served during the rebellion as First Lieutenant of Company H, 210th Pennsylvania Volunteers [210th Pennsylvania Infantry] (one year men), and was at the time of his death a Justice of the Peace in this borough, to which office he was elected last fall.  He was well known and had a large circle of friends.  His funeral, which took place on Sunday afternoon last, was probably the largest that ever occurred in this place.  It was attended by the Lodge of Odd Fellows (escorted by the silver cornet band), Wiconisco Encampment and Lykens Camp of American Mechanics, of which orders deceased was a member, all in regalia; also a detachment from Anthony Post, G.A.R., of Williamstown, in Zouave uniform, and the people of this place and Wiconisco almost en masse.  A salute was fired over the grave by the soldiery.  The funeral services were held at the Lutheran Church, where a feeling discourse was pronounced by Rev. Kloss, who consoled the grief stricken relatives and friends with the belief that their loss was not as one without hope, but that he for whom they mourned had been called from the changing scenes of this world to a blessed immortality. — Rev. S. A. Heilner also made a few remarks.

Mr. Miller leaves a wife and two children and a large number of relatives residing in this place.
Readers are urged to add additional information about William P. Miller by adding comments to this post.