Posted By Norman Gasbarro on December 14, 2016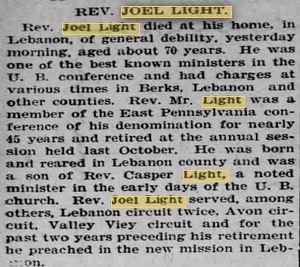 A brief obituary of Rev. Joel Light appeared in the Reading Times, 25 February 1904:
REV. JOEL LIGHT

Rev. Joel Light died at his home, in Lebanon, of general debility, yesterday morning aged about 70 years.  He was one of the best known ministers in the United Brethren Conference and had charges at various times in Berks, Lebanon, and other counties.  Rev. Mr. Light was a member of the East Pennsylvania Conference of his denomination for nearly 45 years and retired at the annual session held last October.  He was born and reared in Lebabon County and was a son of Rev. Casper Light, a noted minister in the early days of the United Brethren Church.  Rev. Light served, among others, Lebanon circuit twice, Valley View circuit, Avon circuit, and for the past two years preceding his retirement he preached in the new mission in Lebanon.
While living in Valley View, Hegins Township, in 1890, Joel Light's name appeared in the Veterans Census.  He stated then that he had served in the 148th Pennsylvania Infantry, Company F, as a Private, during the Civil War.  He claimed no disabilities as a result of that service.  However, he was not found in that regiment and company, but was found in the 48th Pennsylvania Infantry (Emergency of 1863), where he served from July 1863 through 26 August 1863.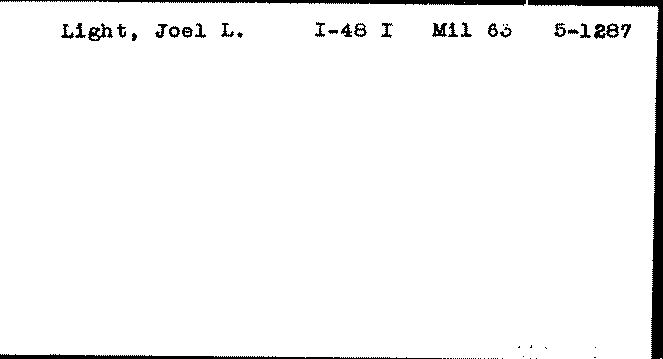 The service in the militia was confirmed by the above card from the Pennsylvania Archives.
Joel Light was not found in the pension records since his service was too brief to qualify.  Also, in none of the obituaries seen for him was it mentioned that he had Civil War service.
In researching the family of Rev. Joel Light, it was discovered that he married Elizabeth Kreider about 1860.  They lived in Berrysburg in 1880, and while living in Valley View in 1890, one of their children, Elizabeth Light, met and married Wilson Elmer Rickert (1871-1940) who was born in Valley View, and was a descendant of the Rickert family that settled in the Lykens Valley area in the early 1800s.