Posted By Norman Gasbarro on September 19, 2016
Josiah D. Lehman was born about 1840 in Schuylkill County, Pennsylvania.  Just prior to enlistment in the 50th Pennsylvania Infantry, Company C, as a Private, he was living in Tremont, Schuylkill County, and working as a boatman.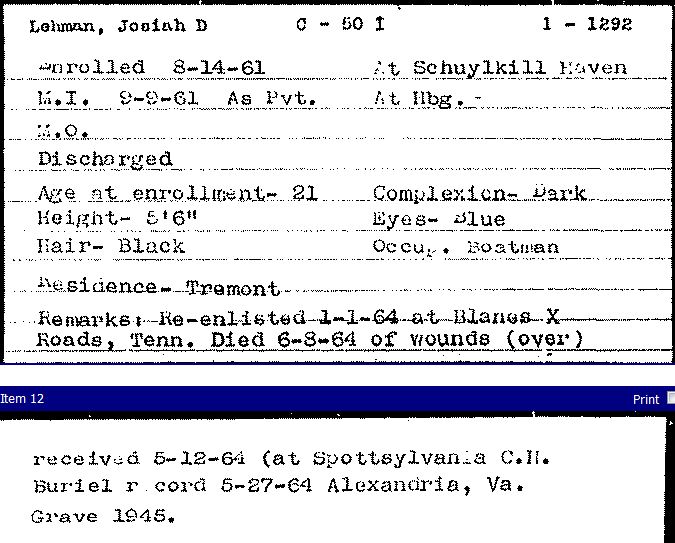 The record card at the Pennsylvania Archives (pictured above), shows that he was about 21 years old, that he stood 5 foot six inches tall, had black hair, a dark complexion, and blue eyes at his enlistment on 14 August 1861 at Schuylkill Haven, Schuylkill County.  On 9 September 1861 he was mustered into service in Harrisburg.  He re-enlisted on 1 January 1864 at Blaine's Crossroads, Tennessee, and participated in the Battle of Spotsylvania Court House where he was wounded on 12 May 1864 and died of those wounds on 8 June 1864 as this record states.  There is confusion as to the death date, because a burial record states that he was interred on 27 May 1864 at Alexandria, Virginia.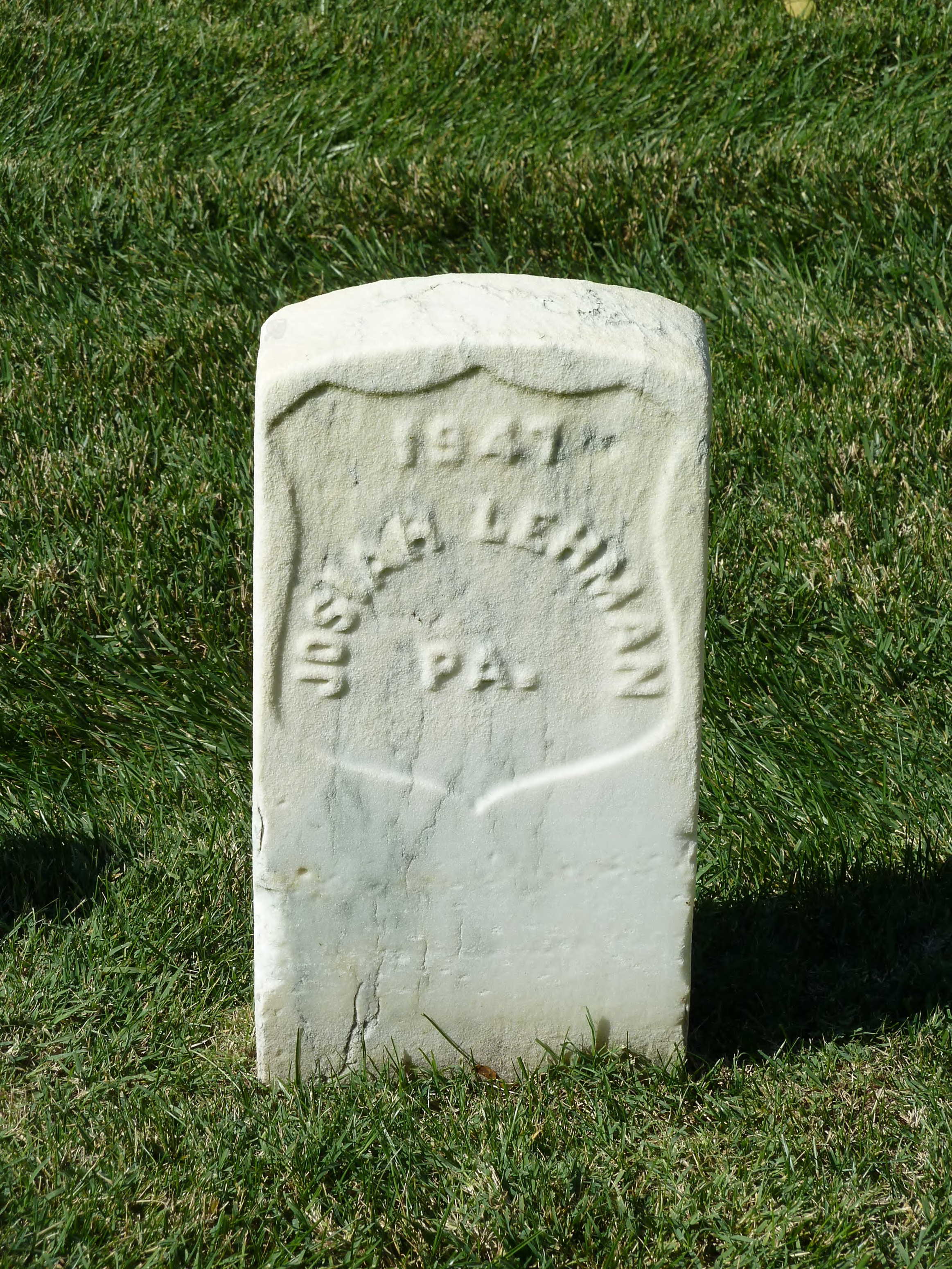 The grave marker (above) identifies the burial site of Josiah D. Lehman at the Alexandria National Cemetery, Alexandria.  The number on the stone is #1947, which is in conflict with the number on the Pennsylvania Veterans' File Card (above) which says his burial site is #1945.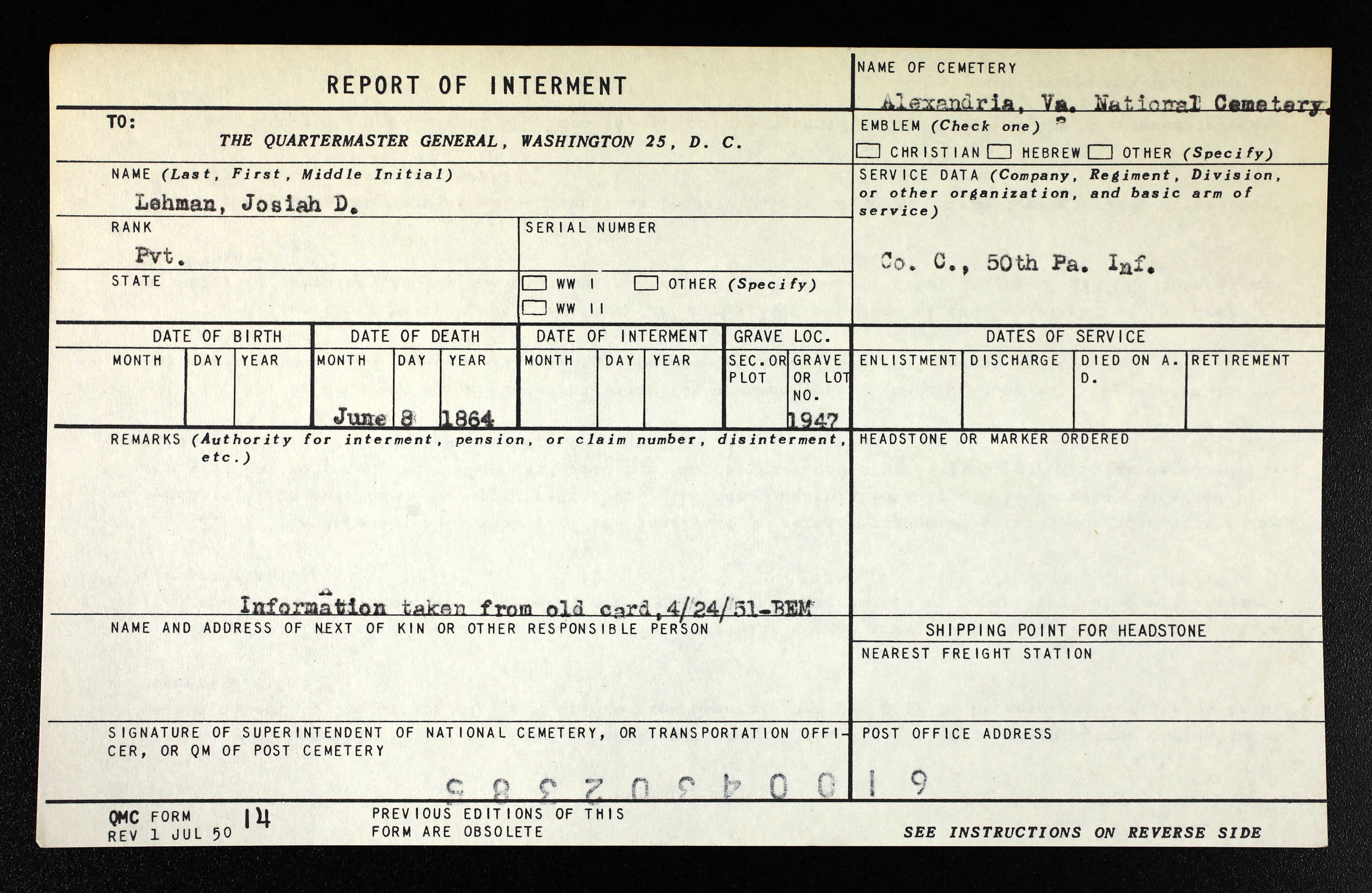 The Report of Interment (shown above), available from Ancestry.com, notes the date of death as 8 June 1864 but also states that the information was taken from an "old card."
The Findagrave Memorial gives his date of death as 8 Jun 1864.
No Pension Index Card has been located for Josiah D. Lehman.  This normally would indicate that he was not married at the time of his death.    He also has not yet been located in the censuses of 1850 and 1860, and nothing is known about his parents.
According to Wikipedia, the following action took place on 12 May 1864, when Josiah D. Lehman was fatally wounded:
[Gen. Ulysses S. Grant] ordered the 15,000 men of Maj. Gen. Winfield S. Hancock's corps to assault the Mule Shoe. Hancock was initially successful, but the Confederate leadership rallied and repulsed his incursion. Attacks by Maj. Gen. Horatio G. Wright on the western edge of the Mule Shoe, which became known as the "Bloody Angle", involved almost 24 hours of desperate hand-to-hand fighting, some of the most intense of the Civil War. Supporting attacks by Warren and by Maj. Gen. Ambrose Burnside were unsuccessful.
Additional information is sought about Josiah D. Lehman, including his ancestry, and any stories about his service in the war.  Please add comments to this blog post or send the information via e-mail.