Posted By Norman Gasbarro on September 26, 2016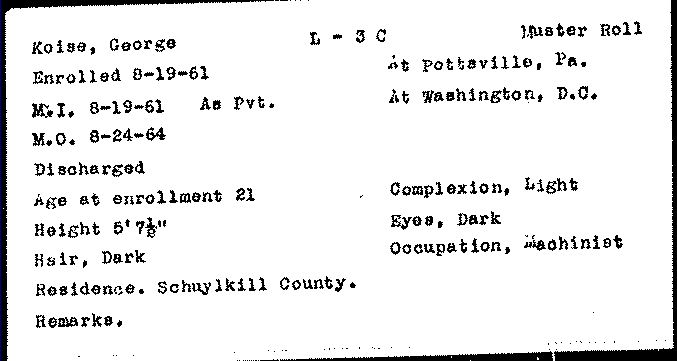 The funeral of George A. Kreis was reported in the Pottsville Republican on 28 February 1901:
The funeral of George Kreis who died at his home in Tremont on Sunday night will take place tomorrow afternoon. The deceased was 59 years of age and well known Democratic circles throughout the county. He was a veteran of the rebellion having served in the cavalry from 1861 up to its close. Seven years ago while serving as a juror he suffered a paralytic stroke. Fifteen years ago he was the Democratic candidate for Poor Director but was defeated. Deceased was supervisor and Chief Burgess in that town and prominently identified with the Odd Fellows and G.A.R. organizations. He is survived by a widow and the following children: George Kreis in Colorado, Charles Kreis in Philadelphia; Edwin Kreis, Elizabeth Kreis and Nora Kreis at home.
George Kreis was born about September 1840.  His father George, was a miner in 1860.
During the Civil War, George Kreis served in the 3rd Pennsylvania Cavalry, Company L, as a Private.  He enrolled at Pottsville on 19 August 1861 and immediately went to Washington, D.C., where he was mustered into service the same day.  At the time of his enrollment, he was living in Schuylkill County and working as a machinist.  He was 5 foot, 7 1/2 inches tall, had dark hair, a light complexion, and dark eyes and was 21 years old.  The record card, shown above from the Pennsylvania Archives, mis-identifies him as "George Koise," but this name is cross-referenced in the card file to his correct name.  Additionally, his name is found in the war records as Kreise, Krise and Kries.

For his service in the 3rd Pennsylvania Cavalry which was engaged at Gettysburg, George Kreis is recognized on the Pennsylvania Monument tablet for that regiment, Company L.
Some time around 1865, George Kreis married Elizabeth Linn, an immigrant from Germany, who was born around September 1836.  According to records found on Ancestry.com, the couple had the following children:
George E. Kreis, born about 1866.
Harry Kreis, born about 1869.  Harry is found in the 1870 census, but is not found in the 1880 census.
Elizabeth D. Kreis, born about 1871.
John J. Kreis, born about 1873.
William Kreis, born about 1878.
Edwin Kreis, born 6 Jun 1882, in Tremont, and died 16 September 1945, in Pottsville.
Florence C. Kreis, born about 1884.
In 1870, the family was living in Tremont and George was working as a machinist.  In 1880, at the same place, he was a police officer.  In the Veterans' Census of 1890, he reported that he incurred chronic diarrhea as a result of his Civil War service.  The "substitute census" of 1890 indicated he was a laborer, and, in 1900, he was still working as a laborer.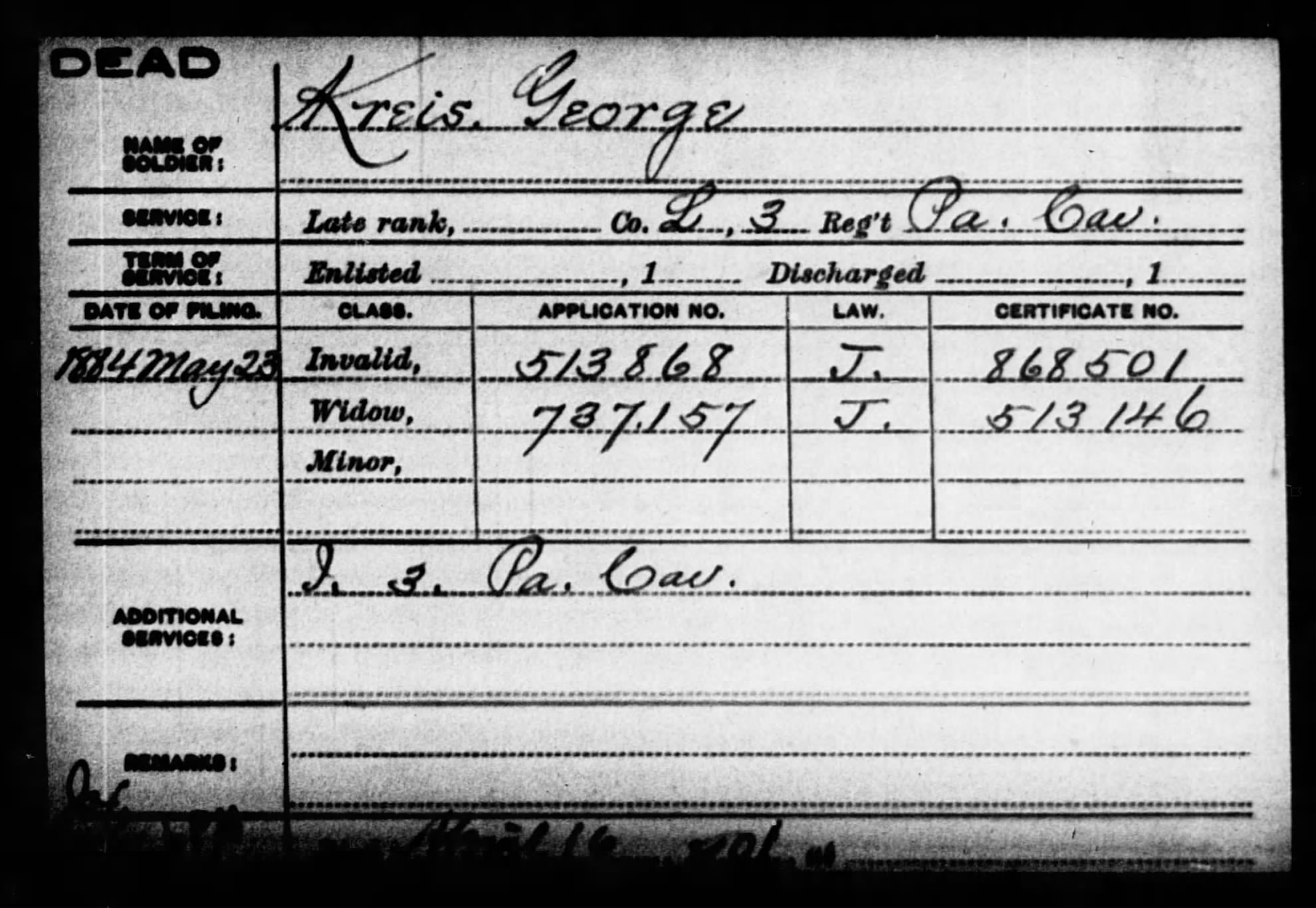 On 5 March 1884, George Kreis applied for a Civil War pension, which is noted on the Pension Index Card, above from Fold3.  He received the pension and collected it until his death, which, according to information on his Findagrave Memorial, occurred on 24 February 1901.  The death date at the bottom of the Pension Index Card appears to be a different month and day, but the year is 1901.  According to information on the Ancestry.com version of the Pension Index Card, the widow Elizabeth Kreis applied on 5 March 1901 and collected the pension until her death.  She died on the 27th July 1926 in Tremont.
George Kreis and Elizabeth [Linn] Kreis are buried at St. John's Lutheran Church Cemetery, Tremont, Schuylkill County.  The Findagrave Memorial, as of this writing, needs to be updated to show his Civil War service.
More information is sought about George Kreis, his military service, his political role in Tremont, and his family.  Information can be sent via e-mail or added as a comment to this post.