Posted By Norman Gasbarro on September 20, 2016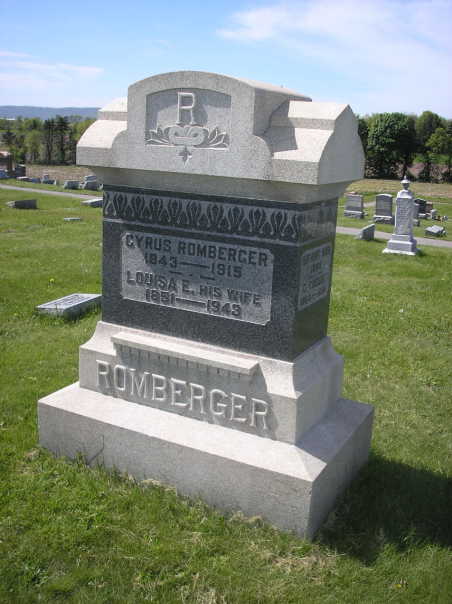 Cyrus Romberger was born 14 July 1843 in Lykens Township, Dauphin County, the son of Daniel Romberger (1816-1882) and Hannah [Bergstresser] Romberger (1818-1889).  Although he was of age to be required to register for the draft, no record has been located that he did so, and in the various rosters of regiments examined, no record has been seen to show that he actually did serve.  Likewise, in the research of Dr. John A. Romberger, past historian of the Romberger Family Association, Cyrus was not identified as a Civil War veteran.
A brief biographical sketch of Cyrus Romberger appeared in the Commemorative Biographical Encyclopedia of Dauphin County, p. 1125.  Note:  For a free download of this book, click on title.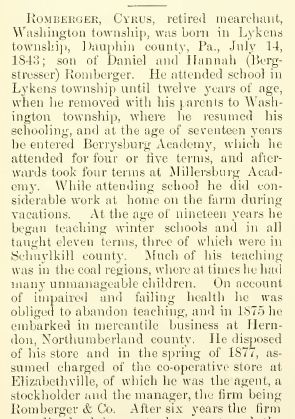 CYRUS ROMBERGER, retired merchant, Washington Township… attended school in Lykens Township until twelve years of age, when he removed with his parents to Washington Township, Dauphin County, Pennsylvania, where he resumed his schooling, and at the age of seventeen years he entered Berrysburg Academy, which he attended for four or five terms, and afterwards took four terms at Millersburg Academy.  While attending school he did considerable work at home on the farm during vacations.  At the age of nineteen years he began teaching winter schools and in all taught eleven terms, three of which were in Schuylkill County.  Much of his teaching was in the coal regions, where at times he had many unmanageable children.  On account of impaired and failing health he was obliged to abandon teaching, and in 1875 he embarked in mercantile business at Herndon, Northumberland County.  He disposed of his store and in the spring of 1877, assumed charge of the co-operative store at Elizabethville, of which he was the agent, a stockholder, and the manager, the firm being Romberger and Company.  After six years the firm was dissolved by mutual consent and the stock disposed of.  In one year he sold $27,000 worth of goods, and as he was unwilling to continue on his salary of $500 per year the company was dissolved.  He then bought fifteen acres of land, on which he built a store house, and in company with his brother John A. Romberger, opened a flour and feed store, and succeeded in building up a large and increasing trade.   In December, 1894, he disposed of his interest to his brother, and was employed by R. Budd, in Snyder County, with whom he remained for one year.  with the exception of managing his two farms of one hundred and fifty-eight and one hundred and ninety-two acres, he is retired from active business, hiring his farm laborers by the day, and only superintending their work.  

Mr. Romberger was married, at Herndon, Northumberland County, 25 May 1875, to Miss Louisa E. Troutman, born in that county, 30 June 1851; daughter of Samuel Troutman and Catherine [Hepler] Troutman.

They have the following children:  Martha Romberger, born 15 July 1876, graduate of Bloomsburg State Normal School, and now teaching school at Elizabethville; Oscar L. Troutman, born 17 April 1878, at home; Daniel Homer Romberger, born 5 April 1880; Stewart S. Romberger, born 14 February 1883;  Agnes E. Romberger, born 19 June 1884;  Hannah E. Romberger, born 1 January 1887; and Robert Raymond Romberger, born 14 October 1889.

In politics, Mr. Romberger is a Republican, and was Justice of the Peace from 1886 to 1891, and in 1896 was elected for another term of five years.  He is a member of the Evangelical Church, in which he has been a class-leader since 1888, a teacher in the Sunday School, and a member of the Young People's Society.
The underlined portion of the biographical sketch speaks to the issue of why Cyrus Romberger may not have been eligible for military service.  However, it is still not clear what exactly what health issues prevented him from service.  There is also a possibility that he sent a substitute and therefore met his obligation, although no evidence has been seen to support that conjecture.
Cyrus Romberger died on 14 April 1915, and a brief obituary appeared in the Harrisburg Daily Independent on 16 April 1915: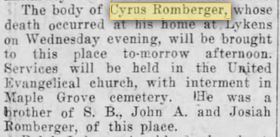 The body of Cyrus Romberger, whose death occurred at his home at Lykens on Wednesday evening, will be brought to this place tomorrow afternoon.  Services will be held in the United Evangelical Church, with interment in Maple Grove Cemetery [Elizabethville].  He was a brother of S. B. Romberger, John A. Romberger, and Josiah Romberger of this place.
The grave marker for Cyrus Romberger and his wife Louisa at Maple Grove Cemetery, is shown at the top of this post.
For the most current genealogical information on Cyrus Romberger, see Bob Averell's Romberger Family at RootWeb.  Corrections and additions can be sent to Bob through that site.