Posted By Norman Gasbarro on September 23, 2016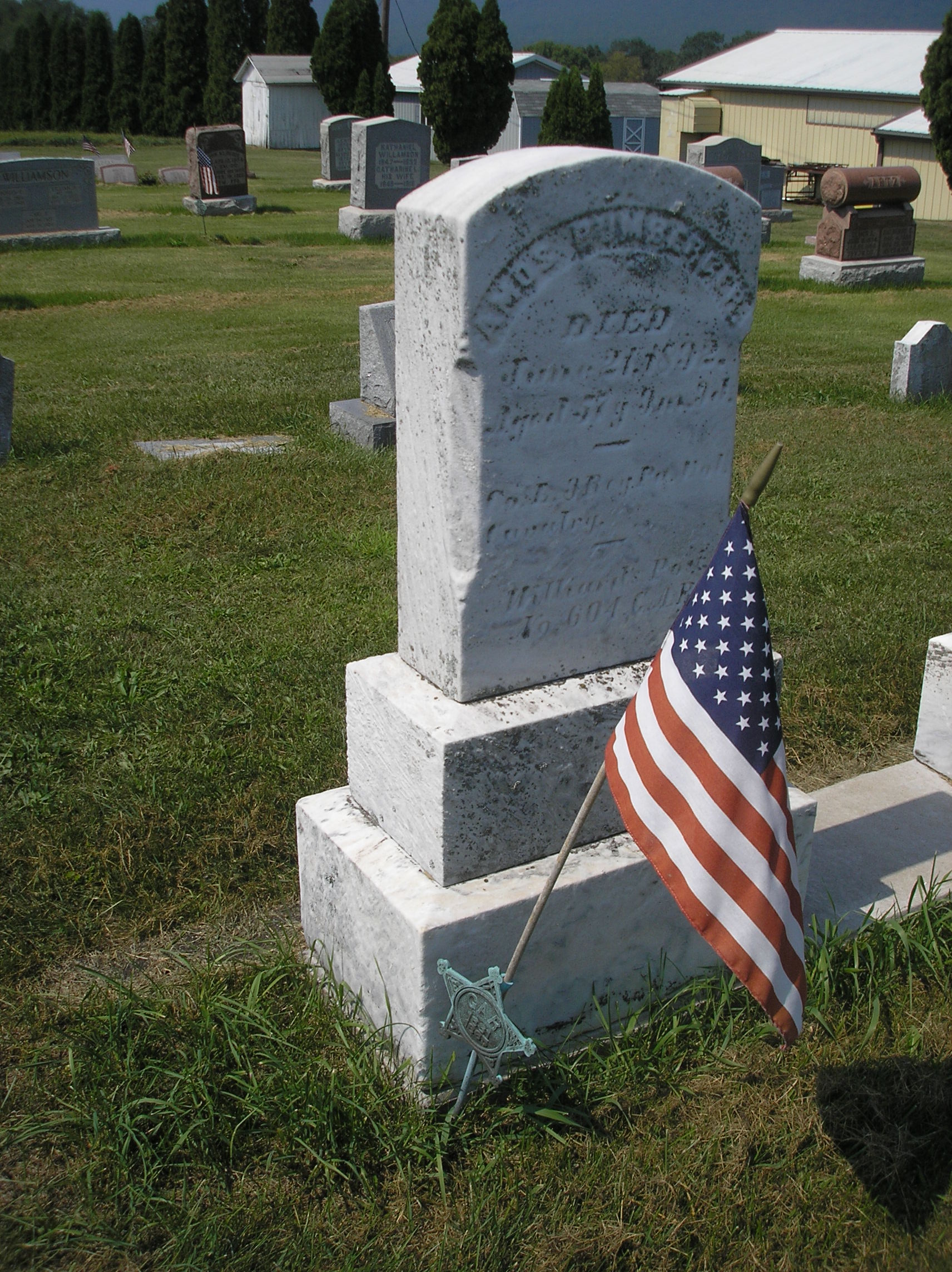 Amos Rumberger died on 21 June 1892.  He is buried at the Church of God Cemetery in Valley View, Hegins Township, Schuylkill County, Pennsylvania.  His stone identifies him as a Civil War veteran of the 9th Pennsylvania Cavalry, and at his grave is an appropriate bronze G.A.R. star-flag holder.
Amos Rumberger was born in Lykens Township, Dauphin County, Pennsylvania, the son of Johannes "John" Romberger (1802-1891) and Hannah [Hoffman] Romberger (1807-1858).  In 1850, still in Lykens Township, Amos was working as a laborer, but by 1860, he was living in Wiconisco Township in the household of Isaac Weidner, a shoemaker, and apprenticed to him in that trade.
In his research entitled Civil War Veterans: Rumbergers/Rumbargers/Rombergers/Rambergers in the Civil War (unpublished), Dr. John A. Romberger identified "Amos Rumbarger" as No. 31 in a list of 40 veterans.  He indicated that "Amos Rumbarger" served in the 9th Pennsylvania Cavalry and his research produced the following information:
This regiment was involved in heavy fighting almost throughout the war.  After various battles in Tennessee, the unit was sent back to Pennsylvania in April 1864 on furlough.  Late in May, its ranks filled out with fresh recruits and re-enlisted veterans, the unit was again in the field.  It participated in Sherman's final march to Atlanta and the sea, and then in many engagements that brought about the final collapse of the Confederate armies.  The last fighting done, and the last guns fired under Sherman's command involved this regiment.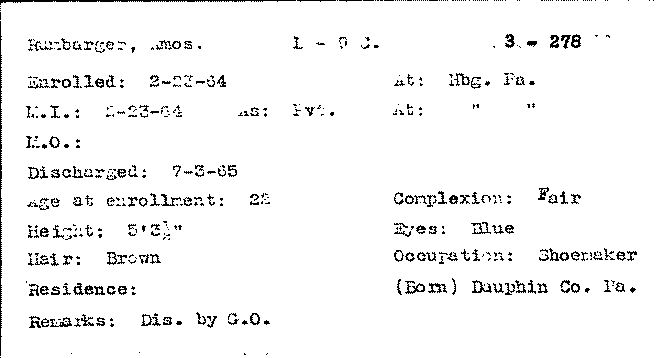 Amos Rumbarger, as shown by the Pennsylvania Veterans File Card (above, from the Pennsylvania Archives), enrolled in the 9th Pennsylvania Cavalry on 23 February 1864 at Harrisburg, and at the same place and on the same day was mustered into Company L as a Private.   His age was given as 22 and his residence was Dauphin County.  Although most of his neighbors from the Lykens Valley were serving in Company B of this regiment, he was assigned to Company L, which was composed primarily of men from Luzerne, Mifflin and Northampton Counties.  Company L was commanded by Captain George Smith.
At enlistment, Amos was a shoemaker by trade and stood just less than 5 foot 4 inches in height, had brown hair, a fair complexion, and blue eyes.  After the war ended, Amos was discharged by General Order on 3 July 1865.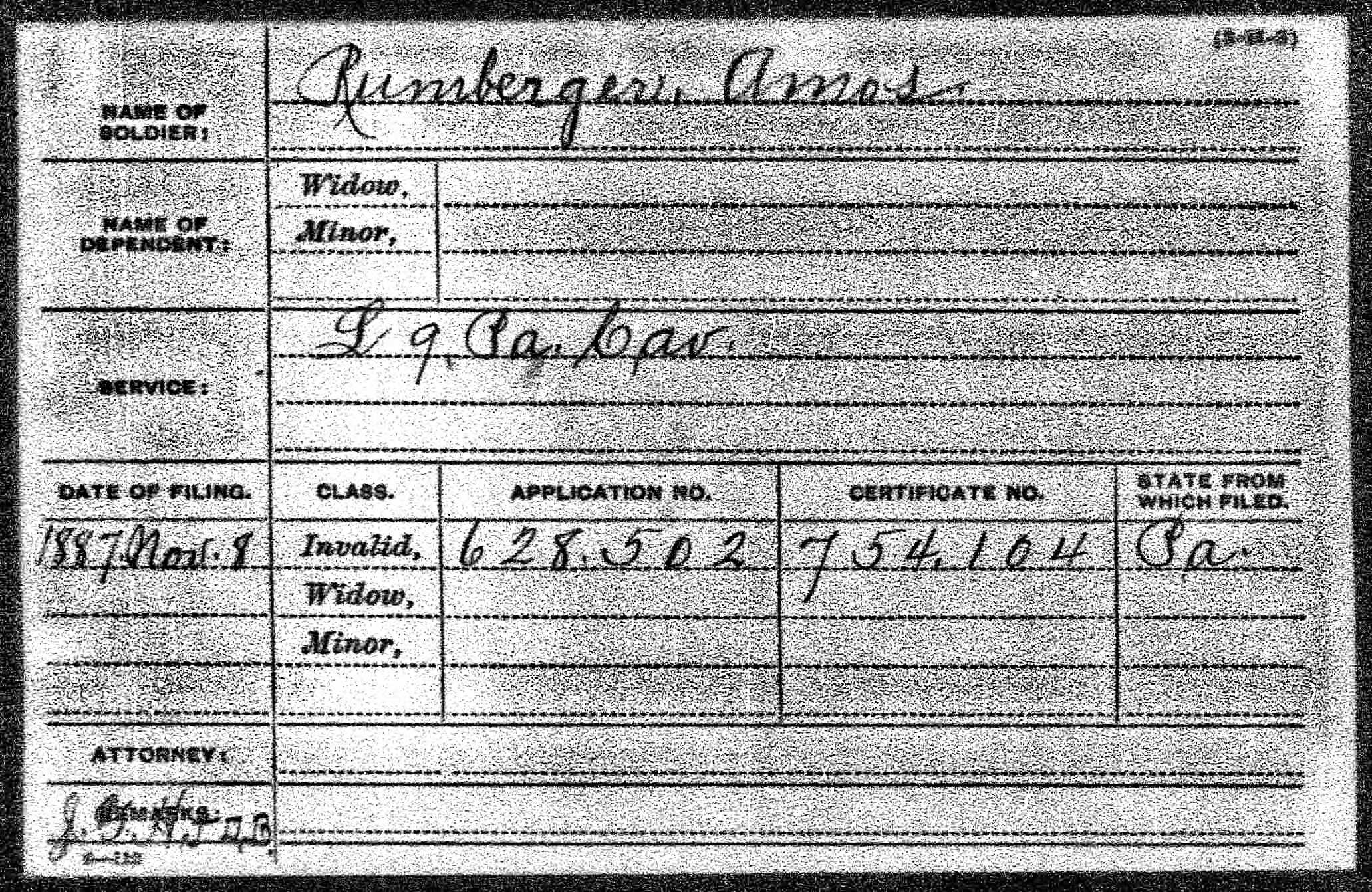 On 8 November 1887, Amos Rumbarger applied for a disability pension, which he received as shown by the Pension Index Card (above) from Ancestry.com.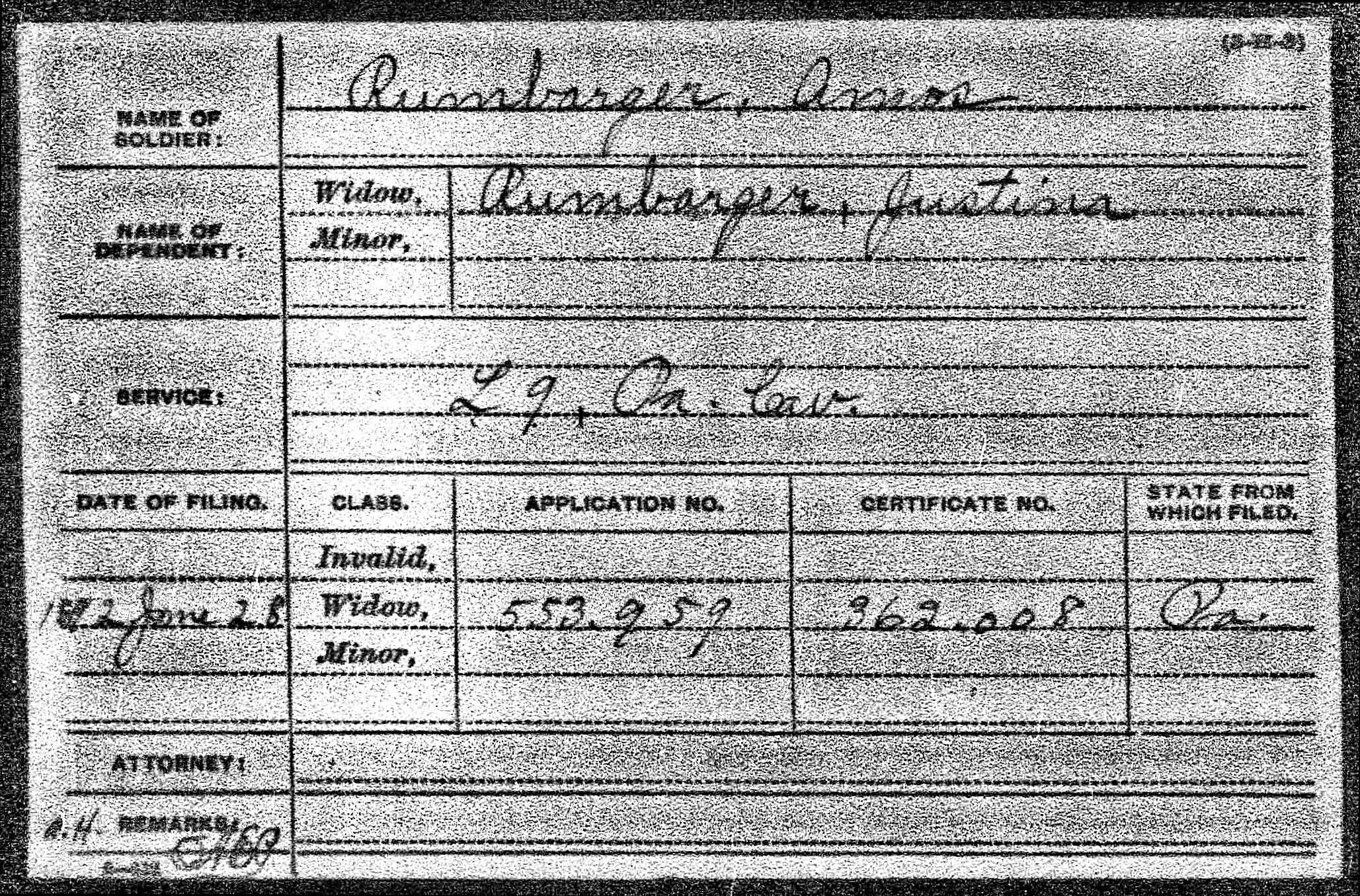 And on 28 June 1892, Justina [Klinger] Rumbarger applied for widow benefits, which she received and collected until her death.  The card above is from Ancestry.com.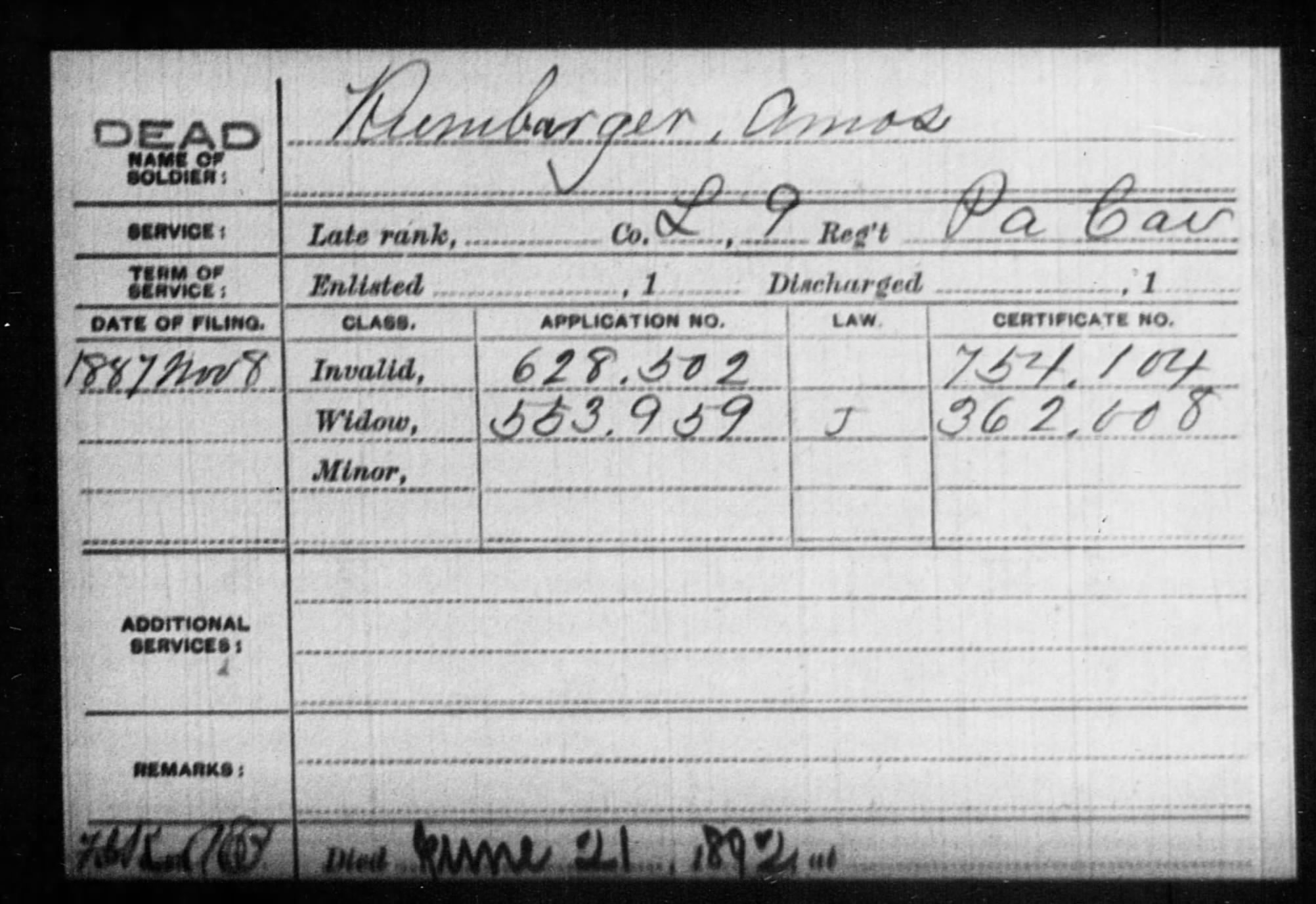 It is not known why the Ancestry.com versions of the Pension Index Card show two separate listings for Amos and Justina.  The Fold3 version of the card (above), lists both pension applications and awardings on the same card.  The death of Amos Rumberger, 21 June 1892, is reported only on the Fold3 version.
In 1880, the Amos Rumberger family lived in Porter Township, and he was working as a laborer on the railroad.
At the time of the 1890 Census, Amos Rumberger was living in Joliett, Schuylkill County, and did not report any service-related disabilities.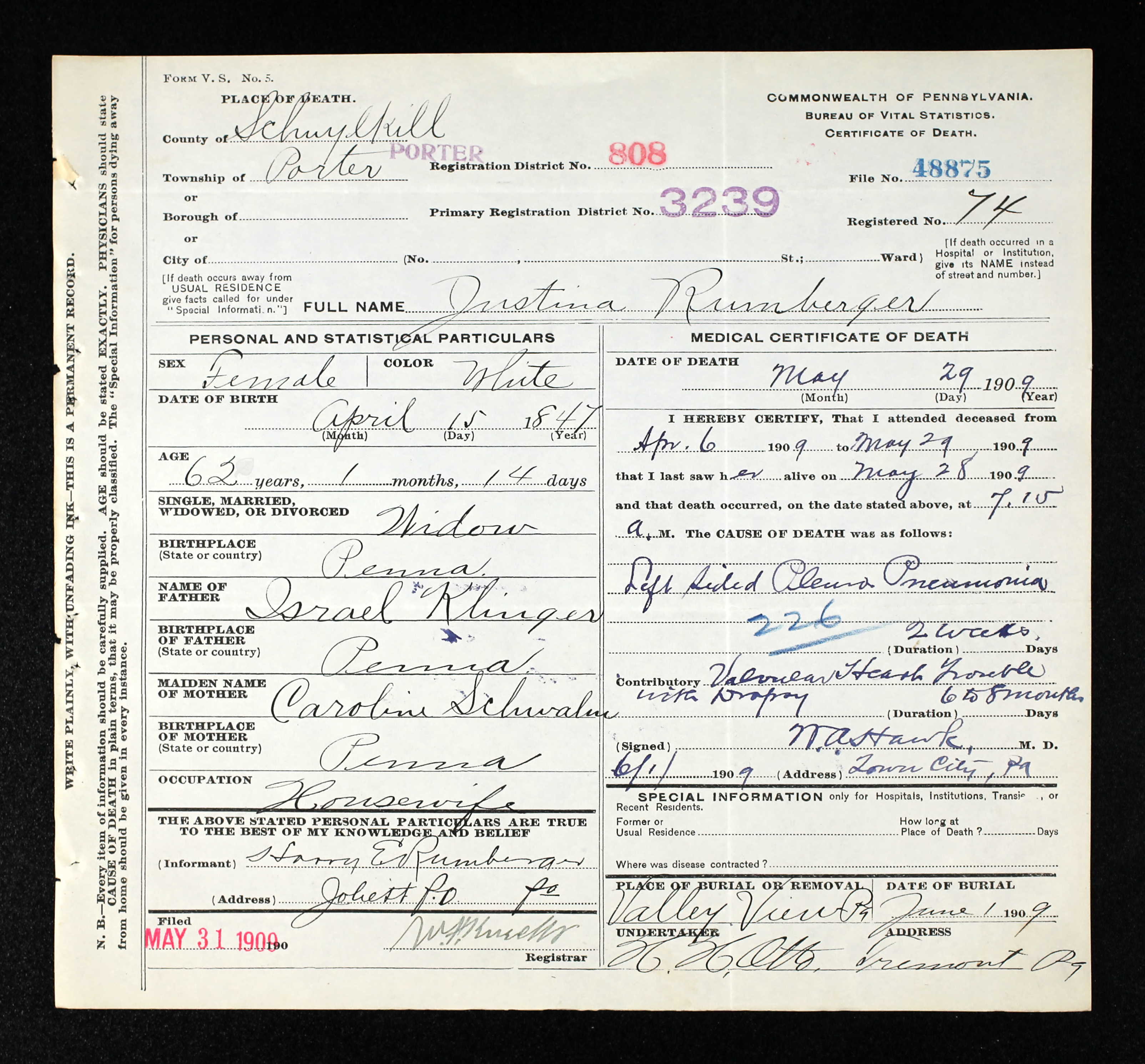 On 29 May 1909, Justina [Klinger] Rumberger died in Porter Township, Schuylkill County, of pneumonia with heart disease named as a contributing factor.  Her death certificate shown above is from Ancestry.com, and names her parents as Israel Klinger and Caroline Schwalm, both born in Pennsylvania.  Harry Rumberger, her son, signed as the informant.
Genealogical information on Amos Rumberger, which was compiled by Bob Averell and Dr. John A. Romberger, can be found on RootsWeb.  Corrections and additions should be sent to Bob Averell through the link on that page.
There is also additional information on Amos Rumberger's Findagrave Memorial, although at this writing, there are no pictures posted there.
With the time spent in Porter Township, Amos Rumberger should be recognized on the Tower City Veterans' Memorial.  At this time, he is not recognized there.  He is also not named on the Lykens G.A.R. Monument, which presumably includes Wiconisco and Wiconisco Township, he having lived at that latter place while apprenticed as a shoemaker in 1860.