Posted By Norman Gasbarro on August 12, 2016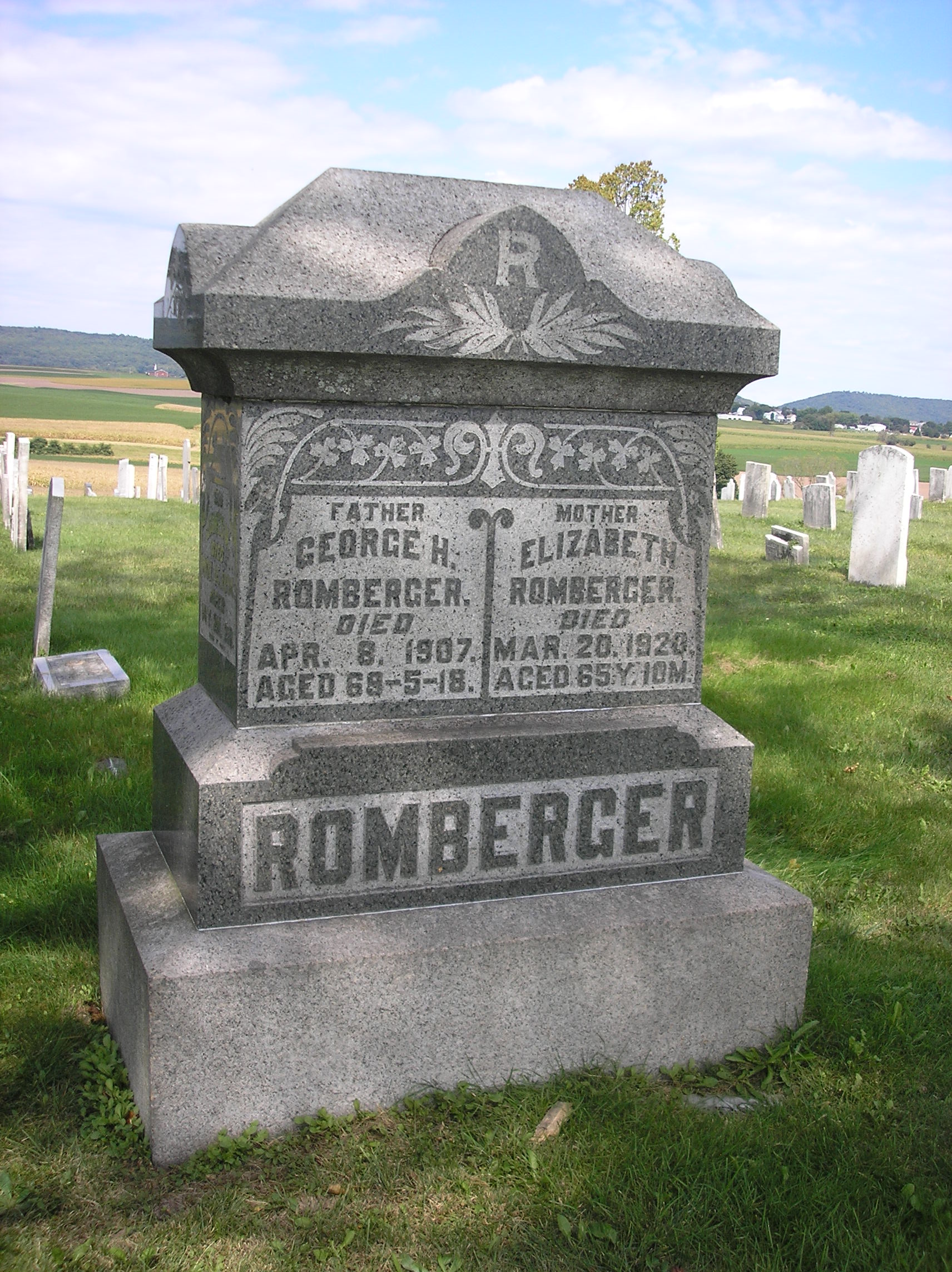 George H. Romberger is buried at the St. John's Lutheran Church Cemetery, Berrysburg, Dauphin County, Pennsylvania.  He has a Findagrave Memorial which does not identify him as a Civil War veteran and there is no G.A.R.-Star-Flag Holder at his grave site.  He was born 19 October 1937 and died 8 Apr 1907.
In his research entitled Civil War Veterans: Rumbergers/Rumbargers/Rombergers/Rambergers in the Civil War (unpublished), Dr. John A. Romberger identified "George Romberger" as No. 3 in a list of 40 veterans.  He indicated that "George Romberger" served in the 177th Pennsylvania Infantry, but also noted that "he progressed no further than the induction process at Camp Curtin before he was discharged" and that "he saw no action with this unit.
In a previous blog post here on 15 October 2011, it was stated that the record shows that George H. Romberger paid for a substitute and that the substitute served in the 5th Pennsylvania Cavalry.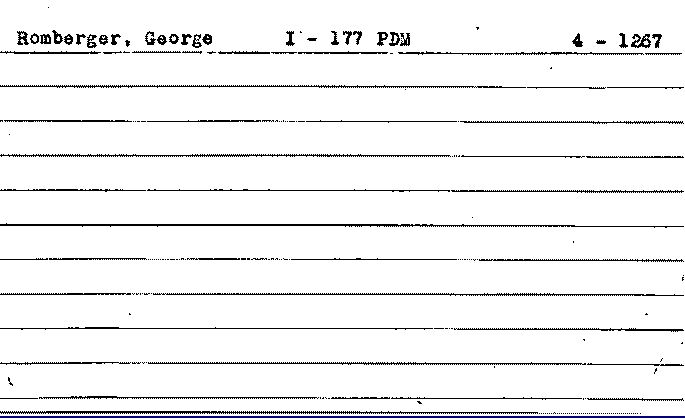 The Pennsylvania Veterans' File Card, shown above from the Pennsylvania Archives, gives no other information other than the Bates reference of "4-1267."  This was a drafted regiment and therefore George Romberger was a draftee.  However, in checking both Bates and the Registers of Pennsylvania Volunteers, also available at the Pennsylvania Archives, it is stated that George Romberger was discharged on 18 November 1862, just 16 days after he arrived in camp, because he paid for a substitute who ended up serving in the 5th Pennsylvania Cavalry.  The name of the substitute was not given in these records of George Romberger.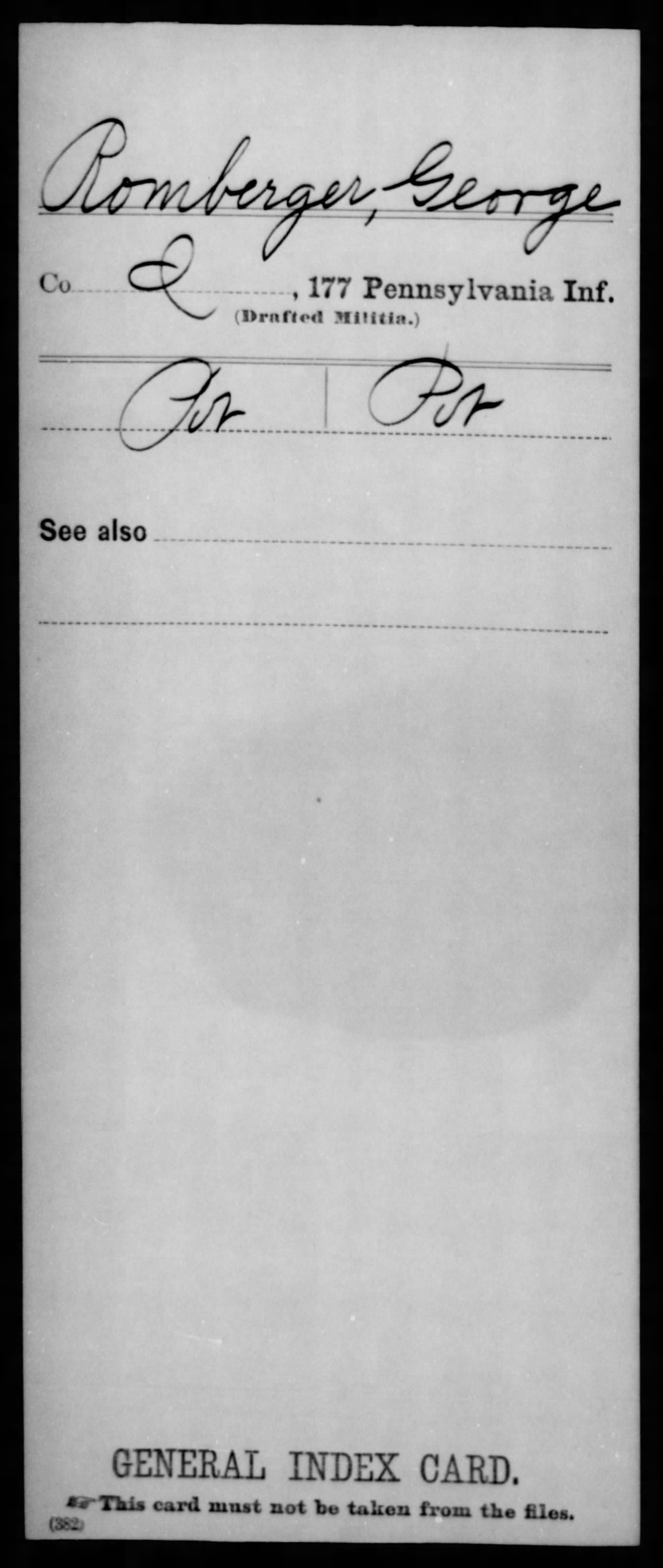 The Military Index Card, shown above from Fold3, is an indication that the military records of George H. Romberger are available at the National Archives.  However, because he did not really serve with this regiment outside of his time in camp, there will be minimal information in the file.
No Pension Index Card has been located for George H. Romberger.  Men who paid for substitutes were excused from service, but were ineligible for pensions.
Opinions differ on whether men who paid for substitutes should be recognized as contributing to the war effort.  The Civil War practice of allowing paid substitutes to take the place of those who were drafted was legal.  However, there were those who were strongly opposed to the practice, and draft riots took place which focused on the unfairness of it and such riots took place as close to the Lykens Valley as Pottsville.  During the Civil War several regiments of Pennsylvania troops had to be sent to Schuylkill County to quell the riots.  After the war, membership in the G.A.R. was not open to those who legally paid for substitutes, and it is extremely rare for the graves of those men to be decorated as "veterans" and it was also rare to find any one bragging that they were patriotic because they could afford the practice.
A brief notice of the death of George H. Romberger appeared in the Harrisburg Telegraph "Curtin Notes" of 12 April 1907, wherein nothing was mentioned that he paid for a substitute.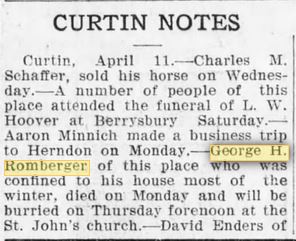 Curtin, 11 April 1907 —  George H. Romberger of this place who was confined to his house most of the winter, died on Monday and will be burried [sic] on Thursday forenoon at the St. John's Church….
Genealogical information on George H. Romberger, which was compiled by Bob Averell and Dr. John A. Romberger, can be found on RootsWeb.  Corrections should be sent to Bob Averell through the link on that page.
Additional information about George H. Romberger can be added with comments to this post and photographs can be sent via e-mail.