Posted By Norman Gasbarro on June 10, 2016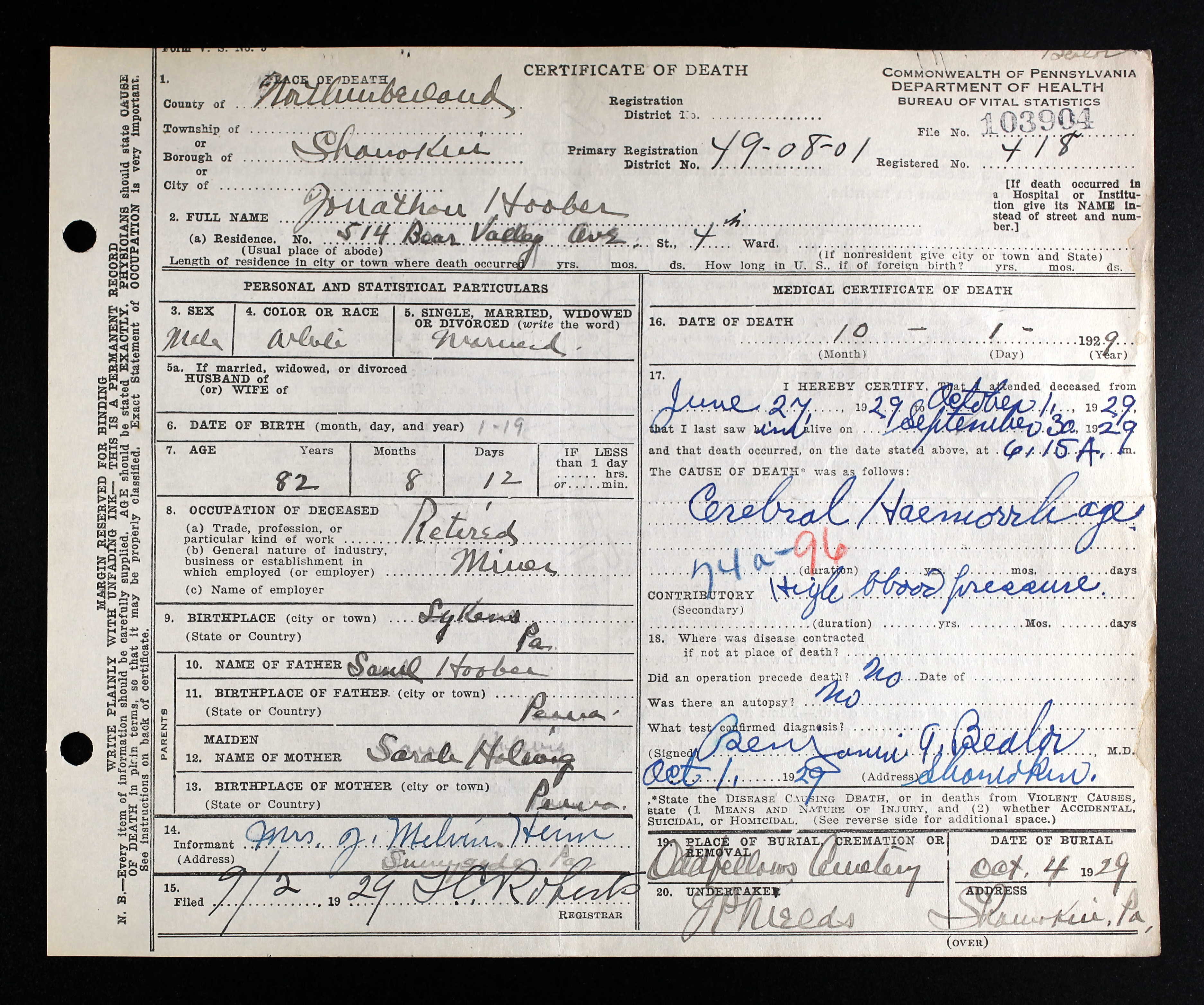 According to his death certificate, Jonathan Hoober died in Shamokin on 1 October 1929, and was buried in the Odd Fellows Cemetery.  His place of birth, was given as Lykens, Pennsylvania.

Jonathan Hoober is believed to be the Jonathan Hoover who is named on the Lykens G.A.R.Monument. as a Private who was not a member of the Heilner Post.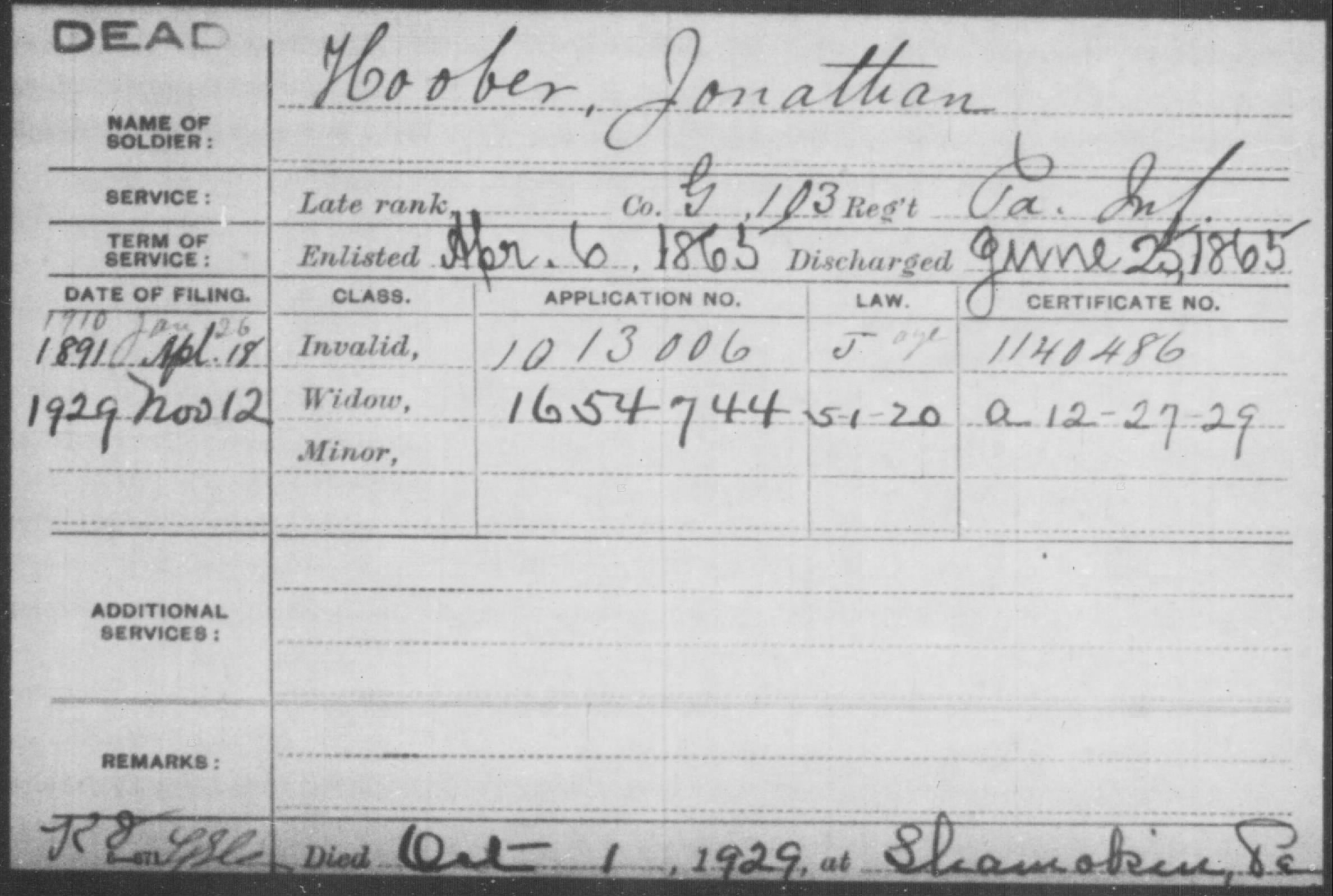 The Pension Index Card (above, from Fold3) confirms that Jonathan Hoover was a Civil War veteran who served in Company G, 103rd Pennsylvania Infantry, from 6 April 1865 to 25 June 1865.  During these dates of service, about 4 months total, Jonathan served in the 2nd Company G, a replacement company in the 103rd Pennsylvania Infantry, that saw light, end of the war duty in North Carolina.
Previously on this blog, a brief history of this replacement regiment was told.  See:  The 2nd Company G of the 103rd Pennsylvania Infantry.  Suffice it to say that the most hazardous experience faced by the men in this company was the threat of disease.  The company saw no battle action.
No other Civil War service was included on the pension application, so, it has to be assumed that Jonathan Hoober was not in any other military unit during the war.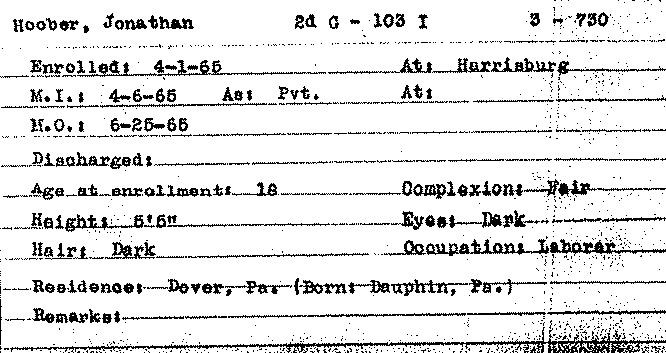 The Pennsylvania Veterans' File Card from the Pennsylvania Archives gives the same military information.  Personal information about Jonathan Hoober includes his age of 18, his height of 5 foot 6 inches, and his occupation (laborer).  He had a fair complexion, dark eyes and dark hair.  He claimed that he was born in Dauphin County and was residing in Dover, Pennsylvania, at the time of his recruitment.
Jonathan Hoober's obituary tells another story about his Civil War experience: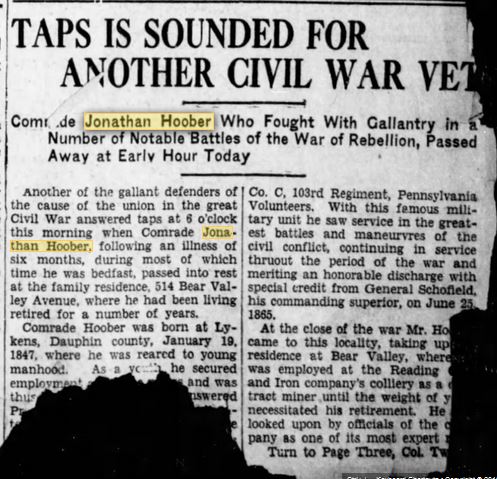 TAPS IS SOUNDED FOR ANOTHER CIVIL WAR VET

Comrade Jonathan Hoober Who Fought With Gallantry in a Number of Notable Battles of the War of the Rebellion, Passed Away at Early Hour Today

Another of the gallant defenders of the cause of the union in the great Civil War answered taps at 6 o'clock this morning when Comrade Jonathan Hoober, following an illness of six months, during most of which time he was bedfast, passed into rest at the family residence, 514 bear Valley Avenue, where he had been living retired for a number of years.  Comrade Hoober was born at Lykens, Dauphin County, 19 January 1847, where he was reared to young manhood.  As a youth he secure employment….   answered… President…..

Company C, 103rd Regiment, Pennsylvania Volunteers.  With this famous military unit he saw service in the greatest battles and maneuvers of the civil conflict, continuing in service thru-out the period of the war and meriting an honorable discharge with special credit from General Schofield, his commanding superior, on 25 June 1865.  At the close of the war, Mr. Hoober came to this locality, taking up … residence at Bear Valley where he was employed at the Reading Coal and Iron Company's colliery as a contract miner, until the weight of years necessitated his retirement.  He was looked upon by officials of the company as one of its most expert miners and had charge of contracts involving many of the major openings at that operation.  Some years ago the family removed to this city, where Comrade Hoober was a familiar figure until complications attendant upon old age forced him to remain at home and subsequently to become bedfast.  The departed was a most devoted and thoughtful husband and father and was held in highest regard by his every acquaintance thru-out the entire community.

Surviving the veteran are his widow and the following children:  Mrs. Harry Kerstetter, Mrs. J. Melvin Heim, Miss Gladys Hoober and J. Alfred Hoober of this city; Mrs. Harry Werntz, of Lewsitown;  Charles Hoober and John Hoober, of Detroit, Michigan, and a step-son, William Muir of Lykens; one sister, Mrs. Agnes Wallace, of Everett, Washington; and seventeen grand-children also survive.

The funeral will be held from the late home at 2 o'clock Friday afternoon, with the Rev. Dr. Charles B. Schneder officiating.  Burial is to be made in the family plot in the Odd Fellows' Cemetery.
There is no doubt that the obituary and military/pension records are for the same person.  The difference is the exaggerated war record which was told in the obituary.  When Hoober died in 1929 there were few members of his regiment and company who could dispute what was released to the newspaper and this is probably the reason that the information in it has not been questioned until now.
---
The news clipping is from Newspapers.com.