Posted By Norman Gasbarro on March 21, 2016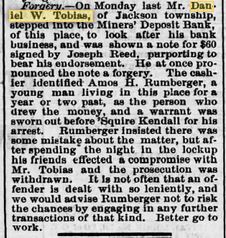 A brief story appeared in the Harrisburg Telegraph, 27 December 1875, describing an incident involving Civil War veteran Daniel W. Tobias of Jackson Township, Dauphin County, Pennsylvania, which occurred at the Miners' Deposit Bank:
Forgery — On Monday last, Mr. Daniel W. Tobias of Jackson Township stepped into the Miners' Deposit Bank, of this place, to look after his bank business, and was shown a note for $60 signed by Joseph Reed, purporting to bear his endorsement.  He at once pronounced the note a forgery.  The cashier identified Amos H. Rumberger, a young man living in this place for a year or two past, as the person who drew the money, and a warrant was sworn out before Squire Kendall for his arrest.  Rumberger insisted there was some mistake about the matter, but after spending the night in the lockup his friends effected a compromise with Mr. Tobias and the prosecution was withdrawn.  It is not often that an offender is dealt with so leniently, and we would advise Rumberger not to risk the chances by engaging in any further transactions of that kind.  Better go to work.
Daniel Wiest Tobias served in the 210th Pennsylvania Infantry, Company A, as a Private, from 7 September 1864 through his honorable discharge on 12 July 1865.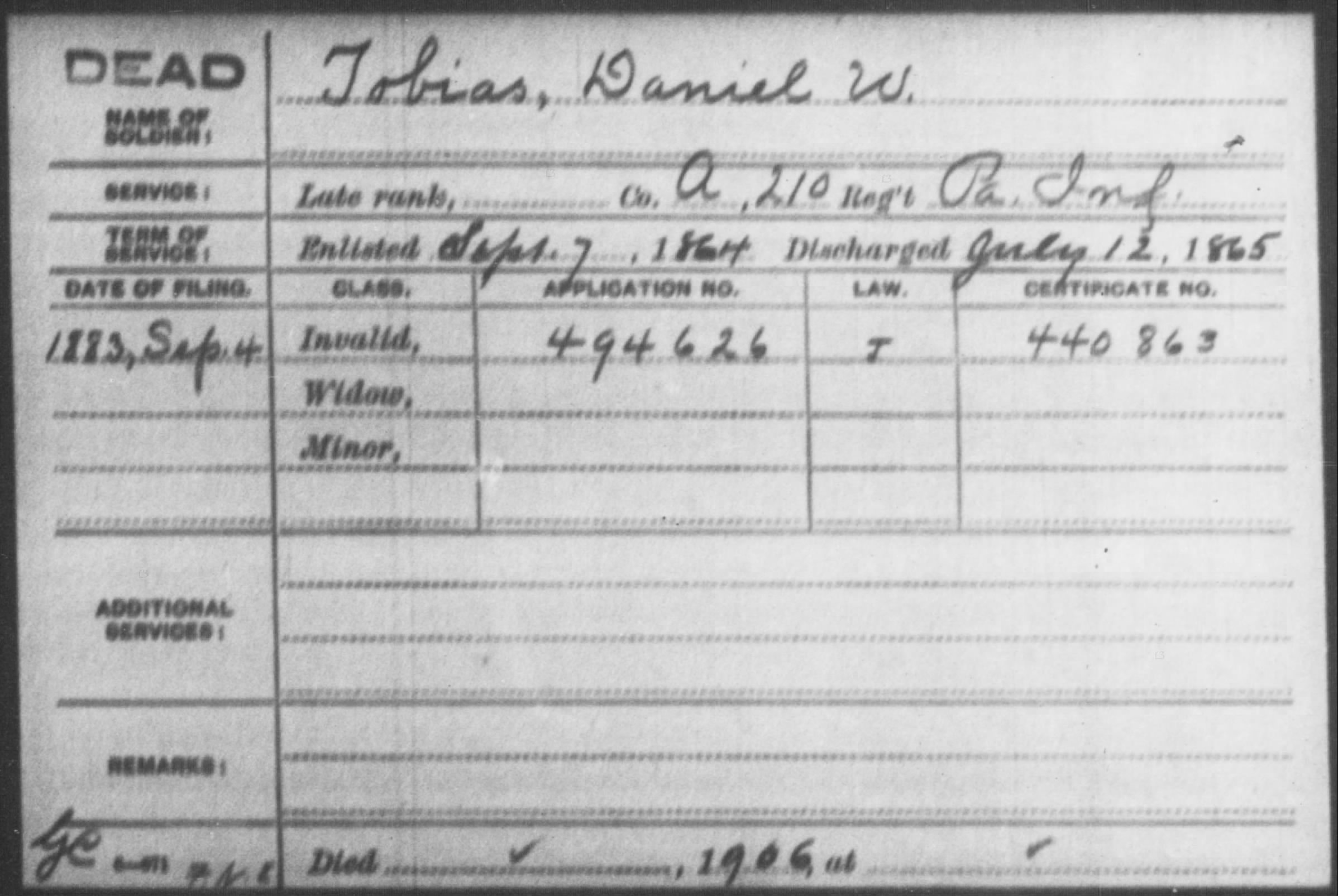 Daniel W. Tobias applied for a disability pension on 4 September 1883, which he received and collected until his death, which occurred on 22 September 1906 at Fisherville, Dauphin County, Pennsylvania. He is buried at that place in the Messiah Lutheran Church Cemetery.  He was married to the former Mary A. Klinger, who preceded him in death in 1898.
For prior posts on Daniel W. Tobias, click here.  Further information about him and his family can be found at his Findagrave Memorial.  At this time, it is believed that the Amos H. Rumberger mentioned in the story was Amos H. Romberger (1857-1900), the son of Henry Romberger (1833-1912) and Elizabeth [Hoover] Romberger (1832-1907), but no documents have been located establishing his residence in Jackson Township during or immediately before 1875.