Posted By Norman Gasbarro on February 8, 2016
In the 1967 published list of Civil War veterans from the Elizabethville, Dauphin County, the name of Jacob Swab appears.  In researching this soldier, it is now known that there were actually two persons of this name, one found in the records as Jacob Swab and the other found as Jacob W. Swab.
———————————
JACOB SWAB (1822-1905)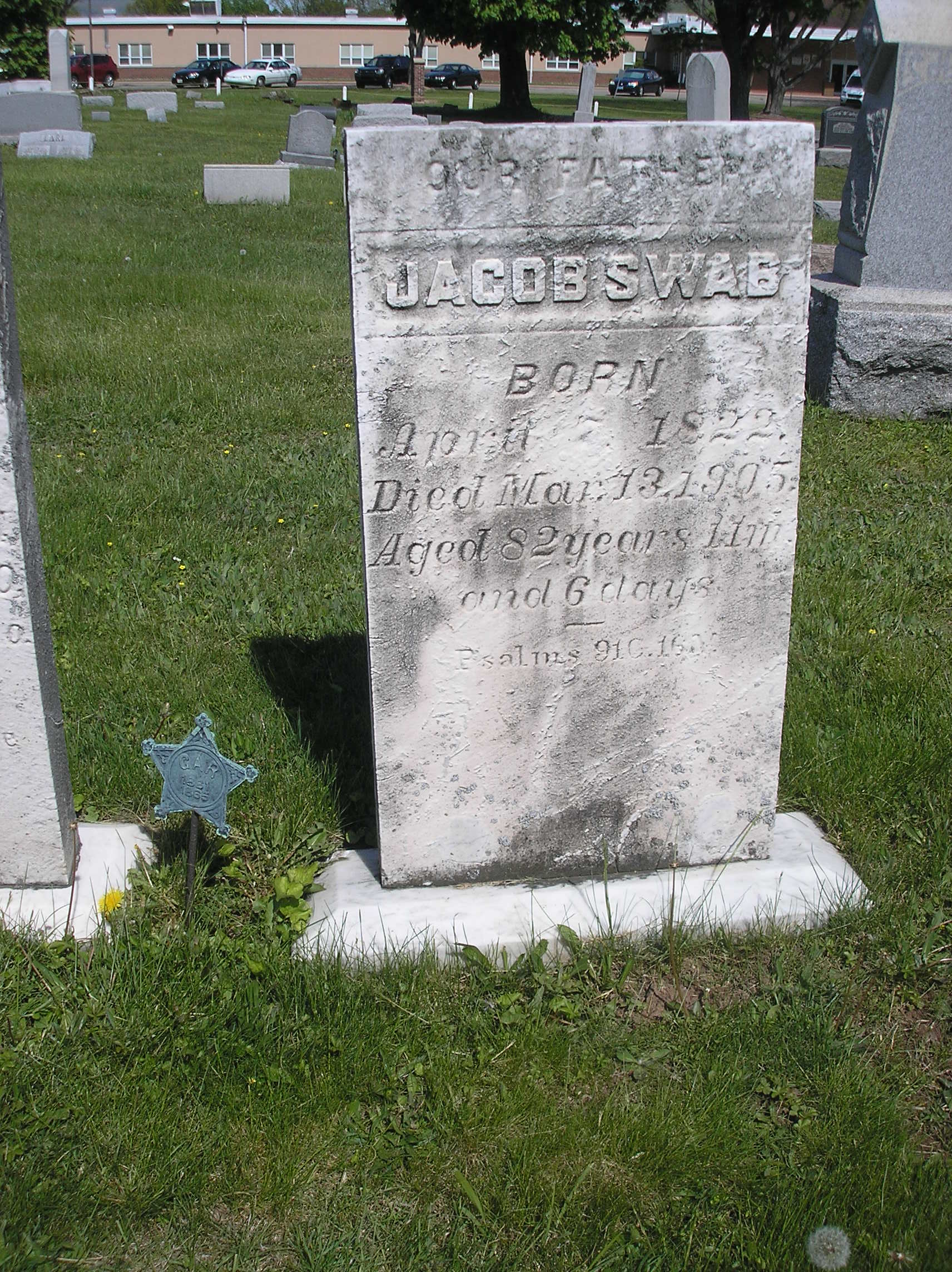 Jacob Swab was born 7 April 1822 in Mifflin Township, Dauphin County, the son of John Jacob Swab (1792-1867) and Catherine [Metz] Swab (1790-1853).
In the 1890 Veterans' Census for Elizabethville, he indicated service in the 173rd Pennsylvania Infantry, Company F, as a Private, from 30 October 1862 through 16 August 1863.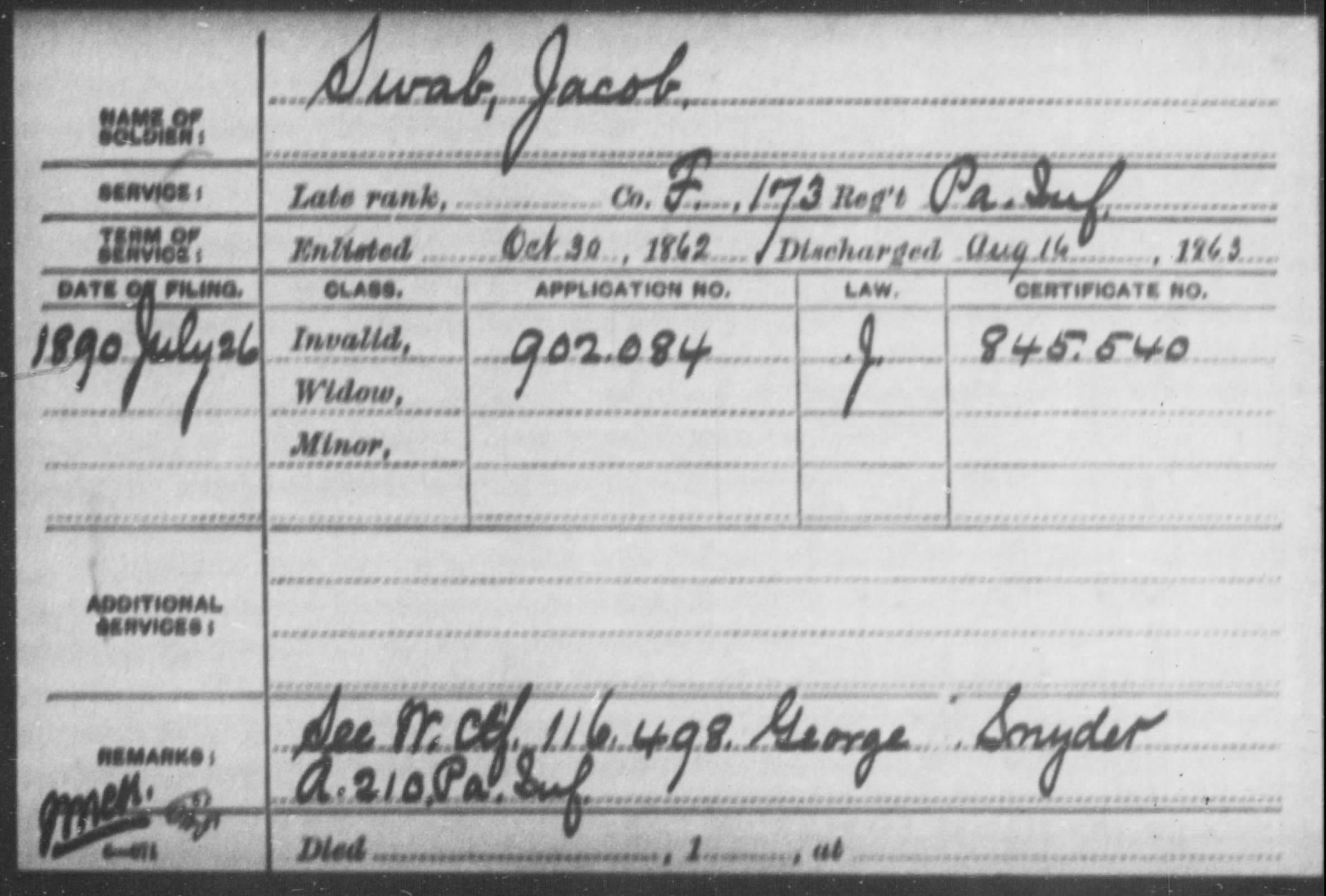 On 26 July 1890, Jacob Swab applied for a pension based on that service, which he received and collected until his death on 13 March 1905.  Although he was survived by a widow who was his second wife, Elizabeth [McColly] Snyder Swab, Mrs. Swab collected the pension of her first husband, George Snyder, as is noted at the bottom of the Pension Index Card shown above from Fold3. George Snyder served in the 210th Pennsylvania Infantry, Company A.  George Snyder died in 1865 and is buried at the St. Jacob's Cemetery in Enders.  Jacob Swab's second marriage took place on 6 October 1881 at Berrysburg.  His first wife, the former Anna "Mary" Matter had died 3 February 1880 and is buried at Maple Grove Cemetery, Elizabethville.  Widows could only collect one pension and since the second Mrs. Swab had apparently been collecting a pension based on Snyders' service from the year 1865 to her marriage to Swab in 1881, she reverted to re-collecting the Snyder pension following Swab's death in 1905.  When Civil War widows remarried, it was expected that their new husbands would support them and they lost benefits from any prior marriage.
The Pension Index Card for George Snyder (from Fold3) is shown above.  It indicates his death as 15 April 1865 and Elizabeth's application on 20 July 1867. The application and certificate file coordination is noted in the "remarks".  For those wishing to research this application further, the complete file is available on Fold3 and can be downloaded by those who have a subscription to the Fold3 service.

On 7 February 1905, two months before his death, the Harrisburg Telegraph reported in its Elizabethville news, that Jacob Swab, who was one of the town's oldest citizens, was critically ill at his home at the West End, and that "slight hopes are entertained for his recovery."
Jacob Swab is buried at Maple Grove Cemetery in Elizabethville – next to his first wife.  His grave marker is pictured at the top of this post.

On the Lykens G.A.R. Monument, the name "Jacob Swab" appears as as a member of Heilner G.A.R. Post No. 232, Lykens, Pennsylvania, who "Joined After Organization."  It is not known for certain whether this is the Jacob Swab who died in 1905, or the Jacob W. Swab who will next be reported on who died in 1882, but it could be assumed that the one who died earlier may not have been a member of the Lykens G.A.R. and may have been forgotten at the time the monument was erected in the early 20th century.
——————————-
JACOB W. SWAB (1826-1882)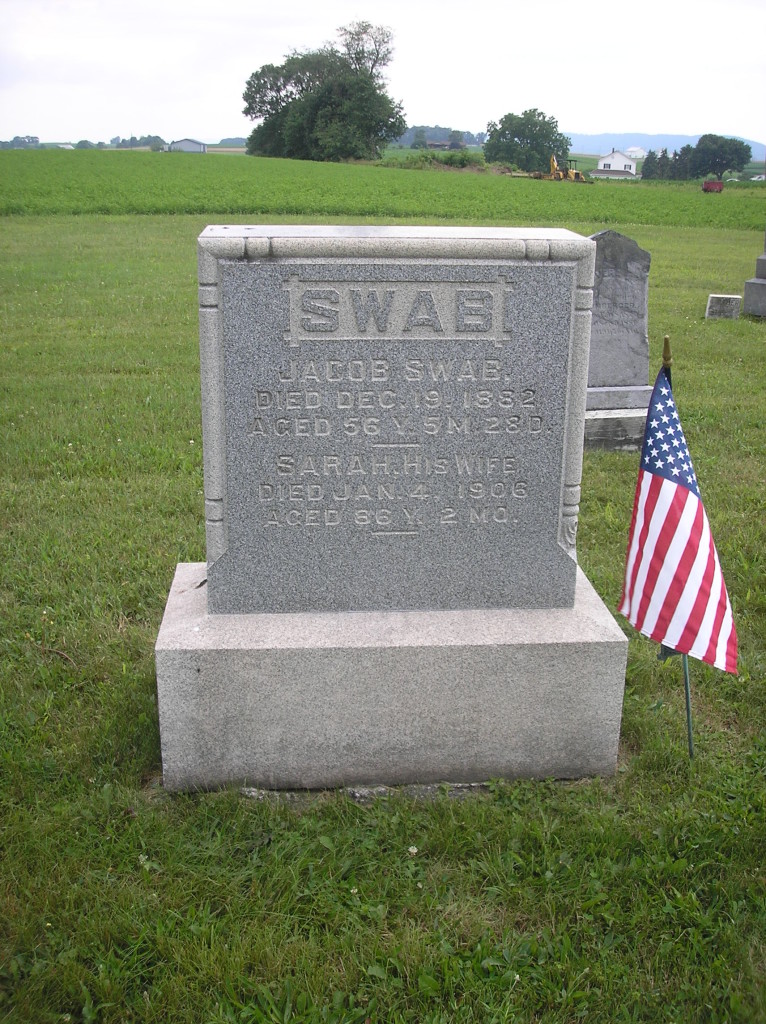 Jacob W. Swab was born on 21 June 1826, the son of William Swab (1800-1869) and Anna Mary [Matter] Swab (1805-1882).
In the 1890 Veterans' Census for Elizabethville, his widow, Sarah [Linderman] Swab, indicated that he served in the 147th Pennsylvania Infantry, Company G as a Private, from 20 September 1862 through his discharge on 6 June 1865.
In the 1880 Census for Washington Township, Jacob W. Swab gave his occupation as "sewing machine agent."  In that Elizabethville was rapidly becoming known as a "factory town," in the late 19th Century, this occupation had to revolve around the growing clothing manufacturing industry developing there.
When Jacob W. Swab died on 19 December 1882, he was buried at Sweitzer's Cemetery in Berrysburg.  His grave marker is pictured above.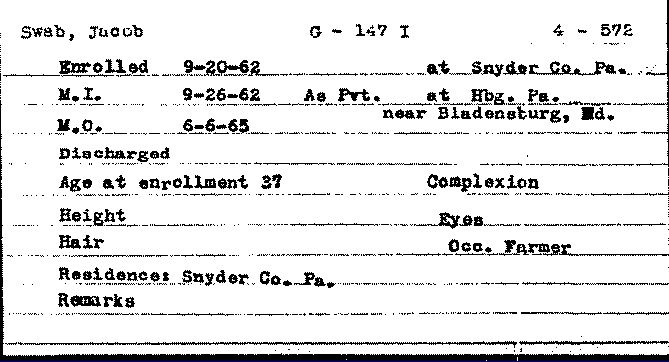 The Veterans' File Card (pictured above from the Pennsylvania Archives) notes that at the time of the Civil War, Jacob W. Swab was working as a farmer and living in Snyder County, Pennsylvania, which is where he enrolled in the service at age 37.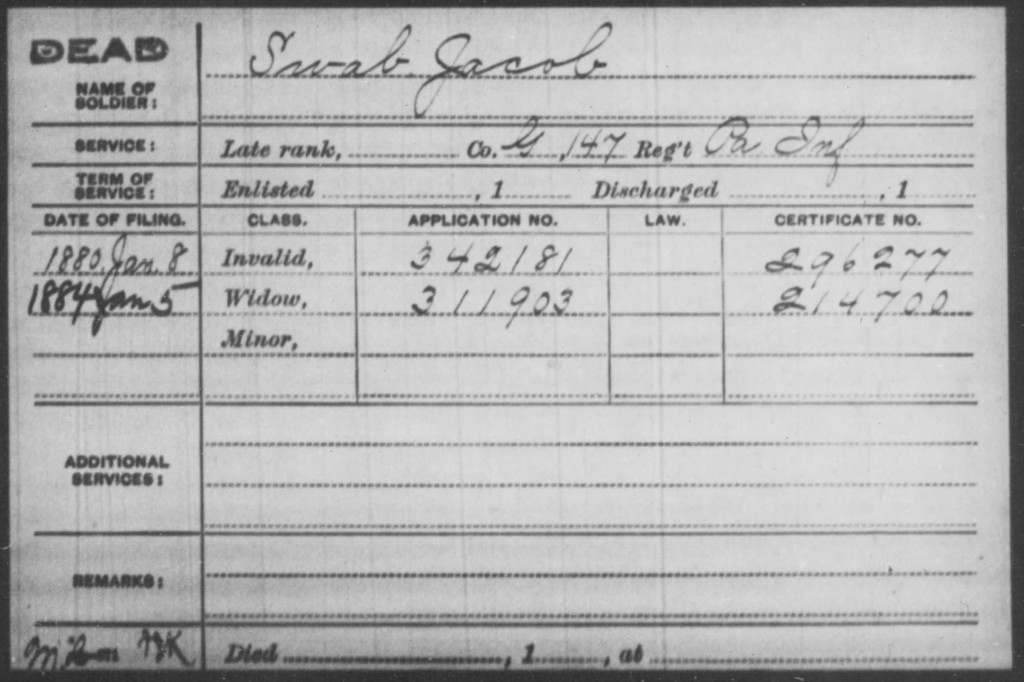 The Pension Index Card (show above from Fold3) indicates that Jacob W. Swab applied for benefits on 8 January 1880, which he received and collected for about three years until his death in late 1882.  His widow followed by applying on 5 January 1884, also receiving benefits which she collected until her death in 1906.  Sarah is buried next to her husband at Sweitzer's Cemetery in Berrysburg.
It must also be noted that although this blog post has differentiated the two Jacobs by using the middle initial "W" for the one who died in 1882, the military and pension records do not have the two differentiated – referring to both as "Jacob Swab."  Neither do the grave markers.  Thus it is possible that the records of the two have been confused, at least in some research.
———————————
More information is sought about each of these men – particularly stories about their personal lives, military service, and descendants.  Especially of interest are pictures of the men, if they have survived over time.  In 2017, Elizabethville will celebrate its bicentennial and a display of Civil War soldier pictures is planned.  Anyone willing to contribute a photo should contact the Project by e-mail.
———————————
The news clipping is from Newspapers.com.