Posted By Norman Gasbarro on January 8, 2016
Rev. Thomas W. Garland (1847-1925) was first located as Civil War veteran in the 1890 Veterans' Census for Halifax Township, Dauphin County, Pennsylvania, where he reported that he had served in the 48th Pennsylvania Infantry, Company F, as a Private, from 31 March 1864 through discharge on 19 July 1865.  He also indicated that he had been shot through the left jaw during his service.  Based on the census information, he was added to the Civil War Research Project.
However, in the list compiled of Civil War veterans from the Halifax area, he was omitted.  See:  Halifax Area Civil War Veterans.  It is difficult to understand why he was omitted from the list when he was clearly living in the Halifax area, at least for the 1890 Census, when many Civil War veterans were still alive and when the G.A.R. posts were most active.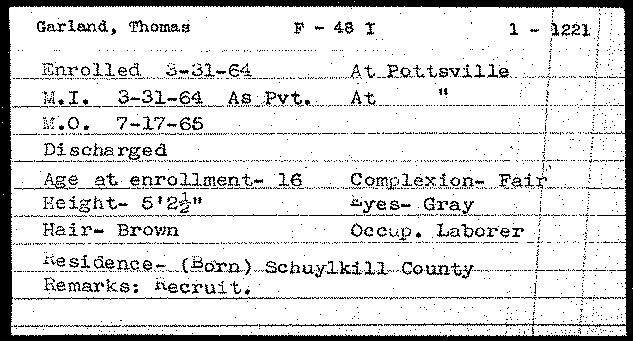 The Pennsylvania Veterans' File Card, shown above from the Pennsylvania Archives, confirms that there are records showing that Thomas Garland enrolled on 31 March 1864 at Pottsville, and was mustered into service on the same day and place in the 48th Pennsylvania Infantry, Company F, as a Private.  At the time, he was a young 16 years old, had a fair complexion, brown hair, gray eyes, and stood 5 foot, 2.5 inches tall.  He gave his occupation as laborer and indicated that he was born in Schuylkill County, where presumably he resided in 1861.  The card does not note any injuries or wounds received and his date of discharge appears to be the same as most of the survivors of the company and regiment.
According to research conducted on Ancestry.com, Thomas Garland was born 23 September 1847 in Llewellyn, Schuylkill County, the son of Thomas Garland, an immigrant from Ireland, and Mary [Taylor] Garland.   He had several brothers and sisters, all of whom were older than he.  One sister, Sarah Garland, was married to William Challenger, a Civil War soldier who was born in England, early-on lived in Reilly Township, Schuylkill County, but late in life moved to Williamstown, where he worked as a coal miner.  William Challenger died in 1889 and is buried at Seybert's Cemetery in Williamstown.  Research is still being conducted on the the other brothers and sisters of Thomas Garland, all of whom were of Civil War service age or of the age to have possibly married Civil War soldiers, so additional Civil War family connections could be found.
The Harrisburg Evening News, 17 March 1925, reported the death of Rev. Garland as follows: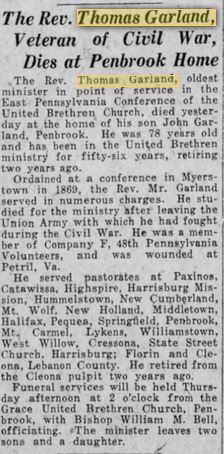 The Rev. Thomas Garland, Veteran of Civil War, Dies at Penbrook Home

The Rev. Thomas Garland, oldest minister in point of service in the East Pennsylvania Conference of the United Brethren church, died yesterday at the home of his son John Garland, Penbrook.  He was 78 years old and has been in the United Brethren ministry for fifty-six years, retiring two years ago.

Ordained at a conference in Myerstown in 1869, the Rev. Mr. Garland served in numerous charges.  He studied for the ministry after leaving the Union Army with which he had fought during the Civil War.  He was a member of Company F, 48th Pennsylvania Volunteers [48th Pennsylvania Infantry], and was wounded at Petril, Virginia.

He served pastorates at Paxinos, Catawissa, Highspire, Marrisburg Mission, Hummelstown, New Cumberland, Mt. Wolf, New Holland, Middletown, Halifax, Pequea, Springfield, Penbrook, Mt. Carmel, Lykens, Williamstown, West Willow, Cressona, State Street Church Harrisburg, Florin and Cleona, Lebanon County.  He retired from the Cleona pulpit two years ago.

Funeral services will be held Thursday afternoon at 2 o'clock from the Grace United Brethren Church, Penbrook, with Bishop William M. Bell, officiating.  The minister leaves two sons and a daughter.
The next day, 18 March 1925, with only a slight variation of information, the Harrisburg Telegraph reported his death as follows:
REV. THOMAS GARLAND WILL BE BURIED IN PENBROOK CEMETERY

The Rev. Thomas Garland, aged 78, Civil War veteran, and holder of the ministerial service-length record in the East Pennsylvania Conference of the United Brethren Church, died Monday at the home of his son, John Garland, in Penbrook.  He retired from the ministry two years ago, after fifty-seven years of service.

During the Civil War, he served with Company F, 48th Pennsylvania Volunteers [48th Pennsylvania Infantry], and he began preaching shortly after his discharge….
While the Telegraph gave the burial information, it did not expand on Rev. Garland's military service.
Continuing the research on Rev. Garland's military service, his name was located on a blog post on 19 September 2014 entitled, The 48th/150th: Peebles's Farm: 9/30/1864, by John D. Hoptak.  Hoptak's article describes the battle and lists Thomas Garland among the 8 who were wounded.  However, the type and seriousness of wound was not given, only that he was named among the casualties.
The 23 March 1925, Lebanon Semi-Weekly News, reported the following:
The deceased was a veteran of the Civil War, and helped dig the mine at Petersburg….
For further information on the digging of the mine at Petersburg, see Touring the Petersburg National Battlefield – The Crater (Part 1).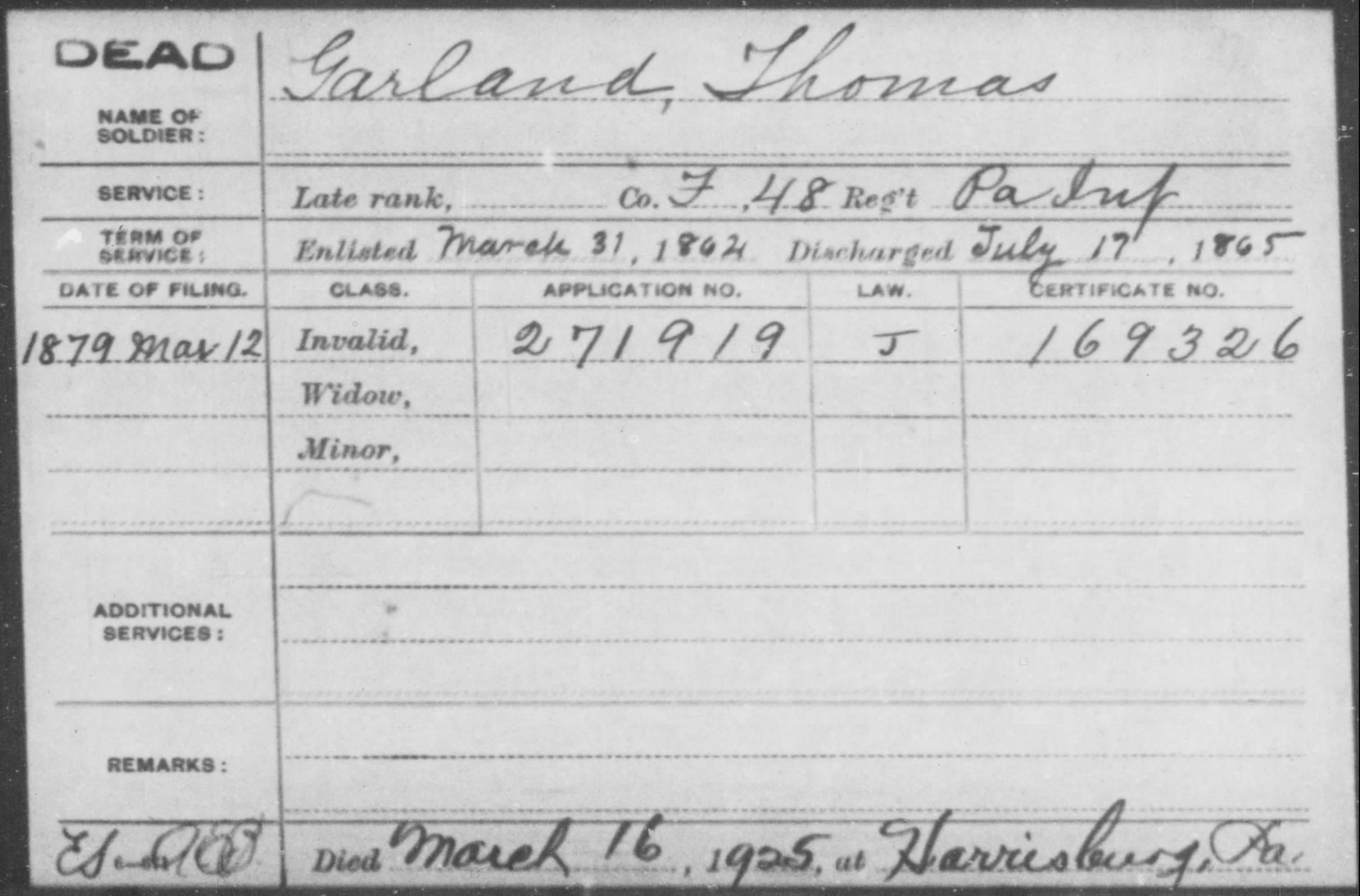 The final military record consulted for this post is the Pension Index Card, shown above from Fold3.  Rev. Garland applied for an invalid pension on 12 March 1879, eleven years prior to the relaxation of the rules for applying, which is generally an indication that he applied based on a disability specifically related to an injury received during the war.  Therefore, that injury should be described in detail in the application papers which are available from the National Archives in Washington.  Since those papers were not consulted in the writing of this post, a request is made to anyone who has obtained them, to share them with readers here.  The information, and/or copies of the papers, can be sent to the Project via e-mail with attachments, or by adding a comment to this blog post.
The question of when Rev. Garland served in each of the named communities has not been answered.  There is no easy way of obtaining a list of all the United Brethren pastors who have served the the communities of Halifax (or area), Lykens, and Williamstown.  None of the churches presently exist in that denomination as most/all merged or became part of the United Methodist churches in the valley and some went out of business.
A search of available on-line newspapers (via Newspapers.com) produced the following:
From the Harrisburg Telegraph, 8 October 1894:  The United Brethren Conference at Ephrata assigned Rev. Thomas Garland to Halifax.
From the Harrisburg Telegraph, 14 August 1896, and 21 August 1896:  Rev. Garland of Matamoras supplied the pulpit at Enders in place of the pastor who was attending the Mt. Gretna Campmeeting.
From the Harrisburg Telegraph, 10 October 1904:  The Eastern Conference of the United Brethren Church appointed Rev. Garland to Lykens.
From the Harrisburg Telegraph, 9 February 1906:  Rev. Thomas Garland and wife, of Williamstown, visited friends in Lykens.
Thus, for at least the dates given in the above brief articles, it can be assumed that Rev. Garland served churches in those communities.  Note:  Matamoras is a small community in Halifax Township, and the mention that he was serving at Halifax in 1894, could be Halifax Township and the church at Matamoras.  The specific histories of those churches would have to be consulted to see if there are any further references to his service and if any pictures of him exist that were taken while he served those churches.
Politically, Rev. Thomas Garland was a Republican and attended the county conventions as a delegate in 1882.  [as reported in the Harrisburg Daily Independent, 12 August 1882].
Three further newspaper items are presented:
His "Estate Notice" reported in the Harrisburg Telegraph, 25 April 1925, in which Clinton M. Hershey was named as Executor and Robert T. Fox was named as attorney: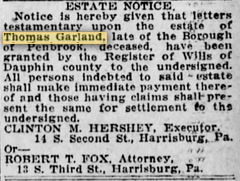 A brief notice of a bequest left by Rev. Garland in his will, Harrisburg Telegraph, 23 March 1925: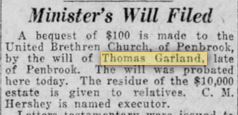 Minister's Will Filed

A bequest of $100 is made to the United Brethren Church, of Penbrook, by the will of Thomas Garland, late of Penbrook.  The will was probated here today.  The residue of the $10,000 estate is given to relatives.  C. M. Hershey is named executor.
And, a memorial notice by G.A.R. Post 58 of Harrisburg, Harrisburg Telegraph, 30 May 1925: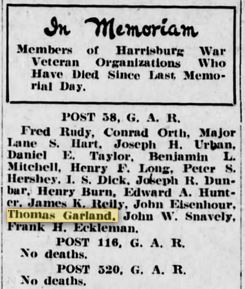 This latter clipping indicates that Thomas Garland was a member of the G.A.R. Post in Harrisburg.  A further search of news items produced many news items involving his participation in activities of that post.
Rev. Thomas Garland is buried at the East Harrisburg Cemetery in Harrisburg.  A photo of his military grave marker appears at the top of this post and additional information can be found at his Findagrave Memorial.  As previously mentioned, his name does not appear in the Civil War veterans list of Halifax that was produced for its bicentennial.  His name also does not appear on the Lykens G.A.R. Monument, which is the "official" list for that community and Wiconisco.  At this time there is no known up-to-date list of Williamstown Civil War veterans.
—————————-
The photograph of Thomas W. Garland is modified from one that appears on a public tree on Ancestry.com. News clippings are from Newspapers.com.