Posted By Norman Gasbarro on January 29, 2016
During the Civil War, Joseph W. Knouff served in Company H of the 130th Pennsylvania Infantry, for nine months.  He died on 10 April 1902 and is buried at the Fairview Cemetery in Enders, Dauphin County.
On 21 July 1890, Joseph W. Knouff applied for a disability pension, which, according to the Pension Index Card (shown below from Ancestry.com), he did not receive.  His widow, Isabella [Enders] Knouff, applied for widow's benefits in 1902, which she received and collected until her death on 22 November 1939.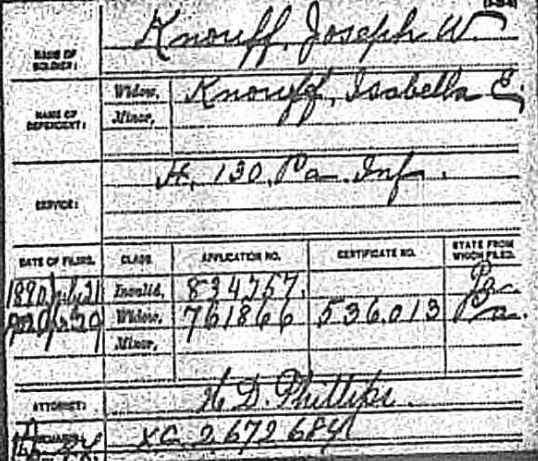 Isabella Knouff's obituary appeared in a local newspaper at the time of her death: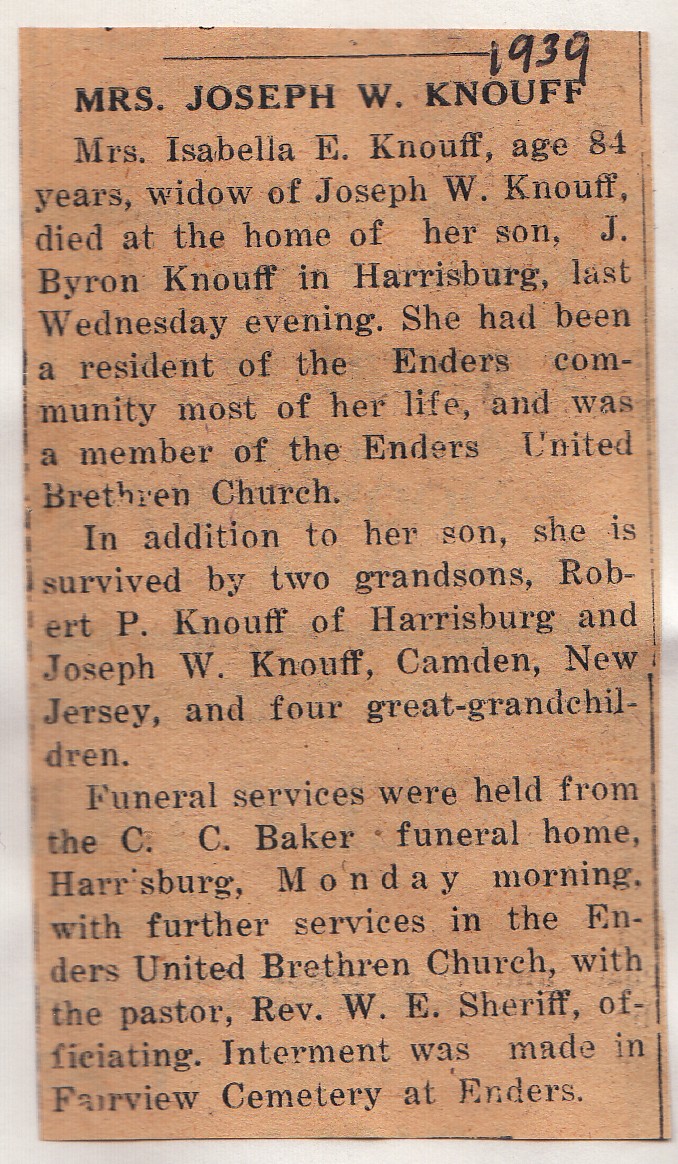 MRS. JOSEPH W. ENDERS

Mrs. Isabella E. Knouff, age 84 years, widow of Joseph W. Knouff, died at the home of her son, J. Byron Knoff, in Harrisburg, last Wednesday evening. She had been a resident of the Enders community most of her life and was a member of the Enders United Brethren Church.

In addition to her son, she is survived by two grandsons, Robert P. Knouff of Harrisburg and Joseph W. Knouff, Camden, New Jersey, and four great-grandchildren.

Funeral services were held from the C. C. Baker Funeral Home, Harrisburg, Monday morning with further services in the Enders United Brethren Church, with the pastor, Rev. W. E. Sheriff, officiating.  Interment was made in Fairview Cemetery, Enders.
Previously on this blog, Joseph W. Knouff was featured in a post on the Knouff Family Civil War veterans of Enders and Millersburg and in a later post entitled Obituary of Joseph W. Knouff.
This obituary of Mrs. Knouff was also previously featured on this blog.