Posted By Norman Gasbarro on January 25, 2016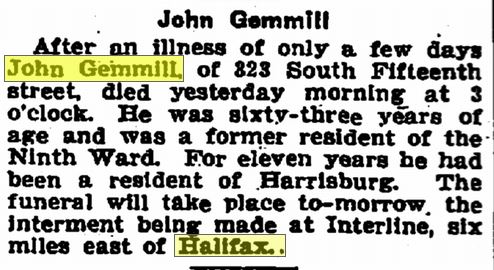 When John Gemmell died, his obituary that appeared in the 3 March 1903, his obituary that appeared in the Harrisburg Patriot did not mention his Civil War service.
John Gemmill

After an illness of only a few days John Gemmill of 323 South Fifteenth Street, died yesterday morning at 3 o'clock.  He was sixty-three years of age and was a former resident of the Ninth Ward.  For eleven years he had been a resident of Harrisburg.  The funeral will take place to-morrow, the interment being made at Interline [Enterline], six miles east of Halifax.
However, on 7 March 1903, the Patriot did note that Gemmill was a war veteran:

The body of John Gemmill was brought to this place Thursday and taken to Bowerman's Church for interment.  Mr. Gemmill was a veteran of the Civil War and a resident of Harrisburg for many years.
In the 1890 Veterans' Census for Wiconisco, Dauphin Co., Pennsylvania, the name David W. Gimmell appears as shown below, with service noted in the 8th Maryland Infantry.  On the line above, the name John Price appears, with service in the 203rd Pennsylvania Infantry.  Note:  click on documents to enlarge.

In the corresponding boxes on the bottom half of the census sheet, there is an explanation that John Gemmill served as substitute for his brother.

To show that "Price" was an alias used by John Gemmell, a Pension Index Card is presented below from Fold3: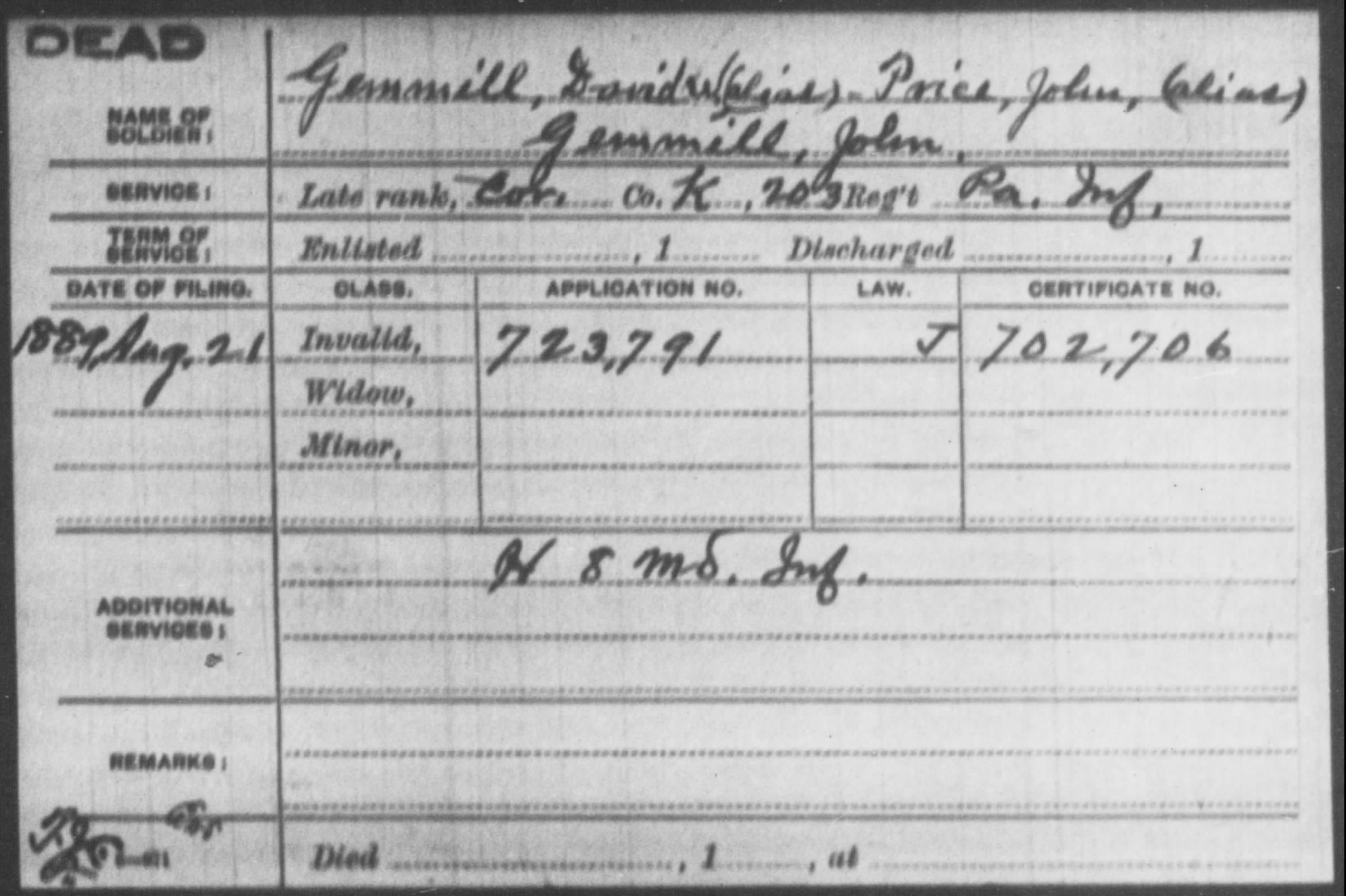 The card, which shows both the Pennsylvania and Maryland regiments, also has the three "aliases" at the top.  This indicates that the person who applied for the pension on 21 August 1889 was John Gemmill.
During 1892 and 1893, John Gemmell spent some time living at the Soldiers' Home in Dayton, Ohio.  The home record page, shown below from Ancestry.com, also notes his alias, but credits John Gemmell for service in both state regiments.
John's closest relative was his son, Harry E. Gemmill, of Enterline, Dauphin County, and according to the home record, John was released in April 1893, whereupon he returned to Harrisburg.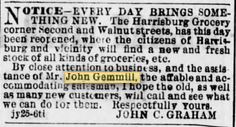 After the Civil War, John Gemmell worked as a peddler.  An example of the type of work that he did was found in the Harrisburg Telegraph advertisement placed by John C. Graham, 25 July 1878, owner of the Harrisburg Grocer (see above).  That ad states that "by close attention to business, and the assistance of Mr. John Gemmill, the affable and accommodating gentleman, I hope the old, as well as many new customers, will call and see what we can do for them."
How John Gemmill got his "alias" of Price is unknown.  But it is clear that he was well-known by that name as well as his own, for not only does it appear in the military records, but also in the records of the courts of Harrisburg:
John Gemmill, alias Price, was drunk on Sunday, paid his fine on Monday morning, became drunk, and disorderly on Monday evening, and this morning, in default of fine, returned to his quarters in the lock-up.
More information is sought on this Civil War soldier who apparently served his country well and should be recognized in the communities where he lived.  Comments may be added to this post or sent via e-mail.
Note:  His name is omitted from the Lykens G.A.R. Monument which includes men from Lykens and Wiconisco and the surrounding area.  It's clear from the 1890 Census that, at least for a time, he lived in Wiconisco.
Note:  His name is not omitted from the list of Civil War veterans produced for the Halifax area, including Enterline, where he is buried, but at the time of this writing, his Findagrave Memorial neglects to mention that he was a Civil War veteran.
——————————–
News clippings are from the on-line resources of the Free Library of Philadelphia and from Newspapers.com.