Posted By Norman Gasbarro on January 15, 2016
From the Harrisburg Telegraph of 20 May 1905, came a story of the heroic efforts of "Dutch Charlie" to save the life of an eight year old girl whose clothes were on fire: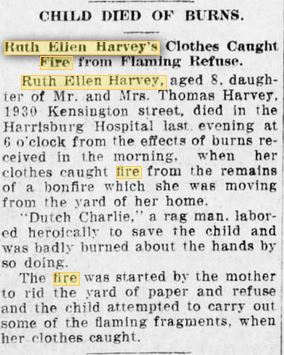 CHILD DIED OF BURNS

Ruth Ellen Harvey's Clothes Caught Fire from Flaming Refuse

Ruth Ellen Harvey, aged 8, daughter of Mr. and Mrs. Thomas Harvey, 1930 Kensington Street, died in the Harrisburg Hospital last evening at 6 o'clock from the effects of burns received in the morning, when her clothes caught fire from the remains of a bonfire which she was moving from the yard of her home.

"Dutch Charlie," a rag man, labored heroically to save the child and was badly burned about the hands by so doing.

The fire was started by the mother to rid the yard of paper and refuse and the child attempted to carry out some of the flaming fragments, when her clothes caught fire.
And, two days later, the Harrisburg Daily Independent identified "Dutch Charley."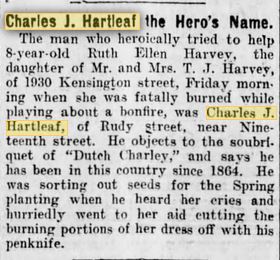 Charles J. Hartleaf the Hero's Name

The man who heroically tried to help 8-year-old Ruth Ellen Harvey, the daughter of Mr. and Mrs. T. J. Harvey, of 1930 Kensington Street, Friday morning when she was fatally burned while playing about a bonfire, was Charles J. Hartleaf, of Rudy Street, near Nineteenth Street.  He objects to the soubriquet [sic] of "Dutch Charley," and says he has been in this country since 1864.  He was sorting out seeds for the Spring planting when he heard her cries and hurriedly went to her aid cutting the burning portions of her dress off with his penknife.
Charles J. Hartleaf was born about December 1846 in Germany and came to the United States in 1864, during the Civil War.  According to information in Civil War soldier databases, he enlisted in a New Jersey regiment on 18 February 1865, and according to information from the Pension Index Cards, he served in Company of of the 7th New Jersey Infantry.  On 17 February 1887 he applied for a pension, which according to the records at the National Archives, he was not awarded.  One of the Civil War soldier databases states that he was reported as "deserted" on 1 July 1865 at Bailey's Crossroads, Virginia.  No record of a discharge has been seen.
In 1890, when he was living in Millersburg, Dauphin County, he gave his service information as the 7th New Jersey Infantry, Company I, Private, with dates of 2 February 1864 through 9 August 1865, a term of 1 year, 4 months [sic], and 7 days.  There is a conflict in the length of time he served as well as the starting date, which according to other sources, was in 1865, not 1864.  He also reported in 1890 that he had a Civil War-related disability:  "Lost index finger on right hand."
In the Harrisburg Telegraph of 24 October 1890 [see above], a brief mention appeared of an accident in which he was involved while living in Millersburg:  He "fell through a hay home in the barn… and fractured a rib."
Not much more is known about him until reports of his death were published in 1907: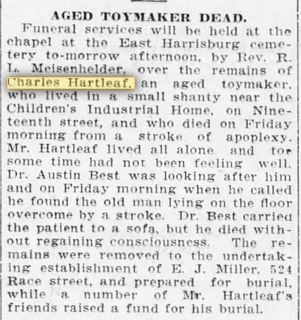 From: Harrisburg Telegraph, 21 January 1907:
AGED TOYMAKER DEAD

Funeral services will be held at the chapel at the East Harrisburg Cemetery to-morrow afternoon, by Rev. R. L. Meisenhelder, over the remains of Charles Hartleaf, and aged toymaker, who lived in a small shanty near the Children's Industrial Home, on Nineteenth Street, and who died on Friday morning from a stroke of apoplexy.  Mr. Hartleaf lived all alone and for some time had not been feeling well.  Dr. Austin Best was looking after him and on Friday morning when he called he found the old man lying on the floor overcome by a stroke.  Dr. Best carried the patient to a sofa, but he died without regaining consciousness.  The remains were removed to the undertaking establishment of E. J. Miller, 524 Race Street, and prepared for burial, while a number of Mr. Hartleaf's friends raised a fund for his burial.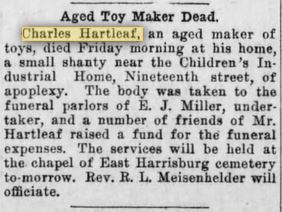 From:  Harrisburg Daily Independent, 21 January 1907:
Aged Toy Maker Dead.

Charles Hartleaf, an aged maker of toys, died Friday morning at his home, a small shanty near the Children's Industrial Home, Nineteenth Street, of apoplexy.  The body was taken to the funeral parlors of E. J. Miller, undertaker, and a number of friends of Mr. Hartleaf raised a fund for the funeral expenses.  The services will be held at the chapel of East Harrisburg Cemetery tomorrow.  Rev. R. L. Meisenhelder will officiate.
It is not clear why Charles J. Hartleaf did not receive a pension, especially if he lost his right index finger as a result of his war service.  It is also not clear why his Civil War service was not mentioned in his obituaries.  Finally, if he lived for a time in Millersburg – and it clearly documented that he was there at least in 1890 – why he is not recognized on the Millersburg Soldier Monument.
Additional information is sought about Charles J. Hartleaf.  Was he married and did he have children?  What was his military record?  And, why is he not recognized in Millersburg?  Anyone with the answers can add a comment to this post or send the information via e-mail.
——————————–
News clippings are from Newspapers.com.