Posted By Norman Gasbarro on December 16, 2015
James Gammel was first located as a Civil War soldier in the 1890 Veterans' Census for Tremont, Schuylkill County, Pennsylvania.  However, the information was given by his widow Ann Gammel, who stated that he served in the 39th Pennsylvania Infantry (Emergency of 1863), Company H, as a Private, from 29 June 1863 to 2 August 1863.
The service information of James Gammel has been confirmed in other records, including in the veterans' card file at the Pennsylvania Archives.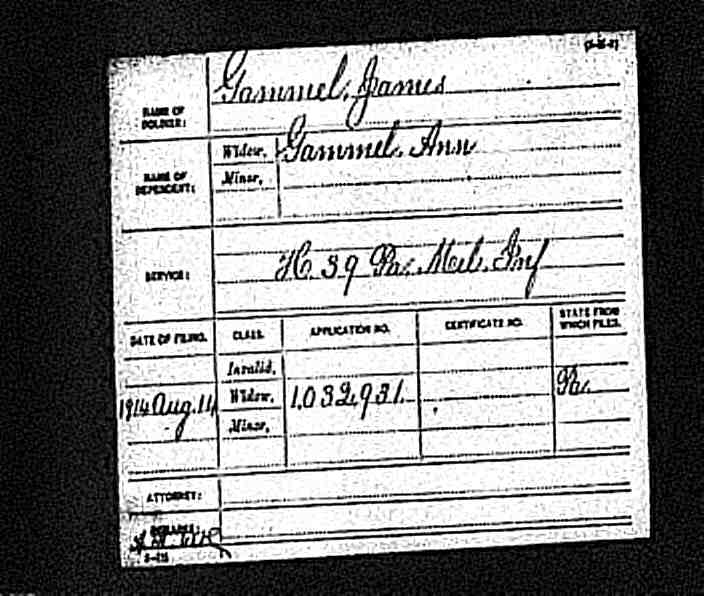 Ann Gammel was located in the Pension Index Cards found on Ancestry.com (shown above).  The card states that on 14 August 1914, from Pennsylvania, she applied as a widow for a pension based on her deceased husband's Civil War service.  She was not awarded the pension, most likely due to the fact that service in Pennsylvania militia regiments/companies was not for the required three months needed for the awarding of benefits.
The 1890 Census Substitute for Tremont, Schuylkill County, available through Ancestry.com, shows an Ann Gammel/Gammell as head of household, with what appears to be a son James Gammel, a 35 year old miner, and his wife Lottie and children living in the same household.  Next door, there is a William J. Gammel, age 28, also a miner, his wife Dora, and one son, William J. Gammel.  Tracing James and William through the available resources on Ancestry.com (family trees and documentary evidence), it is readily apparent that both James and William who appear in this substitute census are the sons of Ann and James Gammel, that James (the son) was born in Scotland and William was born in Pennsylvania, that both parents (Ann and James) were born in either Scotland or Ireland, and that the family arrived in the United States prior to the Civil War.  James Gammel, the husband of Ann, was the Civil War veteran who Ann reported to the Veterans' Census of 1890, with herself as the widow.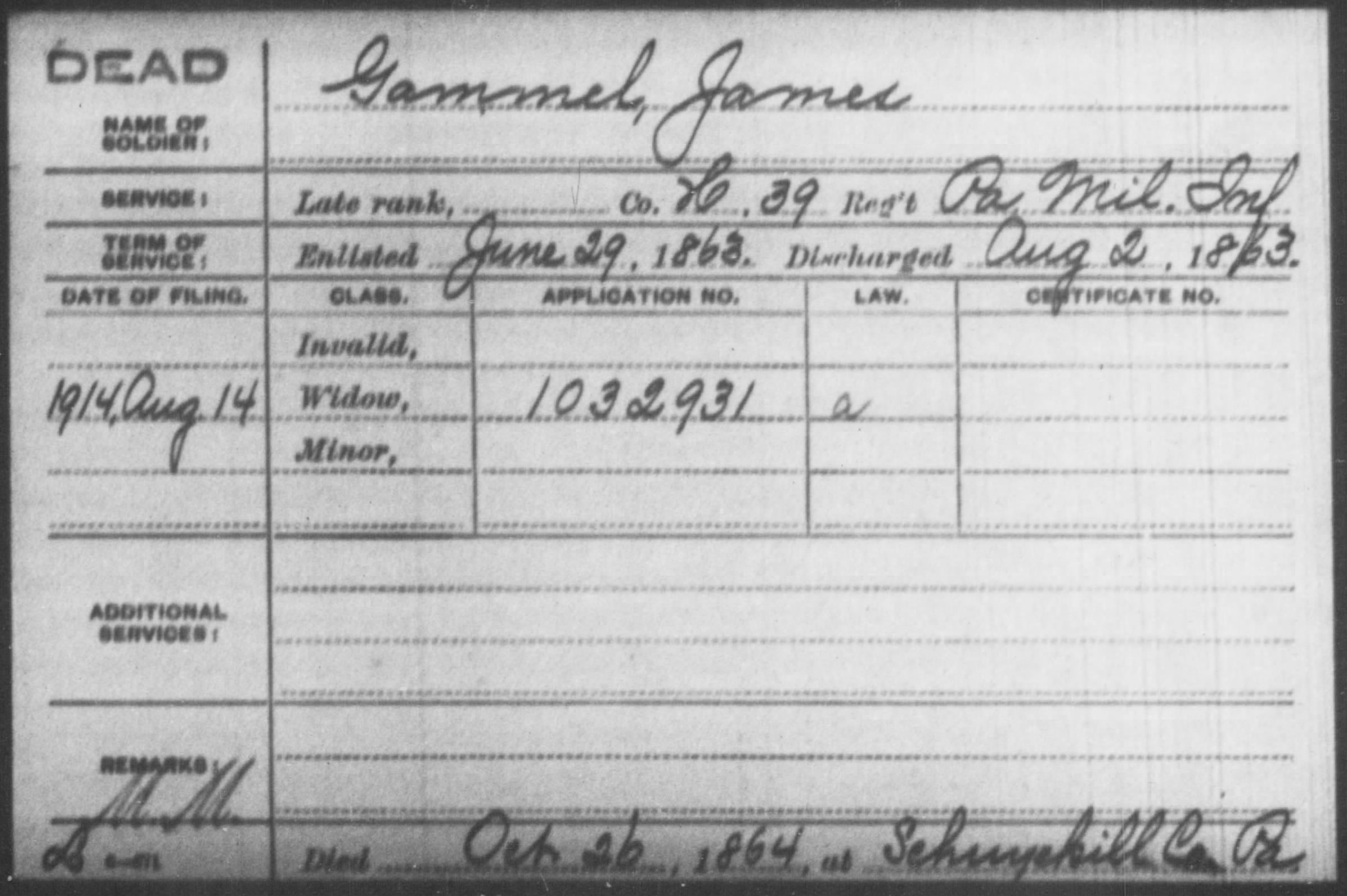 When did James Gammel die?  The answer to that question is found on the Pension Index Card available from Fold3 (shown above).  According to information on the card, he died in Schuylkill County on 28 October 1864.
Information in Ancestry.com family trees suggests that Ann Gammel was born in May 1836.  If her husband was approximately the same age, then he too was born about the same time, and if one of the two sons mentioned in the 1890 census substitute was born abroad and one was born in Pennsylvania, then it is possible that the family arrived together.  However, no ship list has been located to date to confirm this.  But, a ship list has been found with a James Gammel, age 10, who arrived with his family from Liverpool at New York, on 9 June 1846.  The information on this list is inconsistent with this being the same person as the Civil War soldier – although the age is a good fit.  Is it possible that the soldier James Gammel, first arrived with his parents and siblings in 1846 (at age 10), and then returned to England where he married Ann – and then returned later to the U.S. with his family?  The date for immigration of Ann and her son James, as noted in the Census of 1900, was approximately 1854, which could fit with the theory that the father first came to the U.S. in 1846, then returned to England, married, and brought his new family back to the U.S. about 1854-1855.  A ship passenger list would be needed to confirm this, and thus far, none has been seen.
Another question goes to the cause of death of the soldier James Gammel.  Since the only Civil War service that has been located for him was a short-term militia service, he most likely did not get injured or disabled in the war, as the regiment he was in, had no reported casualties.  He would have been quite young when he died, perhaps only about 30.
James Gammel has not yet been located in the 1850 or 1860 Federal Census.
A maiden name for Ann Gammel has not been verified.
These questions are being asked to fill in some gaps in the story of this soldier who clearly belongs in the Civil War Research Project list and whose family remained in the Tremont area for years after his death.  He also should be recognized by current Tremont veterans' organizations, if he is not already.
Anyone with information on Civil War soldier James Gammel (also spelled Gammell, Gemmel, and Gemmell), is urged to report it here by adding comments to this blog post or by sending the information via e-mail to the Project.