Posted By Norman Gasbarro on December 21, 2015

Edward Pugh was born 6 April 1843 in Schuylkill County, Pennsylvania, the last-known child of English immigrants Samuel Pugh and Catherine Philpot.  The two oldest children, Peter Pugh and John Pugh were born in England.  The third child, Elizabeth Pugh, was born in Pennsylvania after the parents arrived in Philadelphia in 1836 aboard the ship Susquehanna.
Edward Pugh, age 7, first appears in the 1850 Census of East Norwegian Township, Schuylkill County living in the household of older brother Peter Pugh, unmarried, who is working as a machinist.  The parents are not in the household but the other children, John and Elizabeth, are in the household.
Edward Pugh is next found in the 1860 Census of Pottsville, where he is still in his brother's household and he is single and learning the trade of moulder.  His brother Peter Pugh is still working as a machinist, but is married to Elizabeth Ann Bennet, and has three children and his mother-in-law Elizabeth Bennet also living in the household.
The 1861 Pennsylvania Veterans' File Card from the Pennsylvania Archives (shown below) indicates that Edward Pugh was a moulder at the time of his enrollment in the 96th Pennsylvania Infantry, Company G, at Lykens.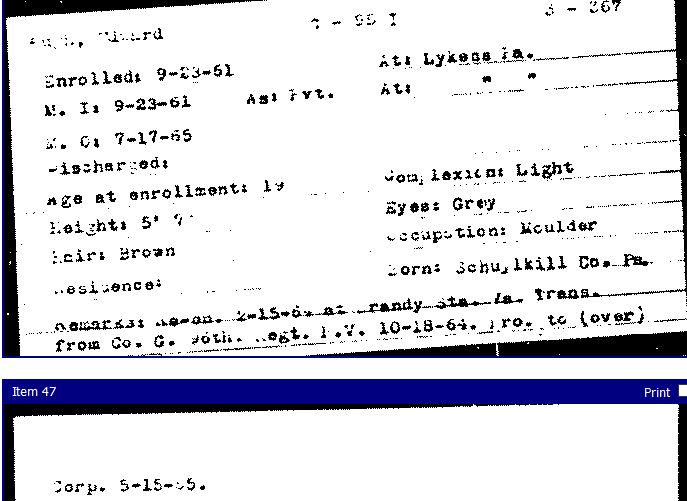 Edward Pugh was at Gettysburg in July 1863 with the 96th Pennsylvania Infantry, and his name appears with Company G on the Pennsylvania Memorial:
Some other military "milestones" for Edward Pugh:  He re-enlisted on 15 February 1864 at Brandy Station, VA.  He transferred to the 95th Pennsylvania Infantry, Company G, on 18 October 1864.  He was promoted to Corporal on 15 May 1865.  He was honorably discharged on 17 July 1865.  He applied for a disability pension on 1 November 1879.
Edward Pugh married Sarah E. "Sallie" Wallace sometime after his army discharge and before 1867.  She was born about June 1851.  After Edward's death in 1888 in Lykens, Sarah applied for a widow's pension which she received and collected until she married for a second time to George E. Mucher of Lykens in 1896.  War widows who re-married and had a means of support through their new husbands became ineligible for pensions received as a result of becoming widows from prior marriages to Civil War veterans.
Edward Pugh and Sarah "Sallie" Pugh had four children:  (1) William Pugh, born about 1867.  (2) Anna Christabelle Pugh, born 6 November 1869, who married Franklin Enders.  (3) Edward Thomas Pugh, born about 1875.  (4) Frank Pugh, born April 1885.
In the 1870 Census of Wiconisco Township, Edward Pugh is working as a car brakemaster for the railroad and in the 1880 Census of Lykens, he is working as a coal miner.
Edward Pugh's death occurred on 2 April 1888 in Lykens.  This is confirmed by the records of Zion Lutheran Church, Lykens:

As the record states, he is buried in the I.O.O.F. Cemetery in Lykens.  His grave marker has not yet been photographed for this Civil War Project and the cemetery records state that the marker is broken, with dates not available.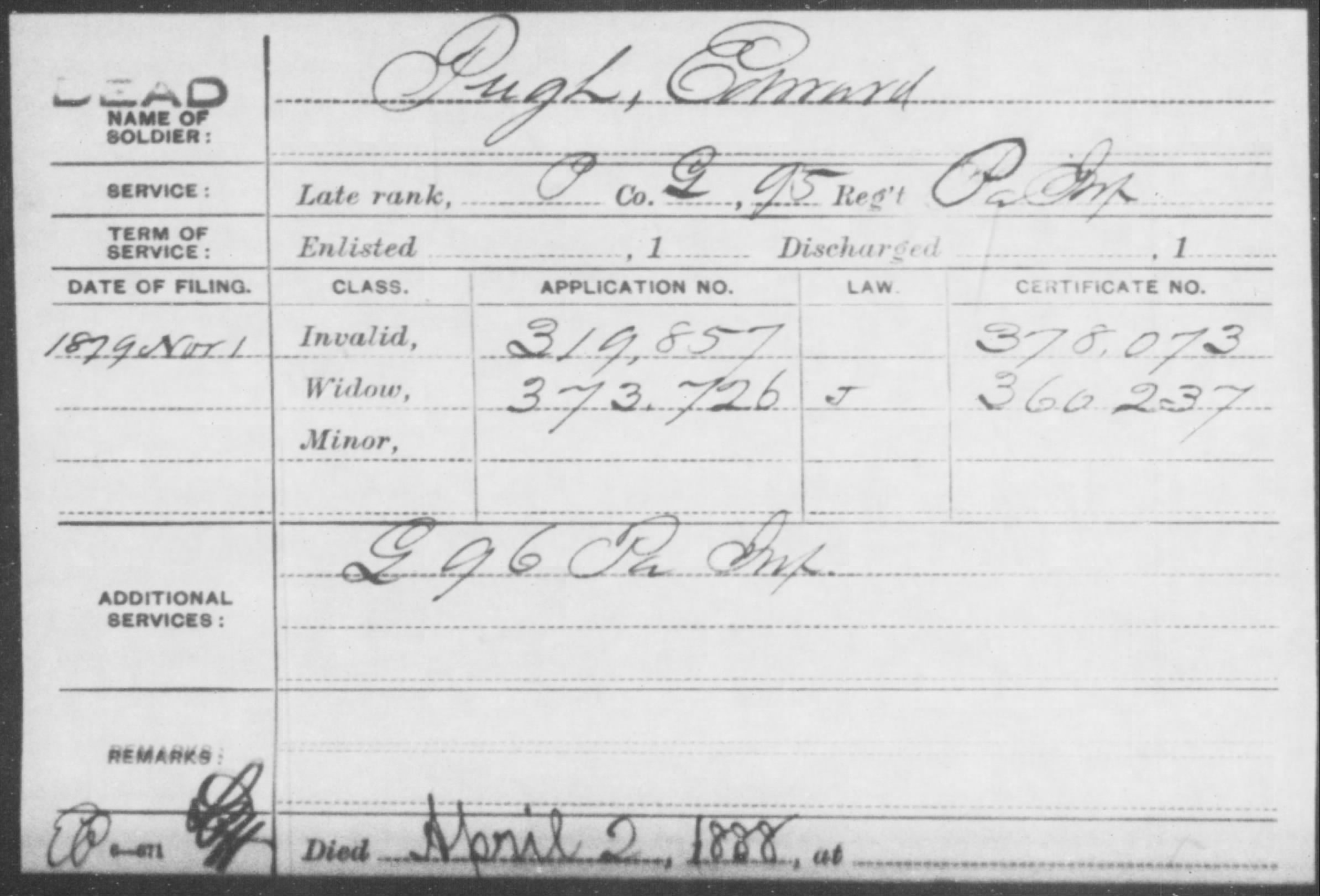 An additional confirmation of the death date is the Pension Index Card from Fold3, shown above.
When the Lykens G.A.R. Monument was erected, Edward Pugh's name was included as a member of the Heilner Post who joined after the post's organization.  His name is listed as a "Corporal", the highest rank he achieved during the war.  The portion of the plaque where his name appears is shown at the top of this post.
Peter Pugh, brother of Edward Pugh, lived in Pottsville for the remainder of his life and died there in 1903. The following brief death notice was located for him in the Harrisburg Daily Independent of 23 January 1903:

Peter Pugh, one of Pottsville's most prominent citizens, and an ex-president of the town council, fell dead upon the pavement.  His death was due to apoplexy.  Mr. Pugh was 65 years old, and a factor in Republican politics in Pottsville for many years.
No Civil War service has been locate for Peter Pugh or for Edward's other brother John Pugh.
————————————
The news clipping is from Newspapers.com.