Posted By Norman Gasbarro on May 13, 2015
In 1912, the Hon. James Martin Yeager wrote and published A Brief History of the Yeager, Buffington, Creighton, Jacobs, Lemon, Hoffman and Woodside Families and Their Collateral Kindred of Pennsylvania.  Yeager was formerly the President of Drew Seminary for Young Women of Carmel, New York as well as a former Member of the House of Representatives of Pennsylvania and a Marshal of the Middle District of Pennsylvania.  On pages 82-85, he presented a list of Pennsylvania soldiers he identified with the Yeager surname who had fought in the War of the Rebellion, 1861-1865.  In addition to the names of the soldiers, he named the regiment and company in which they fought.  Sixty-three veterans were thus identified.  A free download of Yeager's book can be obtained at the Internet Archive.
There is much information still to be discovered about each of the veterans.  Readers of this blog are urged to add information to what is provided below – particularly genealogical information about each of the men, including the names of their parents and their decent from the earliest Yeager's who arrived in Pennsylvania.  Additional stories about the Civil War service of these veterans is also sought, particularly if readers have access to the pension application files and military records from the National Archives.  Pictures are especially welcome!  Comments can be added to this post or sent by e-mail.
This post continues a multi-part series on these Pennsylvanians with the Yeager surname who served in the Civil War.
—————————-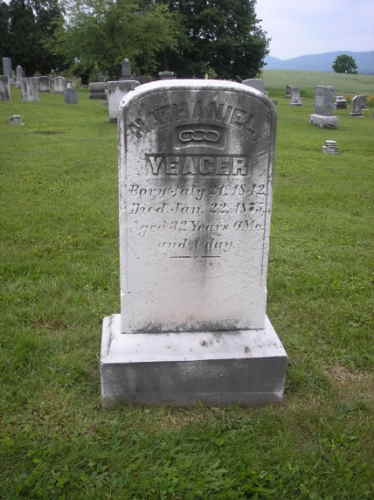 Nathaniel Yeager is buried at Peace Cemetery, Berrysburg, Dauphin County, and is presently included in the Veterans' List of those who had some connection to the Lykens Valley area of Pennsylvania.  He was born on 21 July 1842 and died on 22 January 1875.  He served in the 192nd Pennsylvania Infantry, Company H, as a Private, from 21 February 1865 through his honorable discharge on 24 August 1865.  He was married to Anna E. "Annie" Nieman, who after his death married Civil War veteran William Sheesley.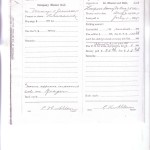 Two pages of Nathaniel's military records are available in the Civil War Research Project files.  Click on thumbnails to enlarge.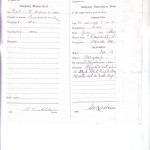 —————————
George H. Yeager was also previously included in the Civil War Research Project and was mentioned in the Dalmatia list of Civil War veterans.  He was born on 3 November 1846 and died on 22 November 1894 and is buried at the Trinity Church Cemetery, Dalmatia, Northumberland County, Pennsylvania.  His Findagrave Memorial has additional information about him and his parents, but his spouse, Sarah A. Yeager, is not mentioned in the Findagrave Memorial.  During the Civil War, George served in the 184th Pennsylvania Infantry, Company C, as a Private, enlisting on 13 April 1864.  On or about the 22 June 1864, he was captured near Petersburg, Virginia, and held as a Prisoner of War at Libby Prison, Richmond, for nearly five months until 17 December 1864, when he was returned to his regiment and eventually honorably discharged by General Order on 19 June 1865.  One record also indicates that he was also held at Andersonville, but there is no confirmation that he was taken there.  George H. Yeager made his pension application on 14 April 1879.  He collected the pension until his death.
—————————-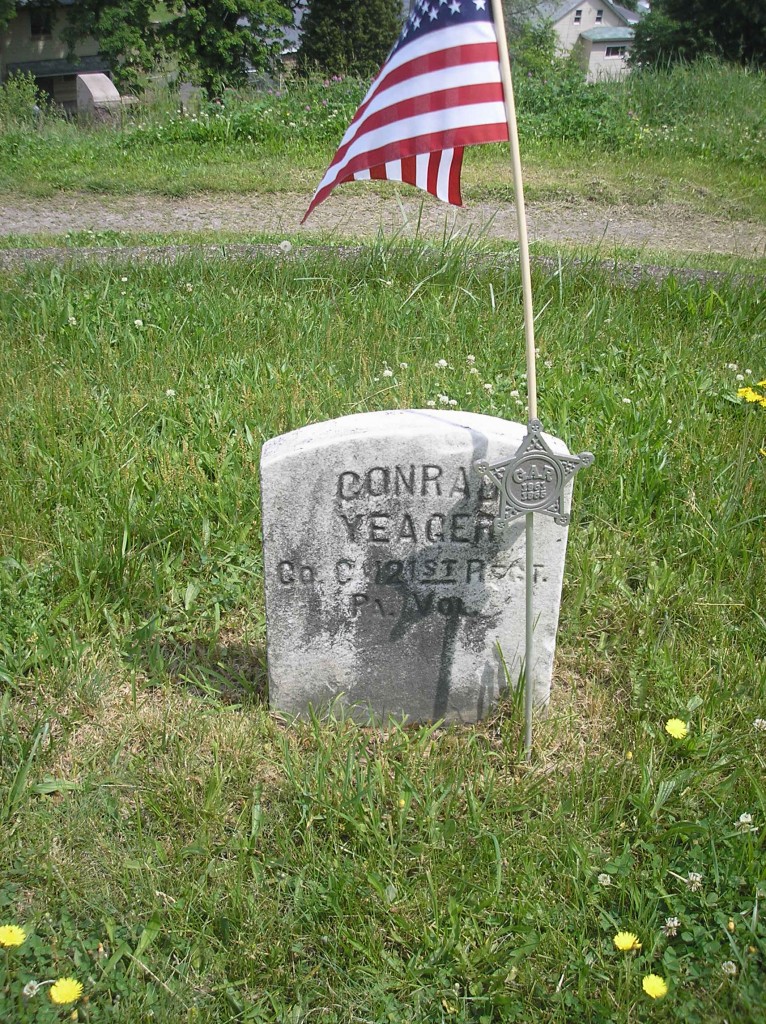 Conrad Yeager was previously featured as part of a series of posts on the Soldiers' Circle at Shamokin Cemetery.  At that time, the following was stated about him:
Conrad Yeager, born about 1833 in Northumberland County, and died in Shamokin on 25 August 1891, served in the 131st Pennsylvania Infantry, Company C, as a Wagoner, from 14 August 1862 through 23 May 1863, and then in the 104th Pennsylvania Infantry, Company F, as a Private, from 10 March 1865 through 25 August 1865.  The grave marker incorrectly gives his regiment and company as the 121st Pennsylvania Infantry, Company C, when in fact no person of that name served in that regiment and company. The Pension Index Card confirms his service in the 131st and the 104th as well as his death date of 1891, the widow applying about one month after his known death date.  Conrad was a laborer residing in Northumberland County at the time of his enrollments.  He was mustered into service at Harrisburg.  His widow was Mary J. [Kennedy] Yeager.
————————–