Posted By Brian Tomlin on March 31, 2015
March 3. Opening of the Hong Kong and Shanghai Bank Corporation, the founding member of the HSBC Group. This bank was founded by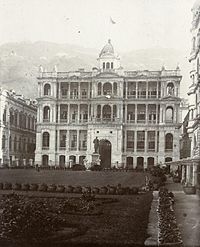 Scottish bankers to help facilitate trade between China and Europe. Hong Kong was a British colony during this period.
March 13. Jefferson Davis signs a bill authorizing the use of slaves as soldiers in the Confederate Army.
March 17. The Jackson & Woodin shops were destroyed by fire on March 17, 1865; the company rebuilt with a larger facility in the same location, increasing the size of its workforce from 150 to 250. Jackson and Woodin's management were proponents of the temperance movement in America, and went as far as buying all the saloons and hotels in Berwick, leading to Berwick becoming a dry town by 1881. By the time of the 1899 merger that created American Car and Foundry Company (ACF), Jackson & Woodin was the largest freight car manufacturer in the eastern United States. Berwick is in Columbia County, PA about 22 miles southwest of Wilkes-Barre, PA. Berwick would also become home to the Wise Potato Chip company.
March 18. The Congress of the Confederate States adjourns for the last time.
March 25. A meteorite named the Claywater Meteorite explodes just before hitting the ground in Vernon County, Wisconsin. One contemporary account: It fell at 9 A.M. on March 25, 1865. It came in as a rotating fireball and exploded near ground level. Two fragments with a combined mass of 3.3 pounds were recovered. The meteorite was mostly stony, containing olivine and enstatite. It also contained about 17% iron-nickel alloys.
Throughout March. The Central Pacific Railroad sends agent to recruit thousands of Chinese workers from Guangdong Province to work on

construction of the railroad lines. In total, construction crews comprised 12,000 Chinese emigrant workers by 1868, when they constituted eighty percent of the railroad's entire work force. The Central Pacific ran between California and Utah, and today those lines are part of the Union Pacific Railroad. Chinese workers were frequently used in the Nineteenth Century in this country for major building/engineering projects. The Guangdong Province is on the South China Sea coast, and today is the most populous province of China (with over 106 million residents in 2013).