Posted By Norman Gasbarro on February 12, 2015
Elias Martin (1839-1918) is buried at Highland Cemetery, Dauphin Borough, Dauphin County, Pennsylvania.  During the Civil War, he served two enlistments, although only one is named on his grave marker.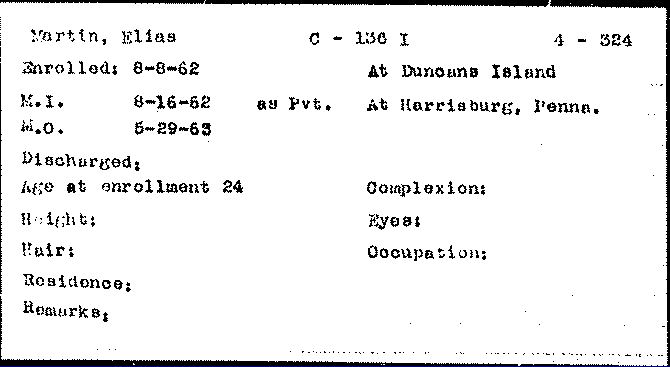 Elias Martin first enrolled at Duncan's Island in the Susquehanna River in Company C of the 136th Pennsylvania Infantry on 8 August 1862.  He was mustered into service as a Private eight days later at Harrisburg.  He claimed to be 24 years old at the time.  He served his term of enlistment and was mustered out with his company on 29 May 1863.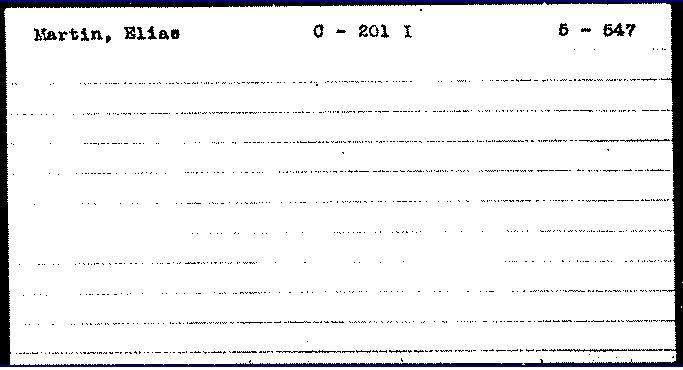 The second enlistment of Elias Martin occurred on 20 August 1864 in the 201st Pennsylvania Infantry, Company C, where he also served as a Private.  His term of service ended with his honorable discharge on 21 June 1865.  It was in this second enlistment that he met Levi B. Ditty (1830-1903) who was the father of Elias' future wife, Mary E. Ditty.  However, the record shows that Elias and Mary did not marry until about 1878.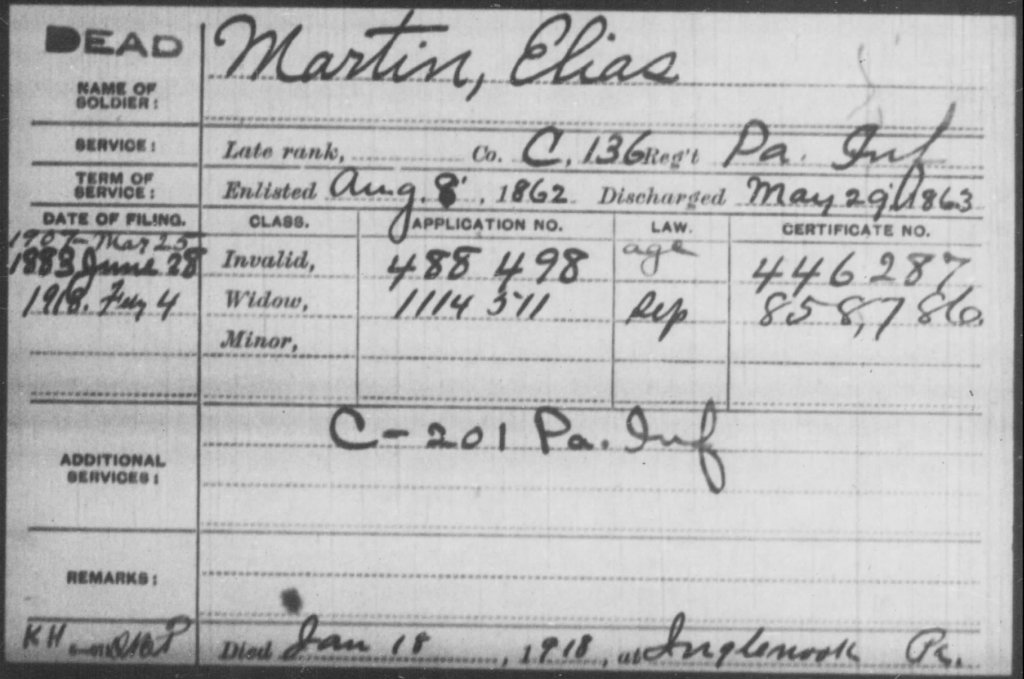 Elias Martin first applied for a Civil War pension on 28 June 1883, which he received.  After his death on 18 January 1918, his widow Mary applied on 4 February 1918, and she received the pension until her death which occurred on 15 November 1920.  The Pension Index Card (shown above) is from Fold3.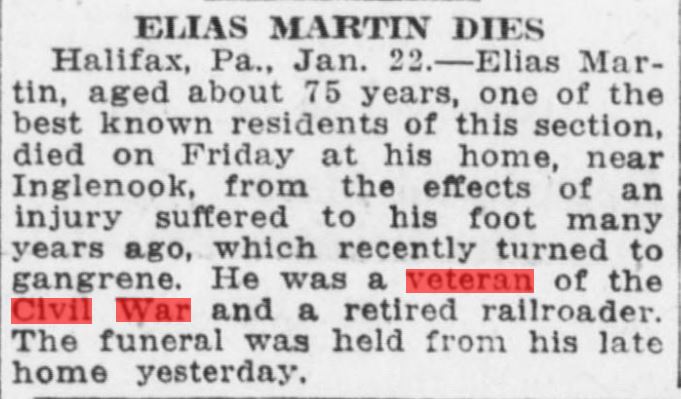 A brief obituary of Elias Martin appeared in the Harrisburg Telegraph of 22 January 1918:
ELIAS MARTIN DIES

Halifax, Pennsylvania, 22 January 1918 — Elias Martin, aged about 75 years, one of the best known residents of this section, died on Friday at his home near Inglenook, from the effects of an injury suffered to his foot many years ago, which recently turned to gangrene.  He was a veteran of the Civil War and a retired railroader.  The funeral was held from his late home yesterday.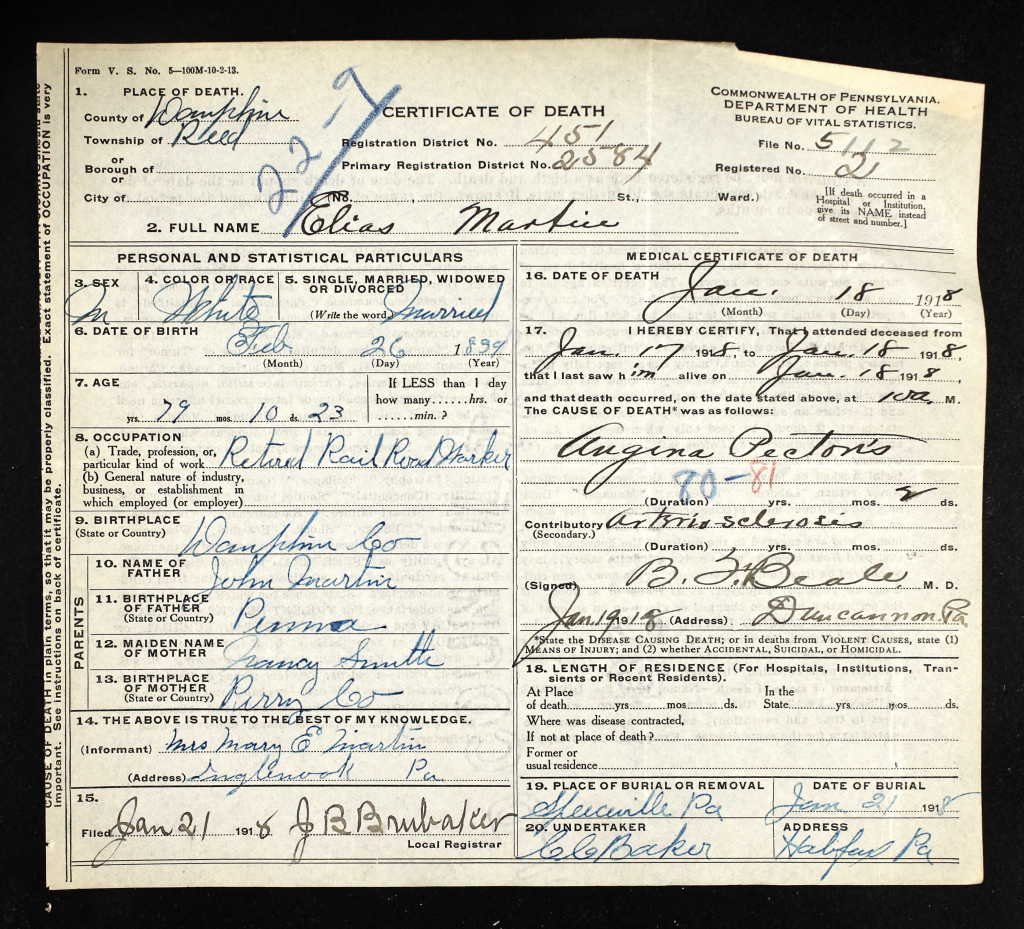 The death certificate of Elias Martin did not mention gangrene as the cause of death or as a contributory cause.  Instead, "angina pectoris" was given with "arterio-sclerosis" as a secondary cause.  Mrs. Mary E. Martin was the informant.  She stated that John Martin and Nancy [Smith] Martin were Elias' parents, both of whom were born in Pennsylvania.
As previously noted (above), Levi B. Ditty was the father-in-law of Elias Martin and had served in the same regiment with him during the Civil War.  Levi was mustered into the service of the 201st Pennsylvania Infantry in August 1864 and served through the discharge of the regiment on 21 June 1865.  According to other sources, Levi B. Ditty was born on 23 August 1830 in Perry County, Pennsylvania, the son of Simon Ditty (1808-1867) and Mary [Brandt] Ditty (1812-1889).  He died on 23 March 1903 near Dauphin Borough, Dauphin County.  Like Elias Martin, he is buried at Highland Cemetery at Dauphin.  More information about him can be found at his Findagrave Memorial.
In 1850, Levi B. Ditty was living with his parents and siblings in Buffalo Township, Perry County, Pennsylvania.  The father, Simon Ditty, was a farmer.
In 1860, Levi B. Ditty was living in Reed Township (Halifax Post Office), Dauphin County, and working as a lock tender on the canal.  Living with him was his young family including Mary E. Ditty, age 3, and Catherine Ditty, age 1.  His wife was the former Catherine Etzweiler, then 25 years old, who was a direct descendant of Abraham Jury (1718-1785), an immigrant from Switzerland, one of the earliest settlers of Upper Paxton Township, Dauphin County.
In 1863, when he registered for the Federal Civil War Draft, Levi was a 32-year old, married, lock keeper living in Reed Township.  On the same page of the draft registration are several other members of his family who were living in Upper Paxton Township, but their surname was spelled "Diddy".
In 1870, Levi was working as a watchman on the railroad and living in Middle Paxton Township.  His daughter Mary E. Ditty, was then 13 years old and living at home.
By 1880, Catherine [Etzweiler] Ditty is no longer in the household, but there are two additional children named in the family:  Hattie L. Ditty, born about 1865; and Anna C. Ditty, born about 1858.  There is no explanation given on the whereabouts of Catherine [Etzweiler] Ditty.  Levi gave his marital status as "married" and his occupation as watchman on the Northern Central Railroad.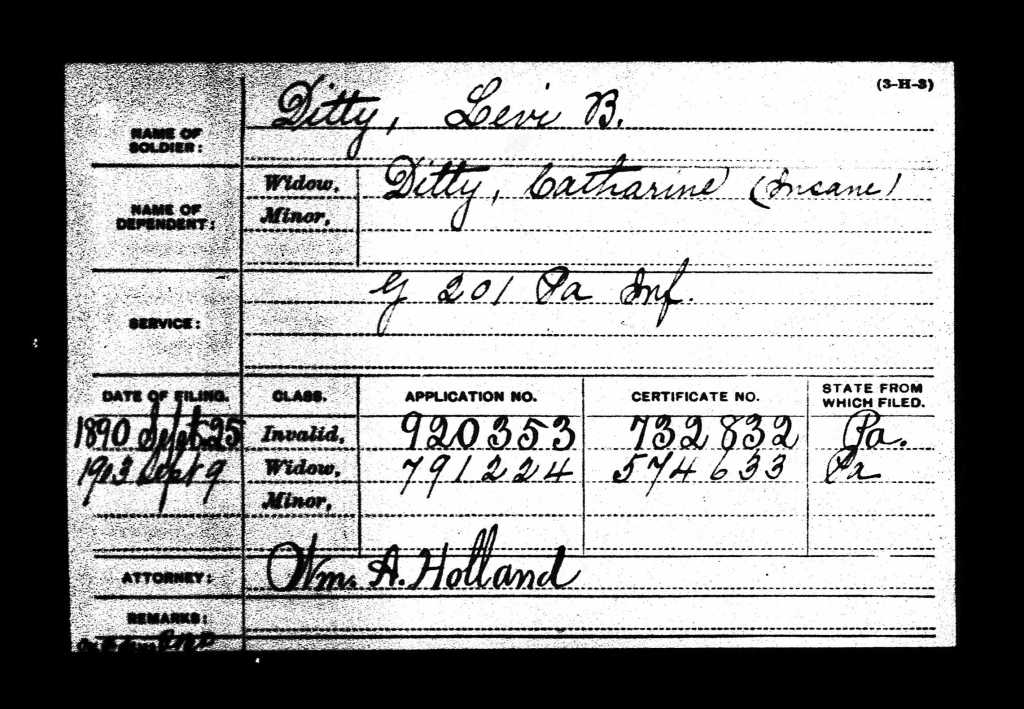 An explanation of why Catherine [Etzweiler] Ditty was not enumerated in the 1880 household census of Levi can be found in the pension records.  As noted on the above Pension Index Card from Ancestry.com, Catherine, who survived her husband, was "insane."  She applied for a widow's pension on 9 September 1903, which she received and collected until her death in 1920.
In the 1890 Veterans' Census, Levi gave his regiment and time of service, but did not state that he had any war-related disabilities.  At the time he was living in Dauphin Borough.  Unfortunately, the remainder of the census was lost to fire and there is no substitute for that year which could give us information on who was living in his household in 1890.
By 1900, the last census in which Levi was enumerated before his death in 1903, his wife Catherine had returned to the household, where it was indicated that the couple had been married for 44 years (marriage date approximately 1856).  Levi was still working as a railroad watchman and the family was living in Middle Paxton Township.
A connection not previously made before research was done for this blog post was that Levi's brother, Joshua Ditty was also a Civil War veteran who served in the 192nd Pennsylvania Infantry.  Joshua's name appears on the Millersburg Civil War Soldier Monument as "J. B. Ditty."

Joshua Ditty is buried at the Halifax United Methodist Church Cemetery, Halifax, Dauphin County.  More information about him can be found at his Findagrave Memorial.
——————————-
Pennsylvania Veterans' Index Cards are from the Pennsylvania Archives.  The news clipping is from the on-line resources of the Library of Congress, Chronicling America.  Census information is from resources available on Ancestry.com.