Posted By Norman Gasbarro on February 16, 2015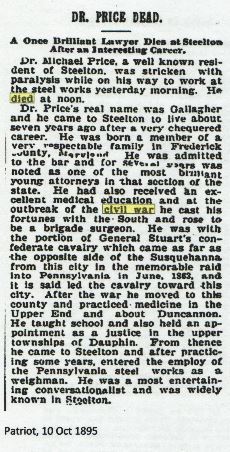 An interesting obituary was located in the pages of the Harrisburg Patriot of 10 October 1895.  Previous to finding this, it was not known that the upper townships of Dauphin County had been served by a justice, a teacher, and medical doctor who was a brigade surgeon in a Confederate cavalry regiment.  Little is known beyond what is stated in the obituary, so it is presented here in the event that a reader of this blog can provide some missing details.  Add comments to this blog post or send by e-mail.
DR. PRICE DEAD

A Once Brilliant Lawyer Dies at Steelton After an Interesting Career

Dr. Michael Price, a well known resident of Steelton, was stricken with paralysis while on his way to work at the steel works yesterday morning.  He died at noon.

Dr. Price's real name was Gallagher and he came to Steelton to live about seven years ago after a very chequered career.  He was born a member of a very respectable family in Frederick County, Maryland.  He was admitted to the bar and for several years was noted as one of the most brilliant young attorneys in that section of the state.  He had also received an excellent medical education and at the outbreak of the Civil War he cast his fortunes with the South and rose to be a brigade surgeon.  He was with the portion of General Stuart's Confederate cavalry which came as far as the opposite side of the Susquehanna from this city in the memorable raid into Pennsylvania in June 1863, and it is said led the cavalry toward this city.  After the war he moved to this county and practiced medicine in the Upper End and about Duncannon.  He taught school and also held an appointment as a justice in the Upper Townships of Dauphin.  From thence he came to Steelton and after practicing some years, entered the employ of the Pennsylvania Steel Works as a weighman.  He was a most entertaining conversationalist and was widely known in Steelton.
A Findagrave Memorial has been created for him which recognizes the Baldwin Cemetery, Steelton, as his burial place.  At the time of this writing, there was no grave marker photo, and the only new information about him was a middle initial of "M" and that he was 65 years old at death.
A similar obituary to the one above, but condensed, can be found in the Reading Eagle of the same date.
—————————
The news clipping is from the on-line resources of the Free Library of Philadelphia.