Posted By Norman Gasbarro on February 18, 2015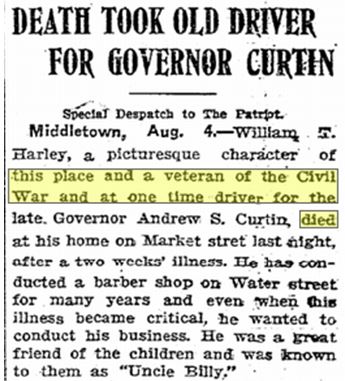 The obituary of Billy Harley appeared in the Harrisburg Patriot on 6 August 1904:
DEATH TOOK OLD DRIVER FOR GOVERNOR CURTIN

Special Despatch to the Patriot

Middletown, Pennsylvania — 4 August 1904  William T. Harley, a picturesque character of this place and a veteran of the Civil War and at one time driver for the late Governor Andrew S. Curtin, died at his home on Market Street last night, after a two weeks' illness.  He has conducted a barber shop on Water Street for many years and even when this illness became critical, he wanted to conduct his business.  He was a great friend of the children and was known to them as "Uncle Billy."

Harley was married in 1858 to Miss Ada Jones, who survives him with the following children:  William Harley, of Washington, D.C.; Samuel Harley, of Cuba; and Louis Harley of Highspire.  Harley enlisted in the 5th Massachusetts Cavalry in 1863 and was mustered out in 1865.  The funeral arrangements have not been completed.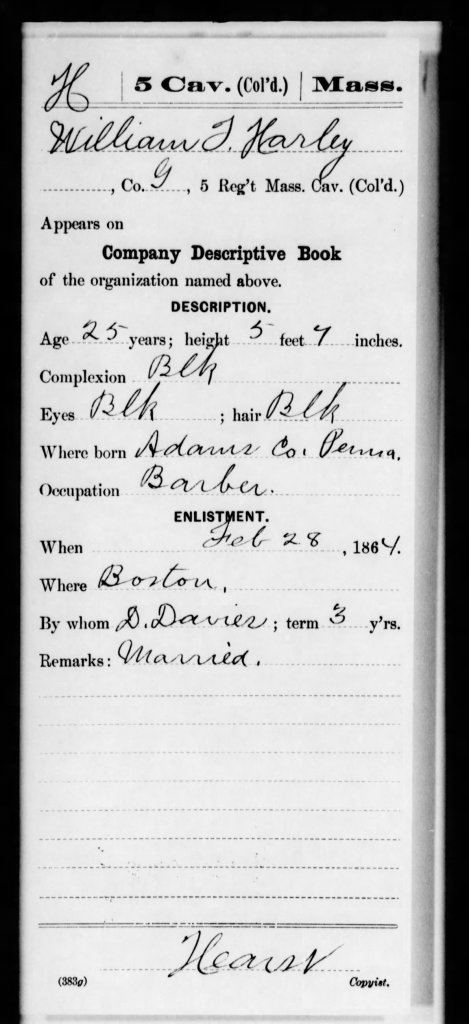 During the Civil War, William T. Harley was a member of the 5th Massachusetts Colored Cavalry, Company G.  He enrolled at Boston, Massachusetts, on 28 February 1864, at age 25.  He stood 5 foot, 7 inches tall, was married, had black complexion, black eyes, and black hair.  He claimed Adams County, Pennsylvania, as his birthplace and his occupation at the time of enlistment was barber.  This information was obtained from one of the Military Index Cards (shown above) available from Fold3. On 4 March 1864, he received a promotion to the rank of Sergeant.  William T. Harley was discharged at Brownsville, Texas, on 31 August 1865.
This regiment was organized at Camp Meigs, Readville, Massachusetts, and went into service in May 1864.  Although it was called a cavalry regiment, it was equipped as infantry and served as "dismounted cavalry."  It should not be confused with the 5th United States Colored Cavalry.
As of this writing, no record made prior to the 1860s has been seen which confirms the birthplace of William T. Harley as Adams County, Pennsylvania.  The only birthplace information for him appears in the military records of the Civil War.
The earliest census record seen for him is of 1860 when he is living in Middletown, Dauphin County, with wife "Ida" and a young son, Charles P. Harley, age 1.  William is working as a laborer at that time.
In 1870, the family is still living in Middletown, with William T. Harley working as a laborer.  In the household is his wife "Adah" and three children:  William A. Harley, age 9; Samuel Harley, age 7; and Lewis Harley, age 4.
In 1880, still in Middletown, William T. Harley is working as barber.  In the household is his wife Ada H. Harley, age 40, and the following offspring:  William Harley, age 19, working as a barber; Samuel Harley, age 16, working as a laborer; Lewis H. Harley, age 14; and Carolina Harley, age 2.
The 1890 Census for East Harrisburg, Dauphin County, has a William Harley who served as a U.S. Soldier during the Civil War, with no other information given.
In 1891, a Sheriff's Sale took place which included the Middletown property of William T. Harley.  The property, located at Market Street and Fisher Alley, was described in a legal notice which appeared in the Harrisburg Patriot on 14 May 1891 and on subsequent weeks: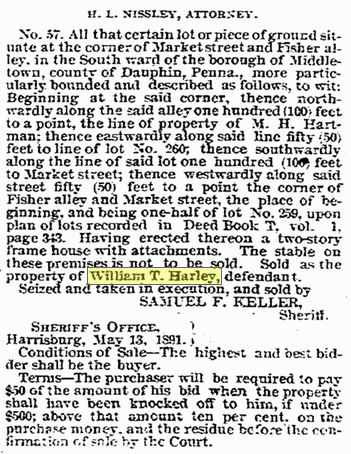 The Patriot of 5 June 1891 gave the knock-down price of $550 for the sale.
In 1900, William T. Harley and Adah Harley were living on Market Street in Middletown Borough, in a property owned by them.  William was working as a barber and the Harley's were operating a boarding house at that location with the following tenants, all African American:  Lizzie Brown, age 28, working as a servant; Noah Brisco, age 49; Arthur H. King, age 21; Robert Wicks, age 47; John Onley, age 39; and Bruce Webb, age 23.  The men who were boarding with the Harley's were working as laborers.
William T. Harley died on 2 August 1904.  He is buried at the Old Negro Burying Ground in Middletown.  At this writing, the Findagrave Memorial contains very little information about him but additional information has been submitted, particularly about his military record, and may appear on that site by the time of this posting.
Ada Adela Jones was married to William T. Harley about 1858, the location of which has yet to be determined – but probably somewhere in Pennsylvania.
In addition to the previously-mentioned censuses in which she appears with her husband, Ada [Jones] Harley, age 69, is in the 1910 Census for Middletown, living at the corner of Market Street and Fisher Alley, in a property she owned.  She told the census taker she was a widow and during her lifetime she had 5 children, 3 of whom were still living.  She was working as a cook in a restaurant, and had Ada Harley, age 13, her granddaughter, living with her, and a boarder, Mary E. Butler, age 70, no occupation, also living there.
It appears that the same property that William T. Harley lost in a Sheriff's Sale in 1891, was purchased back by him, and remained in the family well after his death.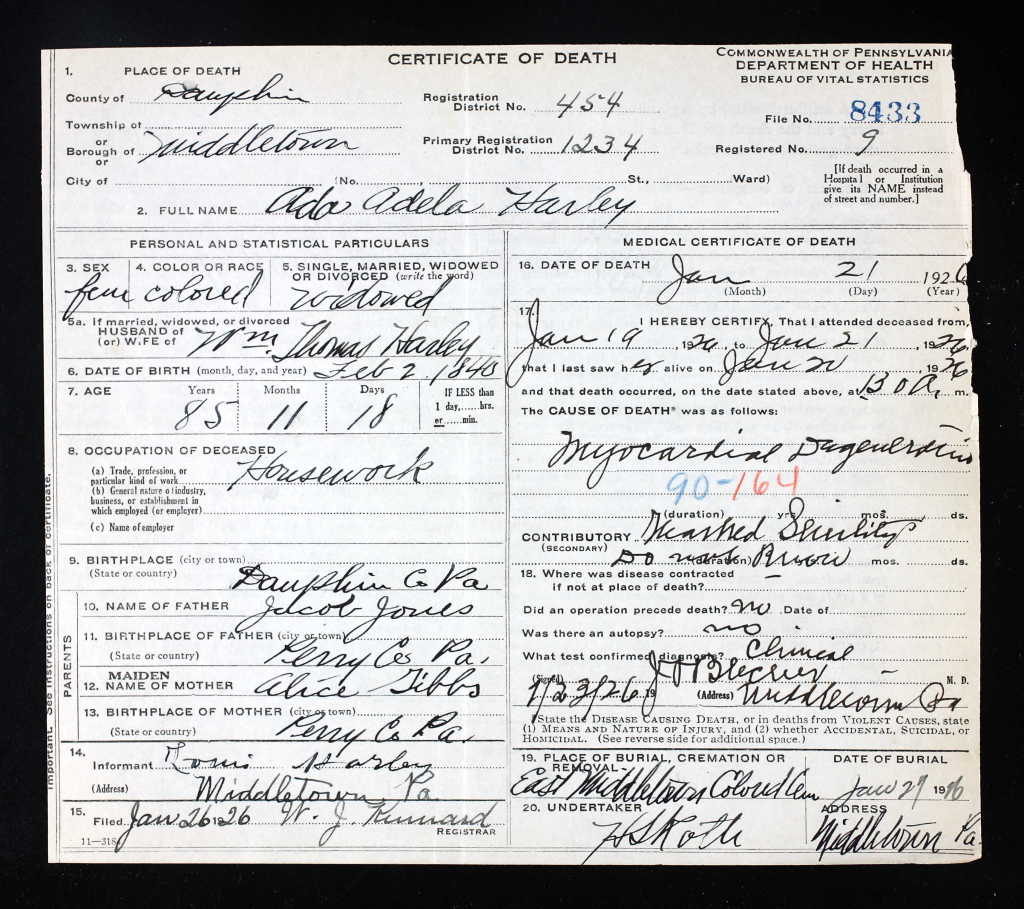 Ada Adela [Jones] Harley died on 21 January 1926 of myocardial degeneration and senility as shown by her death certificate (above, from Ancestry.com).  Her son, Louis Harley, provided the information that Ada was born in Dauphin County to Jacob Jones (who was born in Perry County) and Alice Gibbs (also born in Perry County).  Ada Harley is buried in East Middletown Colored Cemetery, but her grave marker has not been located on Findagrave.
Two major questions remain about William T. Harley:  (1) Why did he go to Massachusetts to enroll in a Massachusetts regiment? and (2) What was the connection with Gov. Andrew Curtin?
It is possible that a living descendant has pictures of William and Ida and it also possible that stories have been passed down that could give additional information about this family and the Civil War service of William.  It is also possible that someone has already obtained the pension application files of William T. Harley (application was made on 23 July 1890) and his widow Ada (application was made on 13 August 1904).   The Pension Index Card (shown below, from Ancestry.com), should help any researcher in obtaining these applications from the National Archives in Washington, D.C.:
Comments can be added to this blog post or information can be submitted by e-mail.
——————————
The news clippings are from the on-line resources of the Free Library of Philadelphia.
February is Black History Month.  This brief biographical sketch of William T. Harley is presented in the hope that additional research will take place on him and his Civil War service.