Posted By Norman Gasbarro on January 30, 2015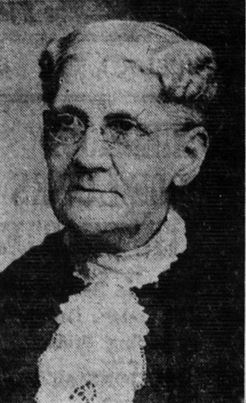 From the pages of the Harrisburg Telegraph, 10 October 1910:
WOMAN WHO SERVED AS WAR NURSE DIES AT POTTSTOWN

Pottstown, Pennsylvania, 31 May 1919 — Mrs. Rebecca Lane [Pennypacker] Price, widow of Edwin Price, president and chaplain of the National Association of Civil War Nurses, died at her home in Pottstown, aged 81 years.  Until a few months ago she lived at Lancaster.  She was one of the few surviving members of this noble band of women who nursed the boys of 1861-1865.  The late Governor Pennypacker was a first cousin.  All through the recent war with Germany she had been very active and took interest in the work among the various organizations.  Her husband was a leading merchant.  She was buried at Phoenixville.  One son and one daughter survive.

Mrs. Rebecca Lane Price, formerly Miss Pennypacker, of Phoenixville, Chester County, was born in that town, 8 September 1837.  She took a deep interest in the war and in Red Cross work.  She wore a Red Cross button which Clara Barton pinned on her many years ago and it was a valued treasure of this veteran woman.  Her son, G. E. Price, Professor of Neurology in Jefferson College, Philadelphia, enlisted in the Medical reserves.  Her daughter, Miss Cora Price, lived with her.

Mrs. Price was one of the 150 members of the Pennypacker family of Pennsylvania who enjoyed the privilege of serving their country in the time of the Civil War.  Her mother, Mrs. Elizabeth Pennypacker, was a matron of the Chambersburg hospital and her sister, Melissa Pennypacker, was a nurse there at that time.

Among the others who served were General Galusha Pennypacker, a cousin of the late Governor Samuel W. Pennypacker of Pennsylvania.  Mrs. Price was married in 1859, and later she organized a party of young women to sew "blouses" which were cut out by the Government for the first company of soldiers which was organized at Phoenixville in 1861 for the Civil War.

Mrs. Price in response to a call in 1861 from Governor Curtin, gave her services as a nurse in a field hospital.  In December 1862, she left for Wind Mill Point, Virginia, where she nursed sick and wounded, and later nursed at Chambersburg, Fortress Monroe and at the Philadelphia Hospital.  Mrs. Price was a member of the Association of Army Nurses of the Civil War, which consists of the women who nursed soldiers in the Civil War, and for two terms was its president. At the fiftieth anniversary reunion at Gettysburg in 1913, Mrs. Price met three Confederate and two Union soldiers whom she nursed during the Civil War, and they remembered her by her Eleventh Corps Barge.  General Sickles also recalled the morning he took breakfast with her "sister" while she nursed them.
——————————
For those wishing to do additional research on Mrs. Price, the following resources are provided: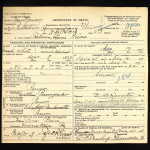 Pennsylvania Death Certificate, from Ancestry.com.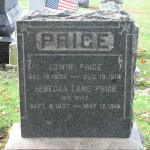 Findagrave Memorial with additional story about her Civil War service.  She is buried at Morris Cemetery at Phoenixville, Chester County, Pennsylvania.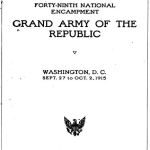 Speech of Rebecca L. Price at the 49th National Encampment of the G.A.R. at Washington, D.C., 1915, pages 216-217.  Free download from Google Books.  The text of the speech of Mrs. Price is transcribed below.
Following music by the band, the Chairman went to the podium to introduce Mrs. Price:
THE CHAIRMAN:

Ladies and gentlemen, as I said a moment ago, without mother none of us would be here.  With the organization that the Grand Army of the Republic has perfected, it seems well that mothers should be taken into all the councils of the different branches and allied organizations, and therefore we are going to ask you to listen to a lady who has done much for the welfare and the benefit of the soldier of the United States, Mrs. Price.  [Applause].  Mrs. Price, the President of the Association of Army Nurses.  [Great Applause].

MRS. REBECCA L. PRICE, OF PENNSYLVANIA:

Commander Palmer, officers, and members of the Grand Army of the Republic, since you were mustered out in 1865, the snows of many winters have whitened your hair and the suns of many summers have ripened your powers of body and mind, so that you are almost ready to join the comrades who have already been garnered in.

I am glad to greet you this evening.  It certainly is a great pleasure to once more stand before you, and I certainly enjoy the privilege, and I bring you the greetings of the National Association of Army Nurses of the Civil War, the women who tried to help you when you needed care when sick and wounded.  We tried to – and we did, I think – nurse many of you back to life and health, so that you could go out again and fight for your country and your homes.

After the war our ministrations did not cease for you.  There were hospitals all over the country, and we labored in them for many, many months. But now our work seems to be practically ended.  Well, not with all.  Some of our nurses married some of you soldiers and we are caring for you all through life.  [Laughter and applause].  You see some of them are still very loyal.

Our labors for you are now over, but we still hold you in our hearts.  As service for another generates love for that one, it is no wonder that then Army nurses have a particularly warm feeling for the Boys in Blue to whom they rendered such loving service.  We have been bound even closer together since you gave expression of your kindness and feeling toward us, and your appreciation, in making us part of your organization at Boston in 1904, and we wear this bronze button or badge which you gave us; we wear it and honor it as much as you do your little bronze button.  Our love for the flag under which we fought and labored, now waving over a united country, will never grow less.  In the little time remaining to us, there is little we can do in the way of active service for our country, but we can do much to inspire the rising generation with the same love for our country that led the men and women of the war to give the best years of their young lives to preserve those blessings they now enjoy.  We can do much to lead the rising generation to see the horrors of war rather than its glories that they may give their lives to preserve these blessings through peace.  Peace is what we want, and not war.

I am glad to have been able to say these few words.  A few weeks ago I feared I should not be able to be with you.  You see I am crippled, but I am not the only crippled soldier here.  I can sympathize with the men who lost their arms more than I ever did before in my life.

Now, if we never meet again, I wish you all glory and honor and peace and happiness all through life, and a happy home Beyond.

[Applause.  The President and the audience stood up in honor of Mrs. Price as she retired].