Posted By Norman Gasbarro on January 26, 2015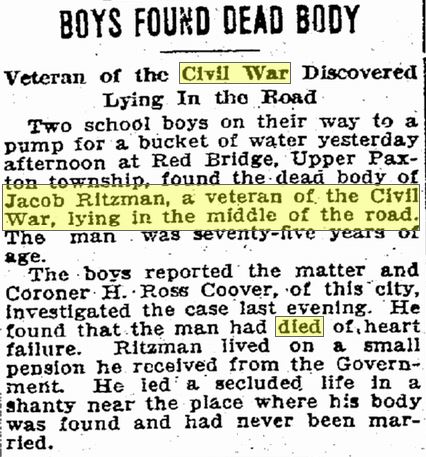 The obituary of bachelor Jacob Ritzman, found in the Harrisburg Patriot of 29 January 1909, reported that he had found dead along the road in Upper Paxton Township, Dauphin County, Pennsylvania.  He was a Civil War veteran having served in the 177th Pennsylvania Infantry, Company I, as a Private.
BOYS FOUND DEAD BODY

Veteran of the Civil War Discovered Lying in the Road

Two school boys on their way to a pump for a buckt to water yesterday afternoon at Red Bridge, Upper Paxton Township, found the dead body of Jacob Ritzman, a veteran of the Civil War, lying in the middle of the road.  The man was seventy-five years of age.

The boys reported the matter and Coroner H. Ross Coover of this city, investigated the case last evening.  He found that the man had died of heart failure.  Ritzman lived on a small pension he received from the Government.  He led a secluded life in a shanty near the place where his body was found and had never been married.
Ritzman's Death Certificate was located on Ancestry.com. The coroner gave the cause of death as "valvular heart disease."  According to the informant, Jacob Ritzman was born on 28 October 1834, but the date on his grave marker reads 12 October 1834.  He was the son of John Ritzman and Mary [Matter] Ritzman and worked as a laborer.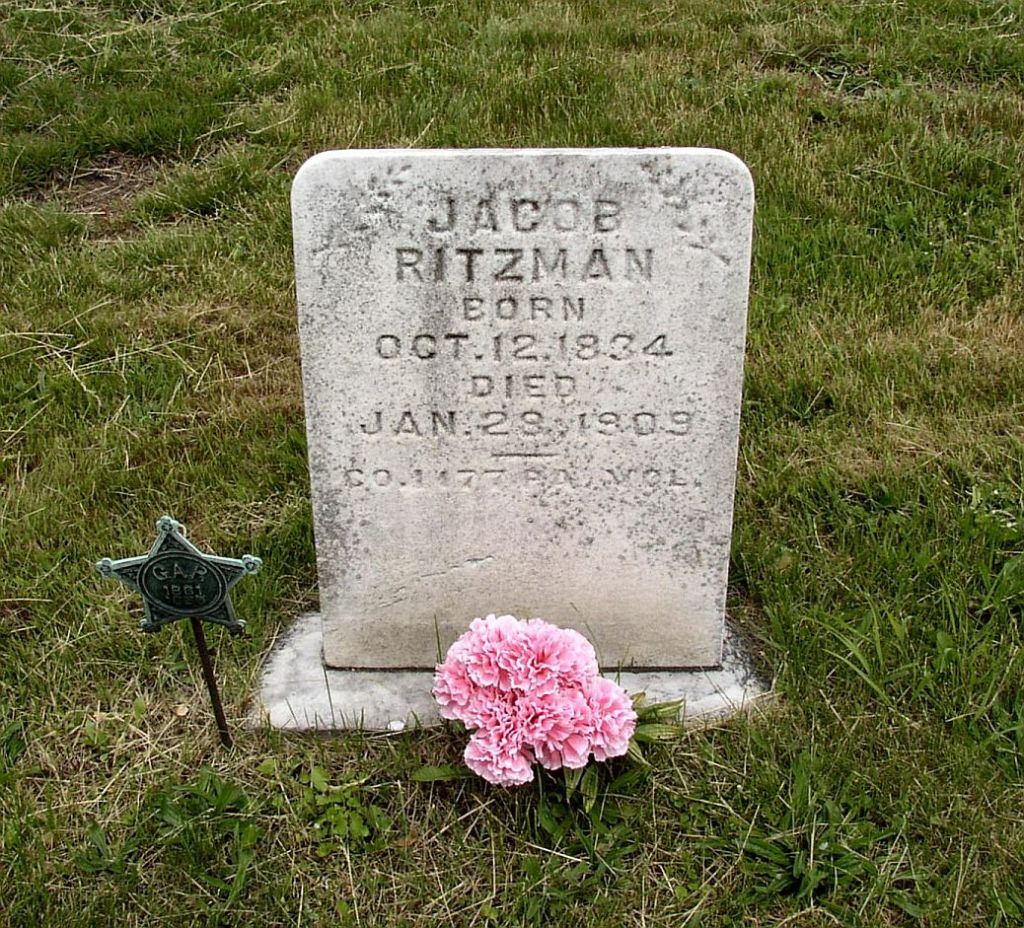 He is buried at Oak Hill Cemetery, Millersburg.

For his service in the Civil War, the G.A.R. Post honored him by placing his name on the Millersburg Civil War Soldier Monument.
——————————
The news clipping is from the on-line resources of the Free Library of Philadelphia.