Posted By Norman Gasbarro on December 25, 2014
Merry Christmas to all from Philadelphia, Pennsylvania!
Many Christmas traditions celebrated today originated during the Civil War era, including that of Santa Claus. The Museum of the Confederacy in Richmond, Virginia held a special program 2010 on how those traditions started and evolved over time.  Catherine Wright, Collections Manager of the Museum of the Confederacy, explains the Santa Claus origin.  Click here.
Thomas Nast's 1863 picture of Santa Claus is from the Son of the South web site.
A later Nast version, from 1881, was featured on the website of Bill Casselman in a study of Thomas Nast: The Man Who Drew Santa Claus.  For the complete article by Casselman, click here.
The Coca Cola version of Santa Claus was an evolution from the Nast version.  The Coca Cola Company helped to mold the image of Santa Claus that we have today.
Finally, Kevin Rawlings of Sharpsburg, Maryland, dons a Nast-like, Civil War Santa Claus outfit for a Shippen Manor, Warren County, New Jersey Christmas tour program.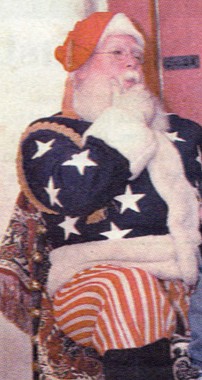 Merry Christmas to all from Philadelphia, Pennsylvania.
—————————–
This post first appeared on The Civil War Blog on 25 December 2011.