Posted By Norman Gasbarro on December 2, 2014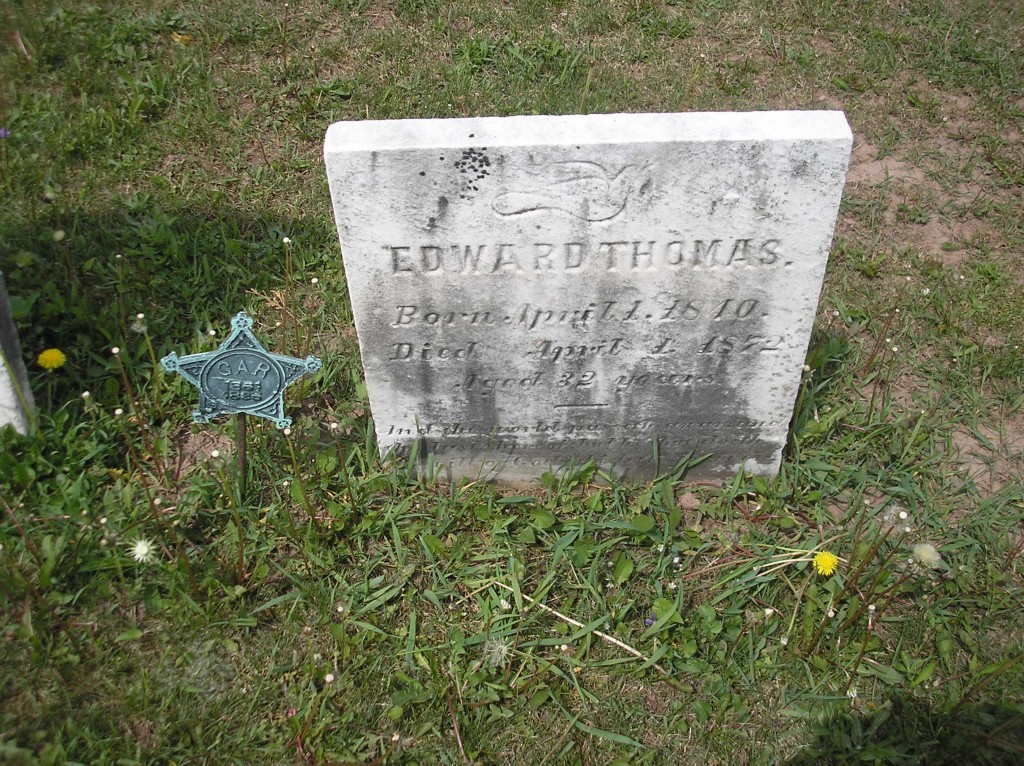 On 1 April 1872, Edward Thomas of Gratz, was killed at the colliery at Short Mountain, Dauphin County, Pennsylvania, by a "fall of rock."  His body was recovered and he was buried at Gratz Union Cemetery (then called Simeon's Cemetery).  He was exactly 32 years old at the time of his death.  A G.A.R. star-flag holder is at his grave marker.
Edward Thomas was born 1 April 1840 in Lykens Township, Dauphin County, Pennsylvania, the son of Samuel Thomas (1811-1874) and Elizabeth [Hoffman] Thomas (1848-1922).  Through his mother's line he was a direct descendant of Johann Peter Hoffman (1709-1797), the immigrant and early pioneer settler of the Lykens Valley.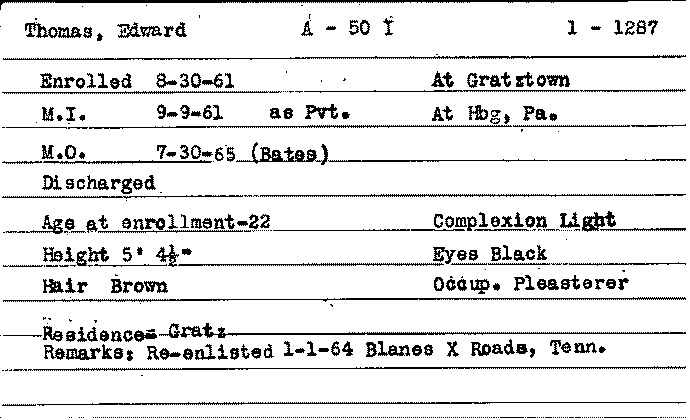 Edward Thomas enrolled in the 50th Pennsylvania Infantry at Gratztown on 30 August 1861, Company A, as a Private.  At enrollment, he was 22 years old, was nearly 5 foot 5 inches in height, had brown hair, black eyes, and a light complexion.  He gave his occupation as plasterer and his residence as Gratz.  He was mustered into service on 9 September 1861 at Harrisburg.
At a Special Muster conducted on 13 August 1862, it was reported that Edward Thomas was sick in the hospital at Fredericksburg.  On 31 December 1863 at Blaine's Crossroads, Tennessee, he was reported as discharged by reason of expiration of term of service.  However, at the same place in Tennessee, the record from the National Archives shows that he did re-enlist for a term of three years (see muster index card below).  That re-enlistment fact is also confirmed on the Pennsylvania Veterans' File Card (shown above) from the Pennsylvania Archives.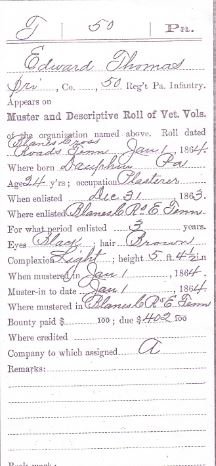 After the war in 1868, Edward Thomas married Elizabeth Hoffman (1848-1922), a daughter of John George "Squire" Hoffman (1798-1887) of Gratz and Hannah [Welker] Hoffman (1817-1885).  Elizabeth, through her paternal line, was also a direct descendant of Johann Peter Hoffman (1709-1797) and the young married couple were therefore distant cousins.  On 12 March 1869, Elizabeth gave birth to twins – a boy and a girl.  The girl died the same day and the boy died two days later.  Both are buried at Gratz Union Cemetery.  Two more children were born to the couple:  Mary Thomas, born about 1871; and Catherine "Katie" Thomas, born 29 January 1872.  Katie married William P. "Willie" Umholtz (1865-1923).  Katie was only an infant when her father died in the mines.
Elizabeth [Hoffman] Thomas, left a widow with two young children, had to find some way to support herself and her family, so she became a housekeeper for Edward McNutt of Williamstown and took care of his wife during her fatal illness.  After McNutt's wife died, Elizabeth married him.  When she died in 1926, she was buried in the Evangelical Cemetery in Williamstown.
In 1872, pensions were not available to widows of men killed in the mines.  This placed women in a precarious position, particularly if they had children.  Although Elizabeth found a way to get support, many widows of similar fate were not as fortunate, resulting in the break-up of families.
Additional information is sought about this veteran.  Attach comments to this post or send via e-mail.