Posted By Norman Gasbarro on November 3, 2014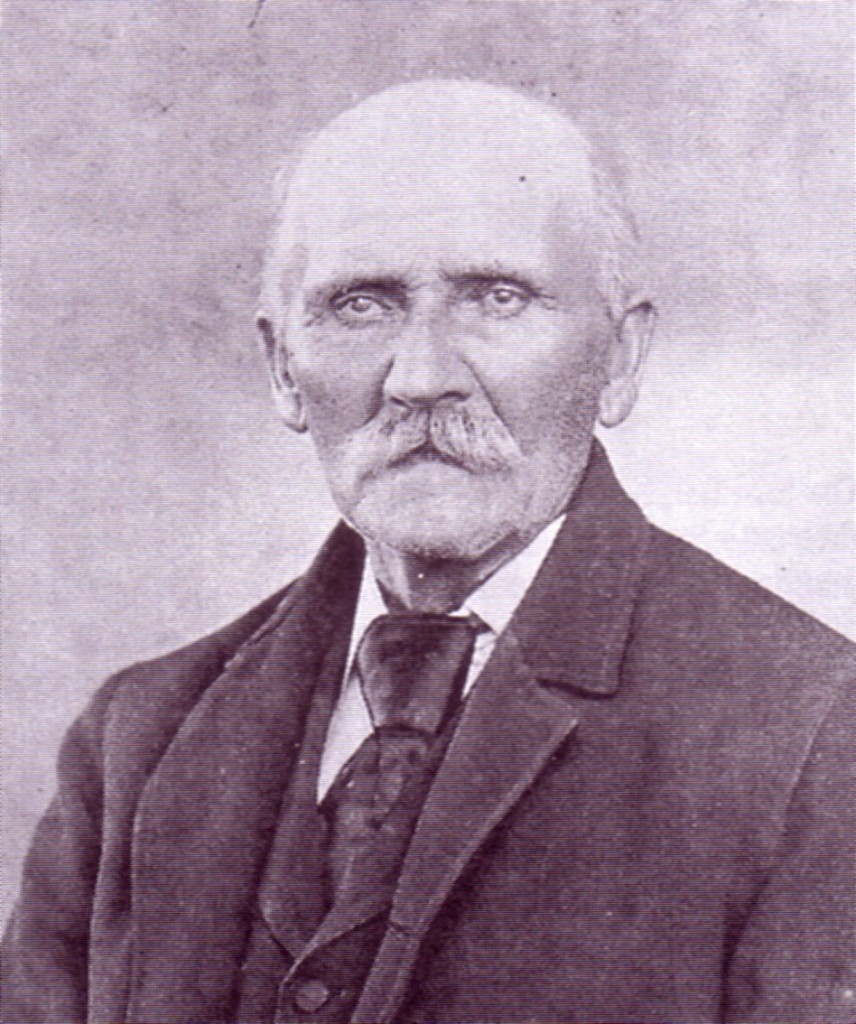 Isaac Sitlinger (1833-1908) was a Civil War veteran of the 103rd Pennsylvania Infantry, 2nd Company G.  His biography appeared in the Commemorative Biographical Encyclopedia of Dauphin County:
Isaac Sitlinger, farmer and stockman, was born in Schuylkill County, Pennsylvania, 15 September 1833.  George Sitlinger, his father, was born in Germany, and formerly spelled his name Zitlinger. He came to America when a young man and located in Schuylkill County, where he followed the occupation of harness making. He was a well educated man and taught subscription schools in the county, both in English and in German. He married Sarah Klinger, a native of Schuylkill county, by whom he had only one child, Isaac. He died in Schuylkill County. His politics were Democratic. He was a member of the Lutheran Church.  He was well known, genial and popular, enjoying the confidence and good will of his neighbors.

Isaac Sitlinger was in his early youth instructed by his father and also attended the subscription schools of the township. When quite young he came to Dauphin county, and found work as a farm hand in Lykens Township until he was fifteen. At this age he began work as a coal miner, and was in the employ of the Lykens Coal Company for over forty years. He was a faithful and diligent worker, intent on earning a support for his family and accumulating money for business purposes.

In 1874 Mr. Sitlinger bought a farm of fifty-two acres in Lykens Township on which he built a fine barn, costing over $1,000, and which he substantially improved in other ways; since that date he has been engaged in general farming.

Isaac Sitlinger was married, in Lykens Township, in 1852, to Maria Shade, born in Schuylkill county, June 23, 1834; daughter of Jacob Shade, a farmer, and Catharine [Klinger] Shade, his wife. The children of Mr. and Mrs. Sitlinger are: Sarah Sitlinger, wife of Benjamin Shadle, Washington Township; Jacob Sitlinger, a miner; Clara Sitlinger, wife of Joseph Raspatch, Wiconisco; George, farmer, Lykens Township; Alvin Sitlinger, farmer on the homestead; Ida Sitlinger, wife of Uriah Daniels; Samuel Sitlinger, a miner; Elsie Sitlinger, housekeeper at home; Lettie Sitlinger and Maggie Sitlinger died young. Mrs. Sitlinger died October 23, 1889. She was a devout member of the Reformed Church, and was zealous and active in all church work.

Mr. Sitlinger is a Republican. He was supervisor of roads for five years, and gave general satisfaction in office. He is one of the local party leaders, and is always active in political movements. He is a member of the Reformed Church, and has been an elder for three years. He was formerly connected with the Independent Order of Odd Fellows.

Mr. Sitlinger has an honorable record as a soldier in the late war. He enlisted at Harrisburg, in March, 1865, in Company G, One Hundred and Third Pennsylvania Volunteers [103rd Pennsylvania Infantry], Capt. C. Harper and Colonel Lehman. He was detailed on guard duty at Fortress Monroe, Norfolk, and Roanoke Island, North Carolina. His enlistment was for three years, [but] he was mustered out at Newberne, North Carolina, at the close of the war. He returned home much broken in health, and was for one year an invalid. The sight of his right eye is seriously impaired from exposure in the service. He is well worthy of a pension but as yet none has been granted to him. He is a substantial and reliable man, well liked by his neighbors.
Isaac Sitlinger's residence and farm in Lykens Township was located along what is now Specktown Road just west of the old one-room school house as shown on an 1875 map of the township: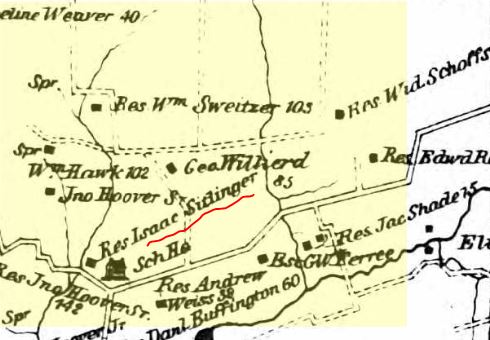 There is an old gristmill on his property which is shown in the photograph below.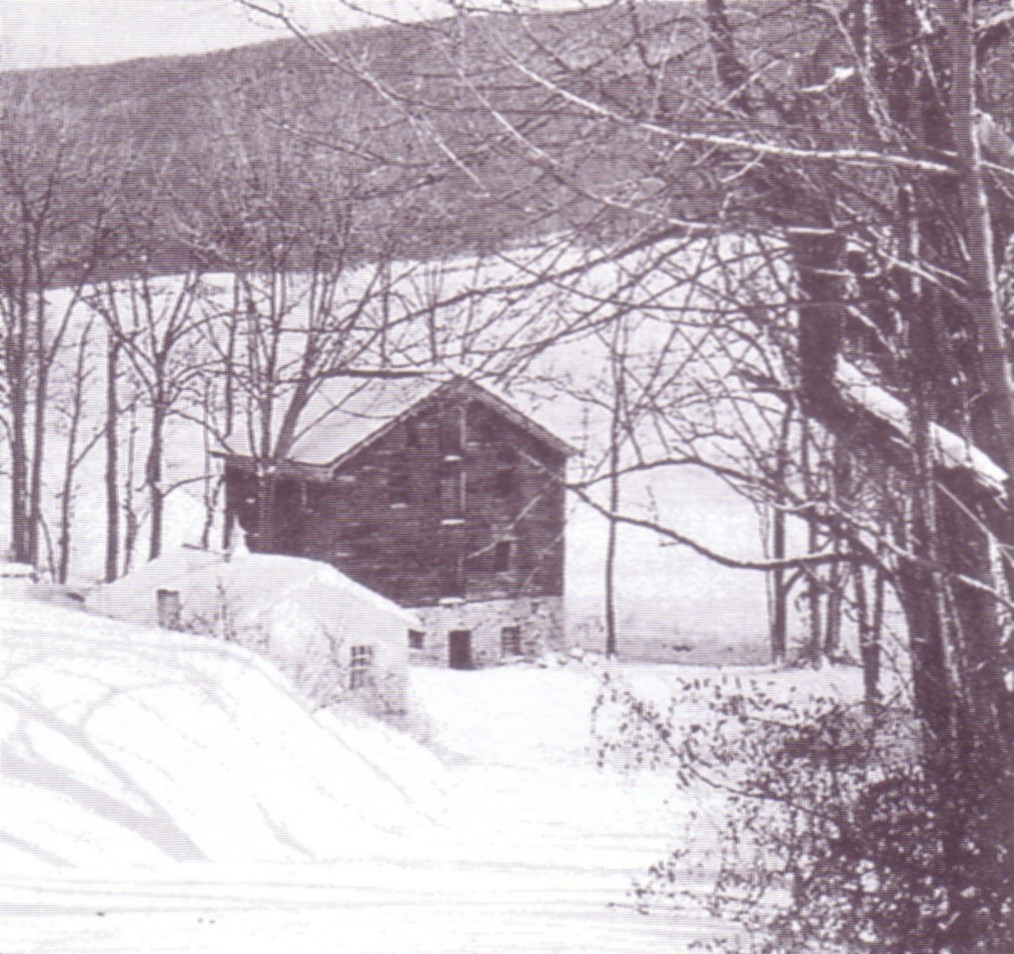 Two old photographs exist of the Isaac Sitlinger home in Lykens Township: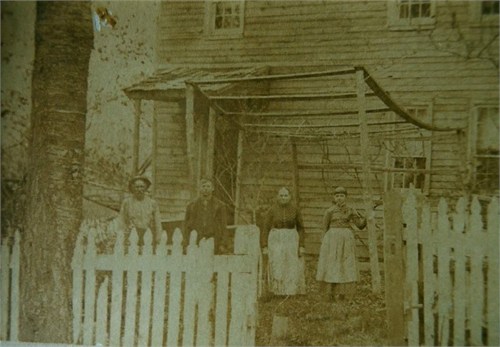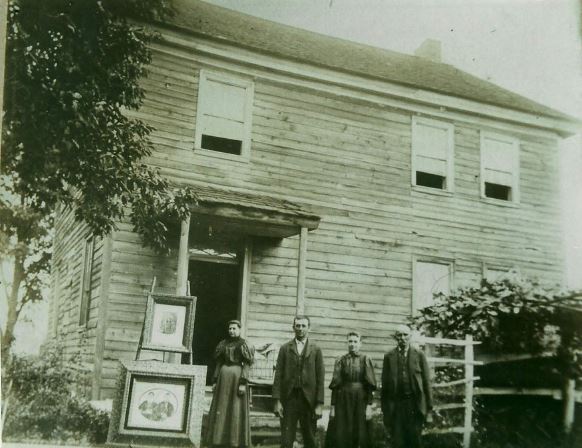 In the first photo, Isaac is standing at the left, with the others unidentified.  In the second photo, Isaac is standing at the right.  At the left in the second picture are framed photographs of Isaac's parents.
Isaac Stilinger's Pennsylvania Veterans' File Card from the Pennsylvania Archives is shown below: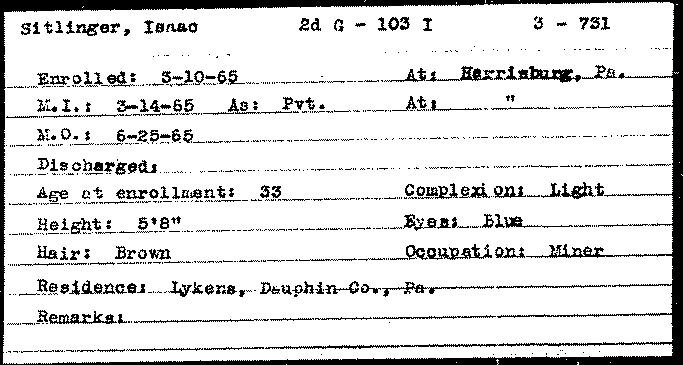 The card shows that he enrolled nearly as the war ended on 14 March 1865 and served until discharged on 25 June 1865.  His physical description was as follows:  Age, 33; height of 5 foot 8 inches; hair color brown; eye color blue; and light complexion.  He was a resident of Lykens Township, Dauphin County, and he was a miner.
An incorrect statement appears on page 460  of A Comprehensive History of the Town of Gratz Pennsylvania regarding his Civil War record:  "When the Civil War broke out, Isaac Sitlinger enlisted, and served for the duration of the war."  As seen from above, he did not enlist when the war began, but waited until it was nearly over.  When he did enlist in 1865, it was for a term of 3 years, "or the duration of the war."  He was sent to Roanoke Island with his company as a replacement soldier in the 103rd Pennsylvania Infantry and had relatively light duty for the approximately 100 days he had to serve before he was discharged with his company.  All members of this company had to return to Harrisburg to be mustered out and after muster out and settlement of final pay, Isaac returned to Lykens Township.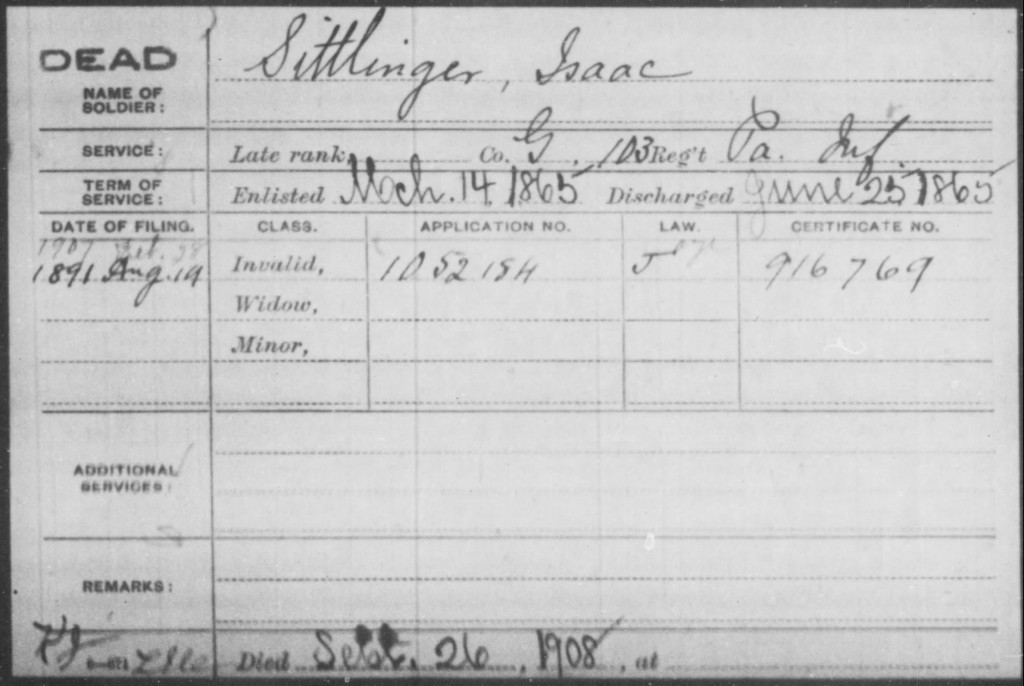 The Pension Index Card for Isaac Sitlinger (shown above from Fold3) indicates an application date of 19 August 1891, beyond the date of 1890 when only old age would have qualified him for a pension.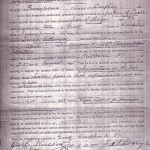 In the initial pension application (click on thumbnail at left), he declared that he was "disqualified from earning a support by manual labor, by reason of rheumatism in the legs, arms and shoulders, pains in back, inflammation and disease of eyes."
Although the Commemorative Biographical Encyclopedia of Dauphin County (published in 1896) states that Isaac's pension had not been approved, it is clear from the Pension Index Card that Isaac did eventually receive a pension which he collected until his death on 26 September 1908.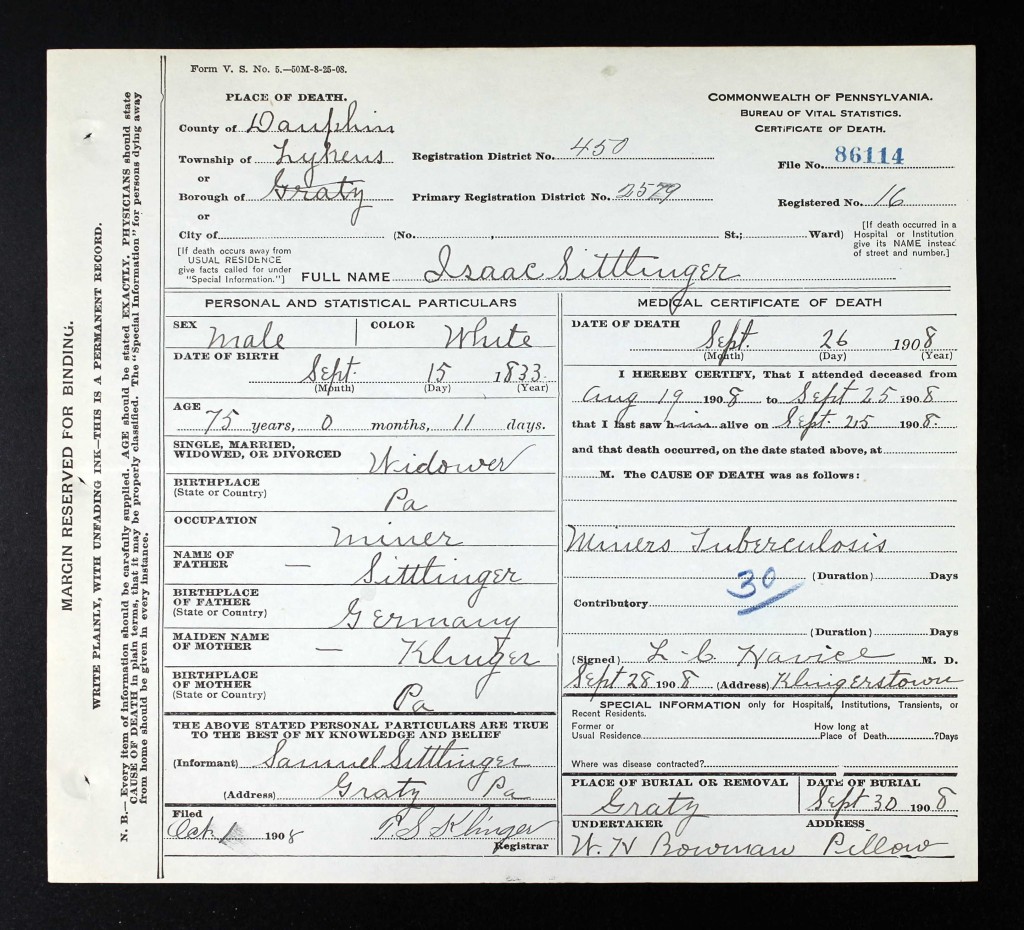 Isaac died a 75 year old widower in Lykens Township.  The cause of death was given as "miner's tuberculosis," an ailment not mentioned seventeen years prior when he applied for his Civil War pension.  His occupation at death was given as "miner".   The informant was his youngest son Samuel Sitlinger (1871-1936).
—————————–
The Pennsylvania Death Certificate is from Ancestry.com.